View the incredible winning photographs from the 57th World Press Photo Contest, including John Stanmeyer's amazing Photo of the Year.
Earlier this month, the winning photographs in the 57th annual World Press Photo Contest were announced, revealing John Stanmeyer's thought provoking image as the World Press Photo of the Year 2013.
Stanmeyer's photo depicts African migrants in Djibouti City holding their phones up to the sky in an attempt to get cheap cellphone reception from the neighbouring country of Somalia. UK/South African jury member Jillian Edelstein commented: "It's a photo that is connected to so many other stories — it opens up discussions about technology, globalization, migration, poverty, desperation, alienation, humanity. It's a very sophisticated, powerfully nuanced image. It is so subtly done, so poetic, yet instilled with meaning, conveying issues of great gravity and concern in the world today."
We couldn't agree more with Jillian's description – Stanmeyer's photo is well deserving of this prestigious award, which is one of the top honours any photographer can hope to achieve.
Overall, 53 photographers from 25 nationalities received awards, including South African photographer Brent Stirton. For more information about the awards, visit the World Press Photo website.
World Press Photo of the Year 2013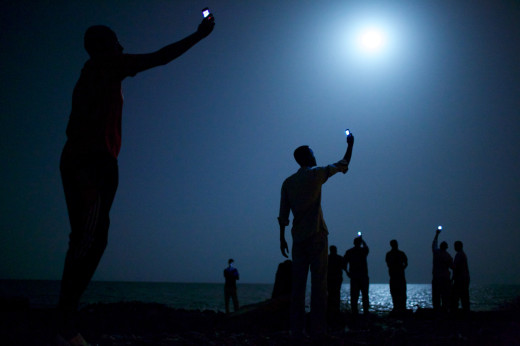 John Stanmeyer, USA, VII for National Geographic
26 February 2013, Djibouti City, Djibouti
African migrants on the shore of Djibouti city at night, raising their phones in an attempt to capture an inexpensive signal from neighboring Somalia—a tenuous link to relatives abroad. Djibouti is a common stop-off point for migrants in transit from such countries as Somalia, Ethiopia and Eritrea, seeking a better life in Europe and the Middle East.
1st Prize General News Single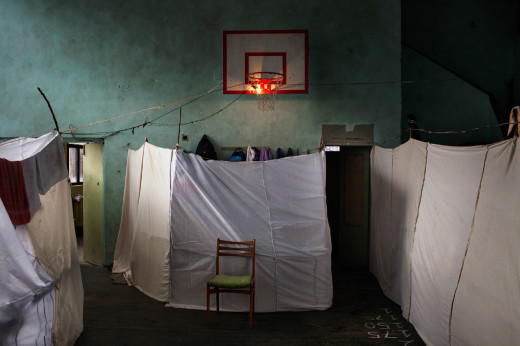 Alessandro Penso, Italy, OnOff Picture
21 November 2013, Sofia, Bulgaria
Military Ramp, an emergency refugee center, was opened in September 2013 in an abandoned school in Sofia, Bulgaria. The center provides housing for about 800 Syrian refugees, including 390 children. Bulgaria, already hard hit by the economic crisis and heightened political instability, is confronting a refugee crisis that appears to coincide with increased efforts by Greece to close off its border with Turkey. Bulgaria, however, is totally unprepared to face a refugee crisis.
2nd Prize General News Stories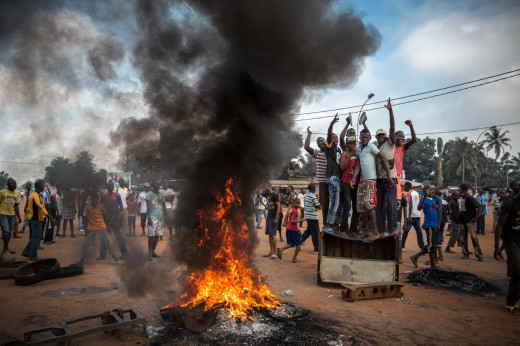 William Daniels, France, Panos Pictures for Time
17 November 2013, Central African Republic
Demonstrators gather on a street in Bangui to call for the resignation of interim President Michel Djotodia following the murder of Judge Modeste Martineau Bria by members of Seleka. Bangui, Central African Republic.
The Central African Republic has seen more than its fair share of coups and unrest over the five and a half decades since its independence from France. The current crisis, however, triggered by yet another coup, is starting to set in position a well armed, mainly Muslim militia that is refusing to disarm against Anti-balaka, Christian vigilante groups defending the country's majority Christian population. The UN has warned of a potential slide into genocide and France has sent 1,600 troops to protect civilians and disarm the different militia. Bordering on other highly volatile regions in central Africa, including the Democratic Republic of Congo, South Sudan and Chad, the conflict is ringing alarm bells across the continent and beyond.
1st Prize Spot News Single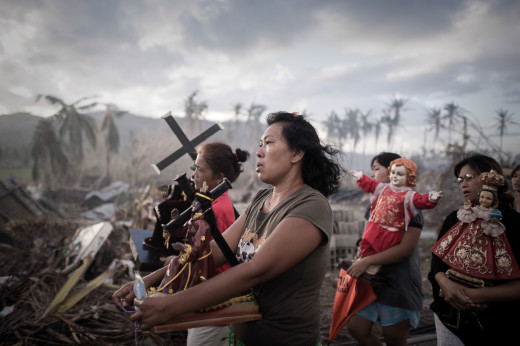 Philippe Lopez, France, Agence France-Presse
18 November 2013, Tolosa, the Philippines
Survivors of typhoon Haiyan march during a religious procession in Tolosa, on the eastern island of Leyte. One of the strongest cyclones ever recorded, Haiyan left 8,000 people dead and missing and more than four million homeless after it hit the central Philippines.
1st Prize Spot News Stories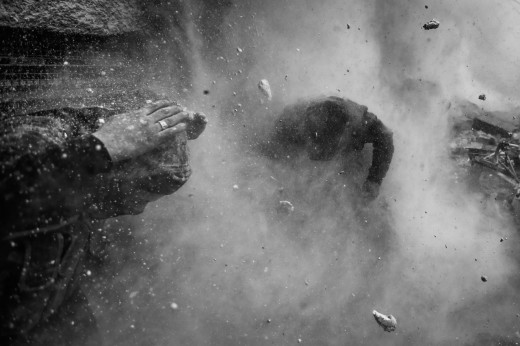 Goran Tomasevic, Serbia, Reuters
30 January 2013, Damascus, Syria
Syrian rebel fighters take cover amid flying debris and shrapnel after being hit by a tank shell fired towards them by the Syrian Army in the Ain Tarma neighborhood of Damascus.
On 30 January 2013, a Syrian rebel group planning an attack on government forces is hit by sniper fire in Damascus, Syria. After evacuating their comrade, who was shot in the chest and would later die from injuries, the rebels return to attack the checkpoint with rocket fire. Subsequently, government forces fired tank shells at the rebels. The rebels eventually retreated for the day to mourn the death of their comrade.
2nd Prize Spot News Stories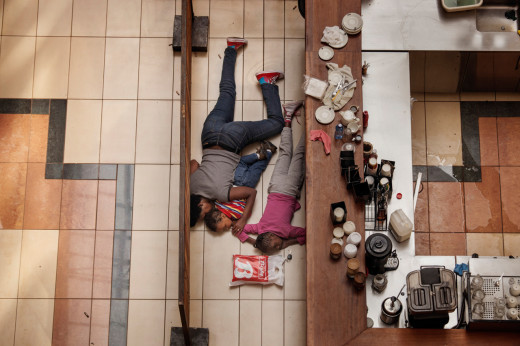 Tyler Hicks, USA, The New York Times
21 September 2013, Nairobi, Kenya
A woman and children hiding in the Westgate mall. They escaped unharmed after gunmen had opened fire at the upscale Nairobi mall on 21 September 2013. At least 39 people were killed in one of the worst terrorist attacks in Kenya's history.
3rd Prize Contemporary Issues Single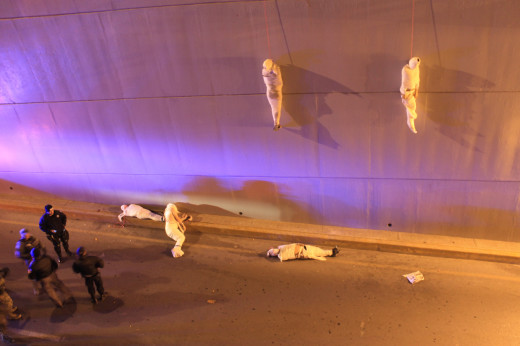 Christopher Vanegas, Mexico, La Vanguardia / El Guardían
08 March 2013, Saltillo, Coahuila, Mexico
Police arrive at a crime scene where two bodies hang from a bridge; another three are on the floor. They had been killed by organized crime in Saltillo, Coahuila, in retaliation against other criminal groups. Saltillo, Coahuila, Mexico.
1st Prize Contemporary Issues Stories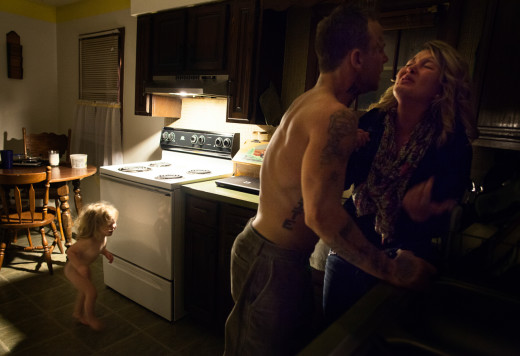 Sara Naomi Lewkowicz, USA, for Time
17 November 2012, USA
As the fight continued to rage, Shane told Maggie that she could choose between getting beaten in the kitchen, or going with him to the basement so they could talk privately. Lancaster, US.
1st Prize Daily Life Single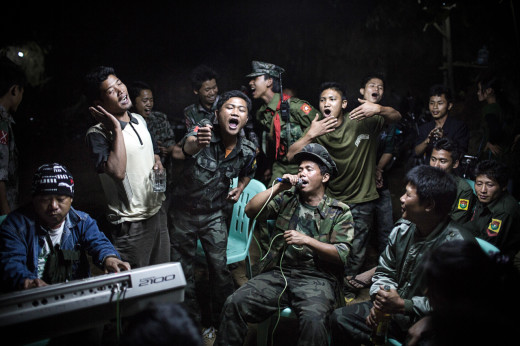 Julius Schrank, Germany, De Volkskrant
15 March 2013, Burma
Kachin Independence Army fighters are drinking and celebrating at a funeral of one of their commanders who died the day before. The city is under siege by the Burmese army.
1st Prize Daily Life Stories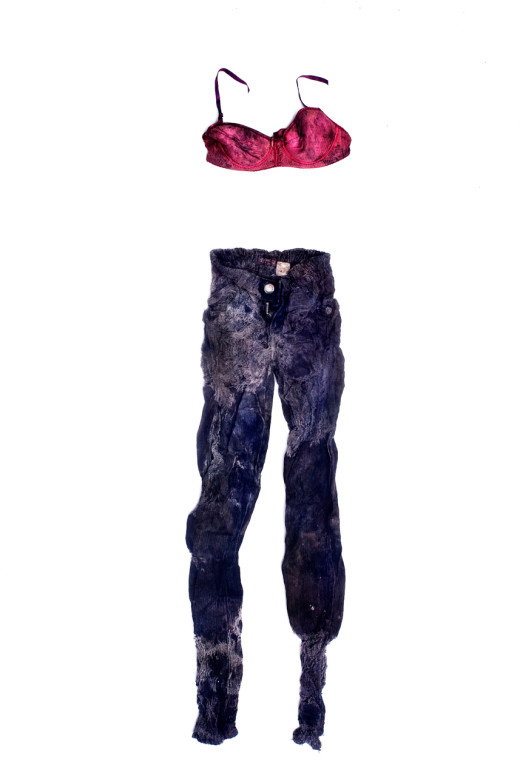 Fred Ramos, El Salvador, El Faro
10 August 2013, San Salvador, El Salvador
Date found: 1 February 2013. Time 3:45 P.M. Location: a sugar plantation in Apopa, San Salvador, El Salvador. Sex: Female. Age: Between 17 and 18 years old. Time of disappearance: not available.
The North Central American Triangle (Honduras, Guatemala and El Salvador) is one of the most violent regions in the world. In many cases, clothes that are found become the only means to identify victims.
2nd Prize Sports Action Single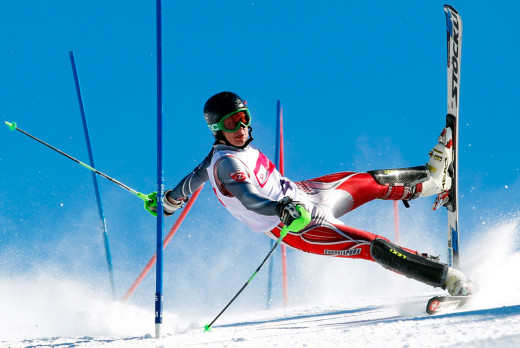 Andrzej Grygiel, Poland, for PAP-Polska Agencja Prasowa
24 March 2013, Szczyrk, Poland
Competitor at a slalom contest in Szczyrk, Poland.
3rd Prize Sports Action Stories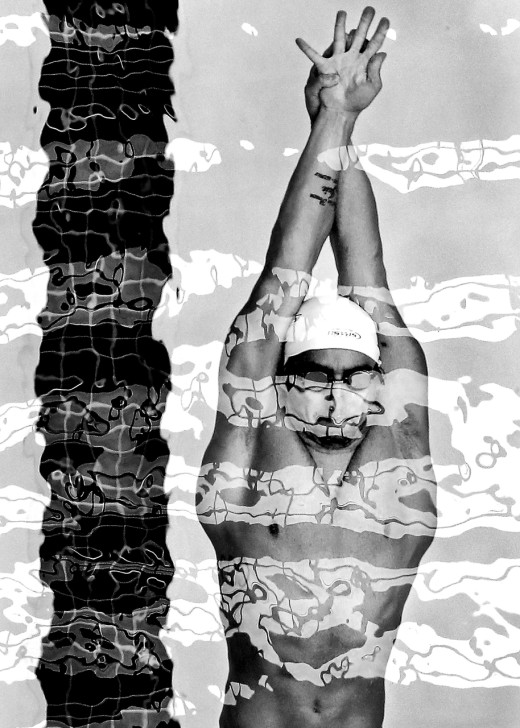 Quinn Rooney, Australia, Getty Images
27 April 2013, Adelaide, Australia
Daniel Arnamnart of Australia competes in the men's 100-meter backstroke during day two of the Australian Swimming Championships on 27 April 2013 at SA Aquatic and Leisure Centre in Adelaide, Australia.
1st Prize Sports Feature Stories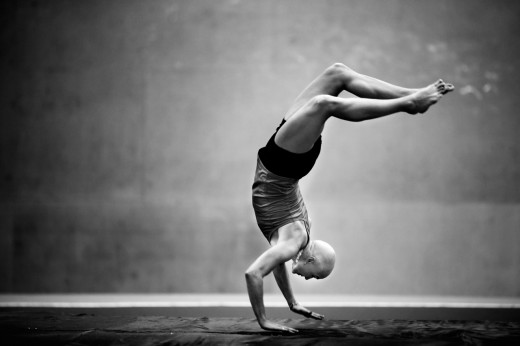 Peter Holgersson, Sweden
19 December 2013, Lidingö, Sweden
Nadja feeling better just before her last treatment. Lidingö, Sweden.
Swedish athlete Nadja Casadei has participated in the World and European Championships in heptathlon. In autumn 2013, she was diagnosed with cancer and by January 2014 she completed her chemotherapy. She has continued to train throughout her illness, hoping to be healthy and ready by the summer for the Olympics in Rio de Janeiro.
1st Prize People – Observed Portraits Single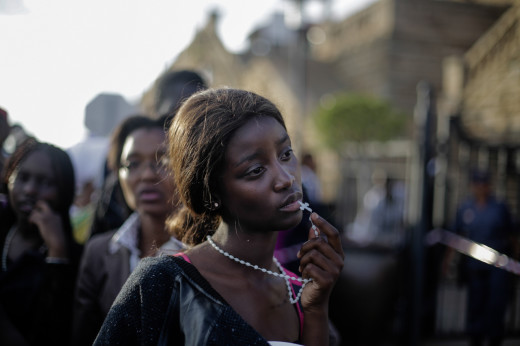 Markus Schreiber, Germany, The Associated Press
13 December 2013, Pretoria, South Africa
A woman reacts in disappointment after access to see former South Africa President Nelson Mandela was closed on the third and final day of his casket lying in state, outside Union Buildings in Pretoria, South Africa.
1st Prize People – Observed Portraits Stories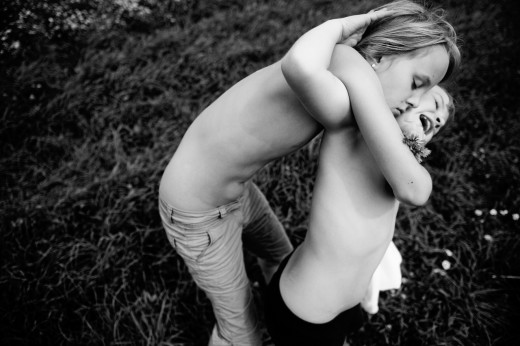 Carla Kogelman, the Netherlands
19 July 2012, Merkenbrechts, Austria
Hannah and Alena, two sisters living in the rural village of Merkenbrechts, Austria.
1st Prize People – Staged Portraits Single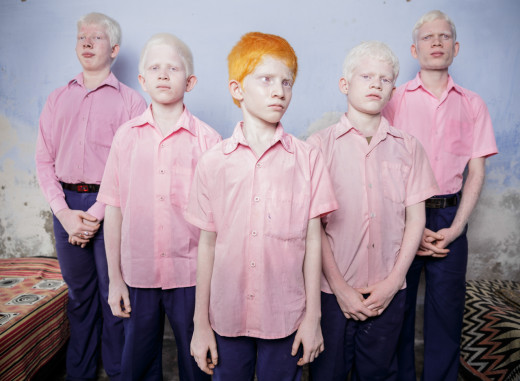 Brent Stirton, South Africa, Reportage by Getty Images
25 September 2013, West Bengal India
A group of blind albino boys photographed in their boarding room at the Vivekananda mission school for the blind in West Bengal, India. This is one of the very few schools for the blind in India today.
2nd Prize People – Staged Portraits Stories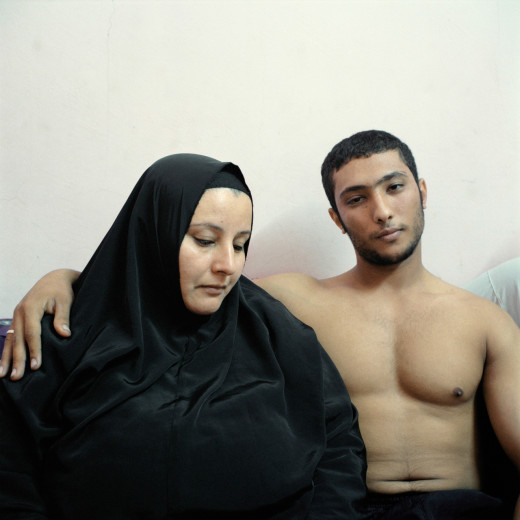 Denis Dailleux, France, Agence Vu
03 February 2011, Cairo, Egypt
Ali, a young Egyptian bodybuilder, poses with his mother.
3rd Prize Nature Stories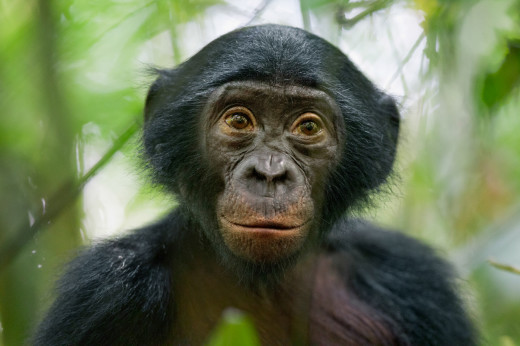 Christian Ziegler, Germany, for National Geographic Magazine
25 January 2011, Congo
A five-year-old bonobo turns out to be the most curious individual of a wild group of bonobos near the Kokolopori Bonobo Reserve, in the Democratic Republic of Congo.
Despite being humans' closest living relatives, little is known about Bonobos and their behavior in the wild in remote parts of the Congo basin. Bonobos are threatened by habitat loss and bush meat trade.
1st Prize Nature Stories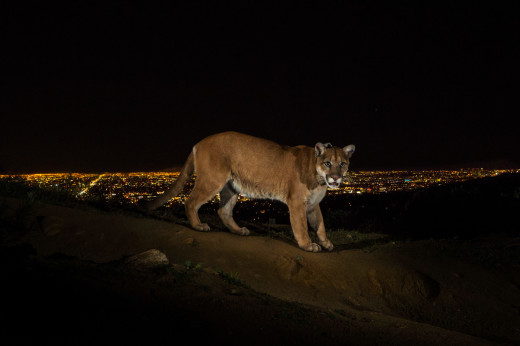 Steve Winter, USA, for National Geographic
02 March 2013, Los Angeles, USA
A cougar walking a trail in Los Angeles' Griffith Park is captured by a camera trap. To reach the park, which has been the cougar's home for the last two years it had to cross two of the busiest highways in the US.
Cougars are among the most adaptable and widespread terrestrial mammals in the Western Hemisphere, with a range that extends from the tip of Chile to the Canadian Yukon. They are increasingly being seen in and around towns and cities, including Los Angeles and in the Hollywood Hills. Fear of these secretive cats, combined with a lack of adequate public knowledge, tends to justify the thousands of cougars killed every year. Scientists in Wyoming's Teton National Forest are outfitting them with GPS collars and camera trapping to learn more about basic behaviors and to lift the veil of mystery surrounding them.
For more images, visit World Press Photo.
All photographs retain the copyrights of their respective owners, and are shared here with permission from World Press Photo.