Tim, who's portfolio ranges from celebrity, events and music photography has an impressive history of capturing events around the globe. Including being appointed as the official photographer for the British Royal Family on the Isle of Man he has also covered a variety of events such as the Isle of Man TT, Maloof Money Cup, 947 Cycle Challenge, Ultra Dance, Skateistan and Red Nose Day events.
Orms catches up with Tim and unpacks his passion for photography and more specifically the art of skate boarding and sports photography.
Please tell us a little about yourself?
My name is Timothy Lawson Moolman, I have ADD and while I've only done 50 trips around the sun, my body's mileage through injury is much higher (two ACL reconstructions, a fractured skull, osteoarthritis from too many shoulder dislocations amongst others).
I love my family, skateboarding and making photographs of all kinds of people and the things they do. I'm also a Fujifilm X-Photographer ambassador and a Litra Torches ambassador.
Tell us about the birth of your passion for photography and of course skateboarding photography?
I loved art at school but wasn't good enough at drawing and painting for my own liking. For a while I was a serious movie buff and loved stories that were lit and coloured and framed a certain way.
We lived in Cape Town for three of my high school years and then moved back to Bloem. I used to waveski but found the lack of waves in the Orange Free State to be detrimental to my future as a waveski pro. I begged my mom for a skateboard and stepped onto one at the ripe old age of 15. I was a skateboarder long before I was a photographer, and still love its creativity along with the feeling of rolling fast while standing dead still.
As a passionate skateboarder, once I learned which end of a camera to point at the subject, photographing skateboarders just happened.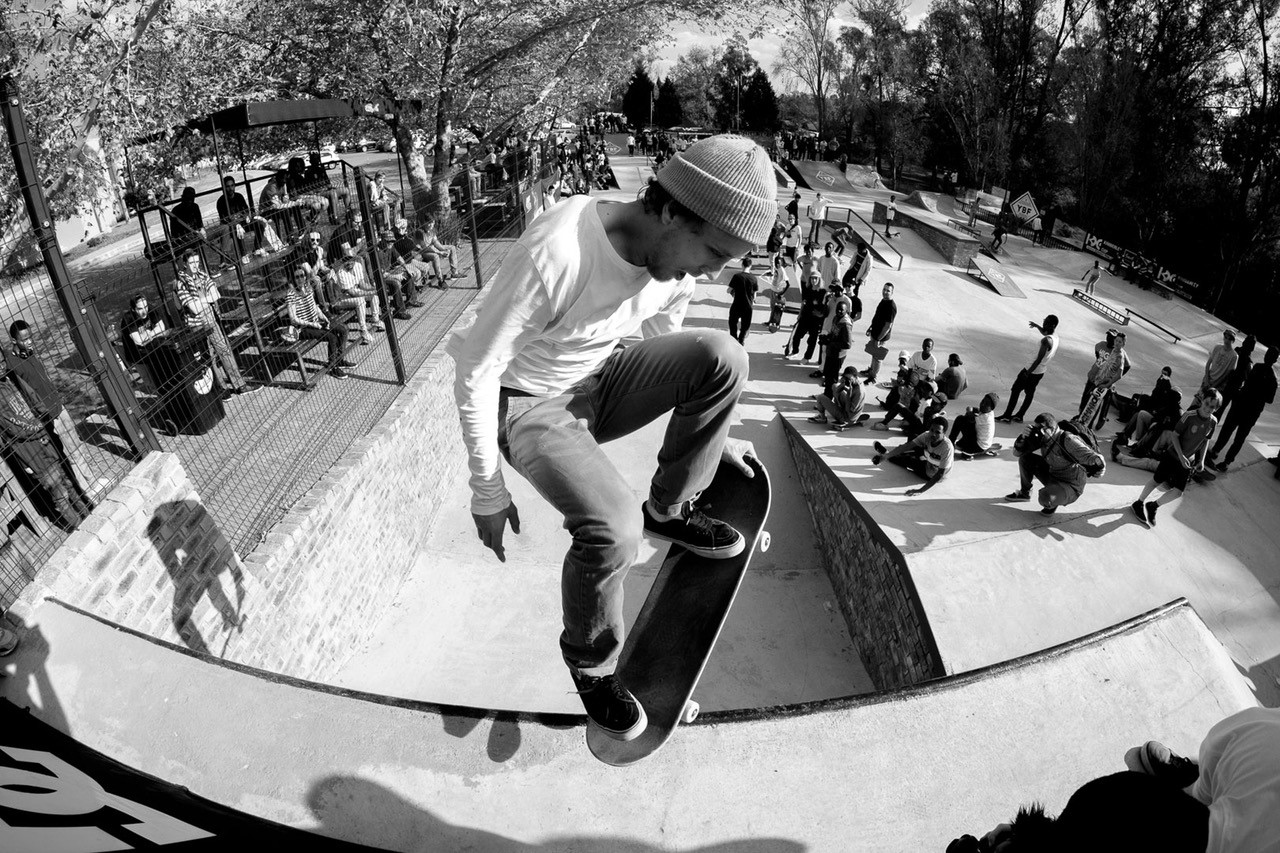 What ignited this spark, and how did you go about pursuing it in the initial stages?
After working in IT for years I was head-hunted and posted to the Isle of Man. On the way there I bought myself a point-and-shoot camera and at 30 years of age was determined to teach myself photography. As luck would have it, I was made redundant a few months later and then while working in a painful administrative role, my photography portfolio and skills grew so quickly that within a year I resigned to become a freelance photographer, without the foggiest clue of what that would entail.
Again, the timing was in my favour as I got a job as a trainee photographer for an established shop on the island. They had an in-house studio, printing shop and retail store out front. There I learnt on the job, from photographers who were generous with their time and knowledge. I was enthusiastic, driven and thoroughly enjoyed myself.
Within a few years I had photographed over 100 weddings, covered both the Isle of Man TT and Manx Grand Prix, dog agility, ballroom dancing, and was selected as the official photographer to the British Royal Family. After three years with the shop, I left to set out on my own as a freelance photographer.
Tell us a little about your approach as a photographer and your creative process capturing events around the world?
It is most important to me to photograph people and what they're doing authentically and with integrity. I photograph a variety of events from weddings to press activations, BMX competitions to editorial shoots for skateboarding, portraits, and lifestyle work. While I love the joy and excitement at a wedding, or the thrill of documenting fast moving action, and the sense of achievement from creating photos that detail an event's timeline, the main reason for this variety is because of my interest in people.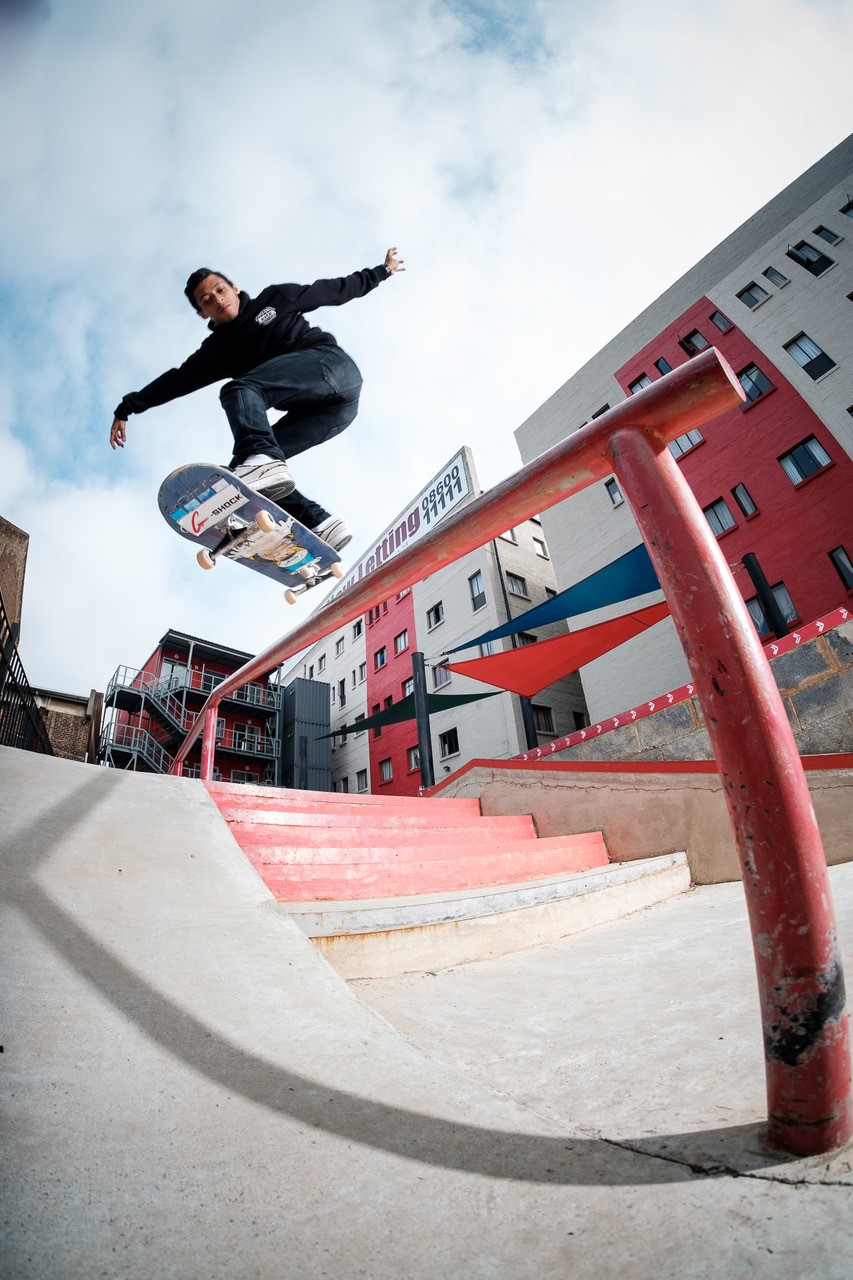 I endeavour to find the humanity in whatever people are doing. This is probably best reflected in my documentary wedding photography, where I shoot the entire day from a guest's perspective, revealing the wedding day's story from the inside out.
When it comes to different sports it is essential to understand the sport, its history and culture, and why the people who are good at it enjoy it so much. For example, it's easy to notice when someone who isn't a skateboarder photographs skateboarding, their timing and angles and understanding are all off and skateboarders will notice it straight away.
While photographing the Isle of Man TT, I knew next to nothing about the race or its history. It counted in my favour that I was then living on the island and could learn from people who had covered the races for over 30 years. I watched videos and read books to understand more about this famous race. When we, at the shop where I worked, were tasked with compiling images for the 100th anniversary of the TT, we ended up going through 99 years' worth of negatives documenting the first three places of every race in the TT from 1907 to 2006. By doing this I got to study the racing from many different photographers' perspectives.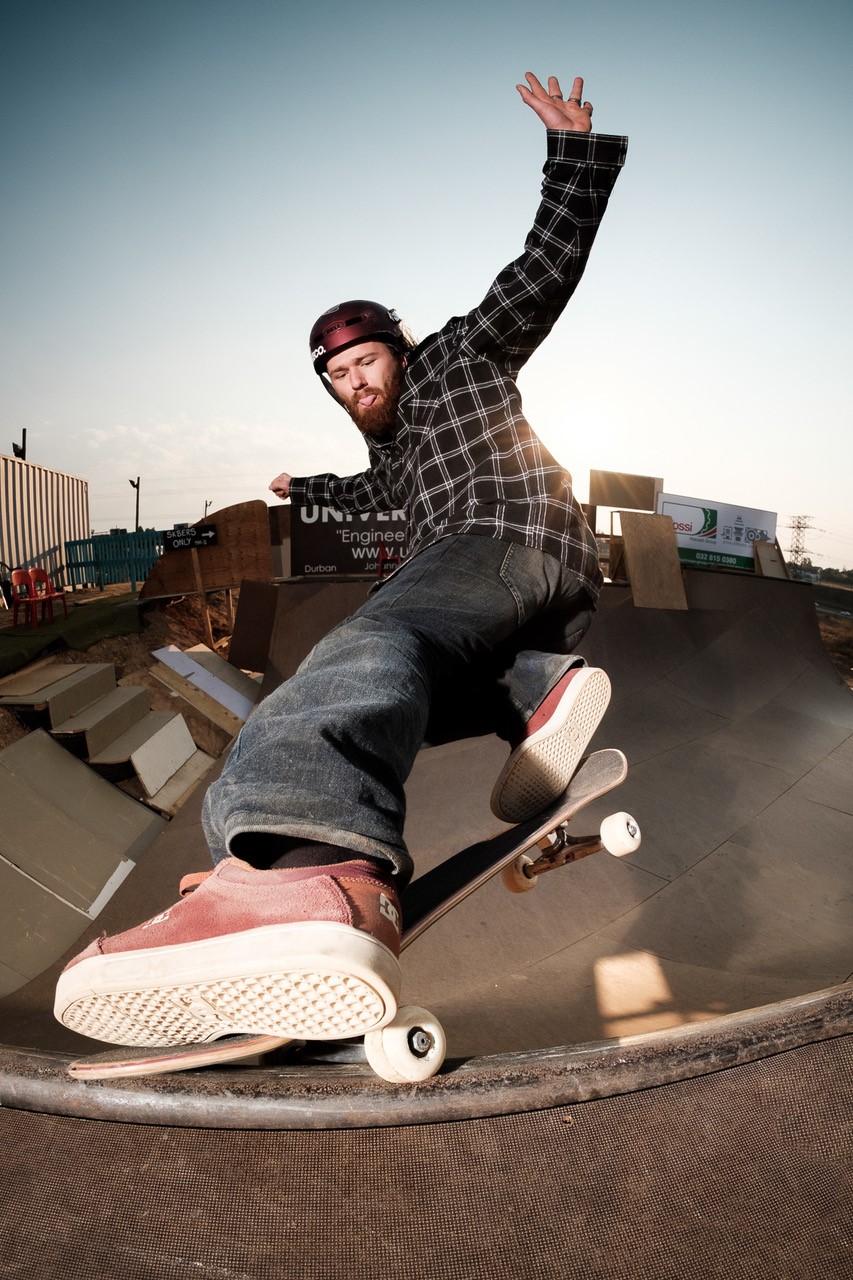 Now, when I am given a project or event to photograph that I'm unfamiliar with, I try to do as much research as possible before the time. I'll even look at photographs of previous events, to get an idea of what's been photographed before. From here I'll plan out which shots to get that tell the familiar story of the event, and then strive to cover the event from my own perspective.
After moving to Jeffreys Bay, I've started making photographs of surfing. For me the whole process starts again; even though I know a little about surfing I'm not a surfer. So to get my head in the game I've been watching YouTube videos, have started following surf photographers on Instagram, and started talking to surfers about what they like to see in an image.
Learning something new is exciting and there's so much to consider in surf photography: it's not just the move the surfer is doing but also where on the wave he is; have you included the spray they carved out off the wave; what about the background of the epic location? So many facets make this a new and welcome challenge to learn.
Is there any advice that you can offer those trying to break into the sports photography industry?
As mentioned before, do your best to understand the culture of the event or sport intimately before even picking up a camera. For example, a lot of the best wildlife photographers were once game rangers and it's their intimate understanding of how animals behave in a variety of circumstances that allows them to anticipate and be in those potentially good positions to photograph them.
Do your research, be respectful of the sport and its unwritten rules, and stay humble! Humility and a kind, respectful word go a long way when introducing yourself as an outsider to photograph an event. Ask the organisers for a press pass to allow you more freedom of movement at the event. Try getting a sponsor to back your credentials, like a magazine or even a website blog that you'll be producing work for. Don't be afraid of shooting and offering photos for free when you first start out, but don't make a habit of it and make sure you licence your images! This way you might be able to get your photos of an event noticed in a publication, but the event organisers won't be able to sell them on and they'll only have limited usage you agreed to.
Very importantly, be polite and respectful to other photographers at the event, they might be the ones who earn a living from covering the event so be sure to stay out of their way and you could perhaps even approach them to introduce yourself, just not when it's super busy, they'll be focusing on getting the shot. Understand that these photographers would have been approached dozens of times by many up and coming or hobby photographers and they will probably be a bit wary of you at first. Remember to stay humble and respectful.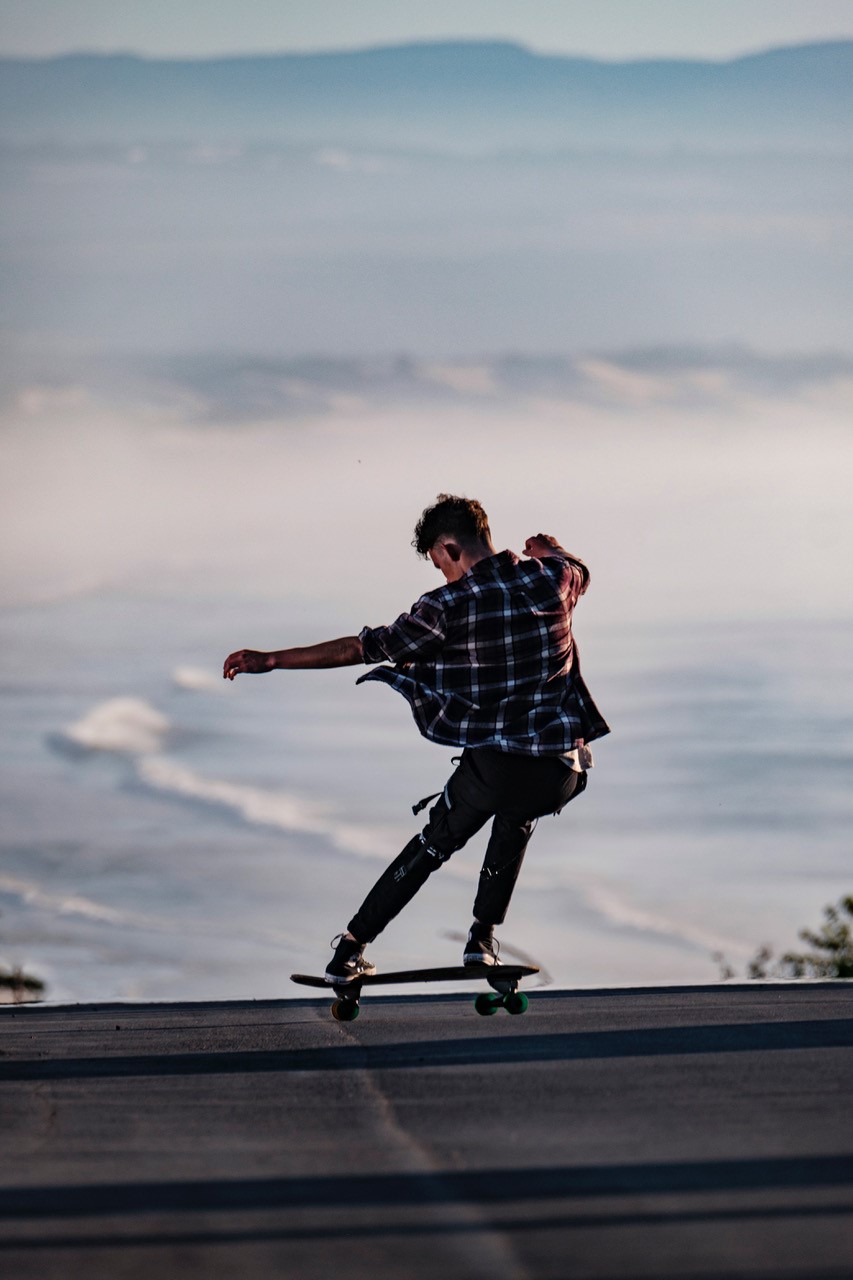 What is your go-to lens and focal length when shooting skateboarding?
It's usually a choice between my fisheye or a longer lens. A good rule of thumb when you're starting out is to use a fisheye and a 70-200mm (in 35mm terms).
And lastly, unpack your gear bag for us?
I use a 21 litre WANDRD PRVKE backpack which is strong, weather sealed, and by far the most comfortable backpack I've ever used. I have two Fujifilm X-Pro2s, a 7Artisans f2.8 7.5mm Fisheye, a Fujinon 23mm f2 (35mm), a Fujinon 50mm f2 (75mm) and a Fujinon 90mm f2 (135mm) lens. At the moment I have a Fujinon 100-400mm (150-600mm) kindly on loan from Fujifilm South Africa. There are also two Godox AD100 Pros and a transmitter. Extra batteries, extra memory cards and an old Lensbaby 2.0 lens round off my gear.