Compact Camera Comparison: We've decided to narrow down four compact camera choices and give you a little breakdown of the important features for easy comparison.
Compact camera's have come a long way, with bigger sensors, vastly improved image quality and an array of new user-friendly features, they're once more able to justify their place in your pocket. With new releases and updates flooding the market every few months it can be tricky to decide which one to pick, especially when you don't know what you are looking for.  We've decided to narrow things down to four choices and give you a little breakdown of each camera's most important features for an easy comparison.
Before we get started it's probably a good idea to think about what you want from the camera. There's different things to consider, for example what do you want to use the camera for? Perhaps you want a versatile, all-rounder for a holiday or travel. Or maybe the actual size is most important to you. Perhaps a camera with a long zoom, built in viewfinder, or that pro-spec DSLR alternative. There's something out there for everyone.
We've also included short explanation of ISO (light sensitivity) at the bottom of the page.
Canon Powershot SX710 HS
The Canon SX710 HS is the camera with the largest zoom on this list. The massive 30x zoom will allow you to capture a wide variety of subjects and image stabilisation will ensure sharp images. The light sensitivity of 100 – 3200 ISO captures great looking night/low light shots. It also features a powerful 20.3 megapixel sensor and can capture Full HD videos at a smooth 60 frames per second. All-and-all, it's a powerful and versatile pocket-sized camera.
Price: *R3,895.00
Features:
30x zoom
20.3 Megapixel sensor
Image stabilisation
100-3200 ISO
Full HD video recording
3 inch LCD screen
Built-in flash
Built-in Wi-Fi
Weight: Approx. 269g
Pros: Compact, Massive zoom.
Cons: The heaviest camera on the list.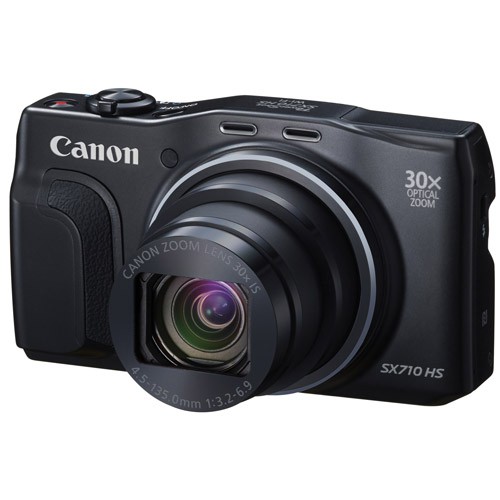 Canon IXUS 170 IS
The Canon IXUS 170 IS is a compact and stylish digital camera with a wide 12x optical zoom and a rich 20 Megapixel sensor. It doesn't come packed with as many nifty features as some of the other compacts on this list, and it's the cheapest camera listed here today.  But if you're looking to capture some casual pictures and you don't want to break the bank, this compact from Canon is definitely an option.
Price: *R1,695.00
Features:
20 Megapixel sensor
12x Optical zoom
Image stabilisation
Depth of just 22.6mm
32 auto scene modes
HD video recording
Creative digital filters
Built-in flash
100 – 1600 ISO
Dimensions (WxHxD): 99.6mm x 57.6mm x 22.6 mm
Weight Approx. 141g
Pros: Small size.
Cons: No built-in Wi-Fi.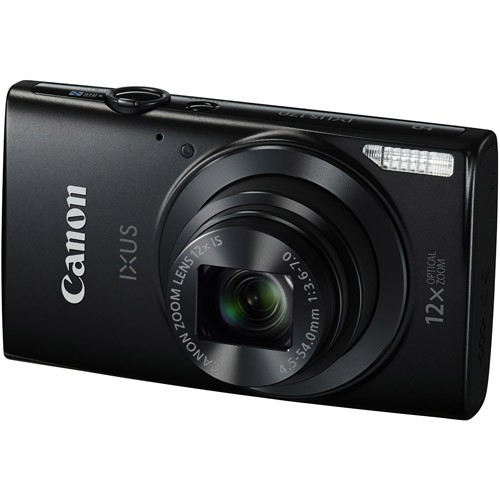 Fujifilm XF1
Now things are getting sexy, the Fujifilm XF1 has the most powerful sensor and clearest optical quality on the list with looks that match. The sensor features an ISO range of 100–12800 for exceptional low light shots and the lens features 4x zoom as well as image stabilisation. *Unfortunately we currently only have the Black XF1 in stock, the good news is that it's on sale at the moment on Orms Direct.
Price: *R2,895.00
Features:
12MP EXR CMOS Sensor
Fast f/1.8 Retractable Lens
4x Zoom, 25-100mm (35mm Equivalent) Lens
Image stabilisation
3.0″ 460K-dot Premium Clear LCD
Full HD 1080i, 30fps with Stereo Sound
Up to 10fps Continuous Shooting
High Speed Contrast Auto Focus
RAW In-camera Processing
Manual Shooting Modes P/A/S/M
Aluminium Body, Retro Good Looks
Dimensions (WxHxD):107.9mm x 61.5mm x 33 mm
Weight: Approx. 225 g
Pros: Crystal clear optics, powerful sensor, fast lens with a sleek design.
Cons: Small zoom range (for better optical quality) and at 33mm depth its slightly bigger.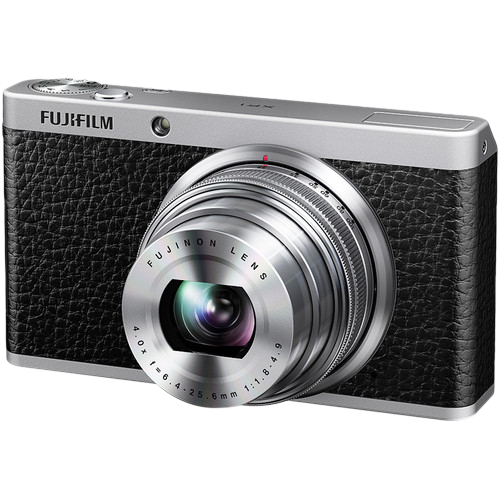 Samsung Galaxy Camera 2
The Samsung Galaxy Camera 2 is the thinnest camera on this list and features the largest and clearest LCD display. It's rather different from the rest of the camera's on here, so perhaps a bit of a wild card. However, given that the lens features a 21x optical zoom and the 16.3 Megapixel sensor features a light sensitivity ISO of 100-3200 we thought we should include it.
Price: *R4,495.00
Features:
Android 4.3 Jelly Bean
16.3MP 1/2.3″ BSI CMOS Sensor
21x Optical Zoom
1.6 GHz Quad-Core Processor
4.8″ HD Super Clear Touch LCD Screen
Full HD 1920 x 1080 Video at 30 fps
8GB Internal Memory & microSDXC Support
Built-In Pop-Up Xenon Flash
Wi-Fi, GPS, Bluetooth & NFC Connectivity
Dimensions (WxHxD): 132mm x 71mm x 19mm
Pros: Some manual controls for more advanced photographers.
Cons: Running version 4.3 (Jelly Bean) rather than 4.4 (KitKat).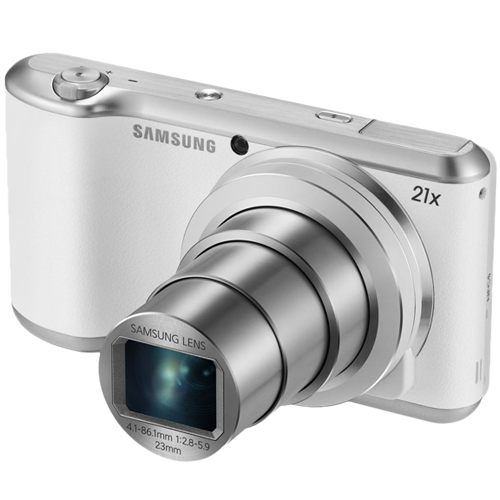 *Pricing and availability correct at time of publication, and subject to change without notice.
ISO (Light sensitivity):
Each camera on the list has an ISO range. In short the ISO is the camera's sensitivity to light, the higher the ISO, the more sensitive it is to light, and the lower the ISO, the less sensitive it is to light. If a picture was taken at 400 ISO and provided the perfect exposure, the same picture with the same camera settings but at 200 ISO will be underexposed (to dark) and at 800 ISO it will be overexposed (to bright). Higher ISO's help with low light/night photography.