We take a look at Canon's new EOS-1D X monster DSLR at CES 2012, and fire off a couple of shots at 12 FPS.
After taking a look at Canon's new PowerShot G1 X at CES 2012, we had the opportunity to handle their new EOS-1D X flagship DSLR. Here's a short video introduction, featuring some 12 frames per second bursts at the end:
*Correction: The 1D X captures 18 megapixel stills with its full frame CMOS sensor.
On paper, the 1D X seems like a breakthrough camera, but what is it like in real life? Our first impression was that the new DSLR is on the rather heavy side. Although the official weight of the camera has not yet been disclosed, it's definitely heavier than any previous EOS-1 DSLR. However, the grip and ergonomics more than make up for the weight, and most pros will feel comfortable with the 1D X. As for the speed, barely touching the shutter release would fire off 5 or 6 stills, and the shutter sound was not disturbingly loud, although you won't want to be using this to shoot in noise sensitive locations. The new viewfinder is large and bright, and will be a treat for any photographer used to cropped DSLRs. We weren't able to test the image quality or focussing accuracy at the show, but after the problems Canon has had with some previous cameras, we're pretty confident that they will have resolved any issues.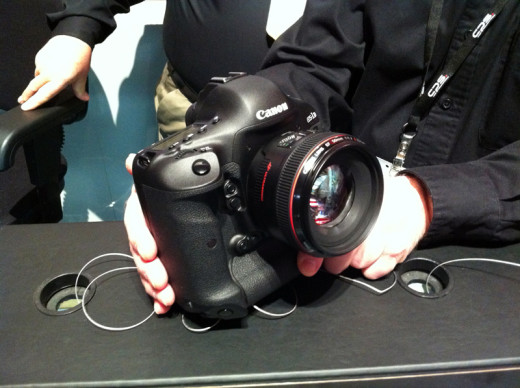 Overall, the camera feels great, and should live up to its high expectations when it arrives in March 2012.
More coverage:
Press release and specifications
Burst-mode videos
Pre-order on Orms Direct