South African professional photographers are attempting to change our outdated copyright law. Find out more and sign the petition if you agree.
A local group of photographers are attempting to change South Africa's outdated copyright law to favour content creators.
The Creative Collaborative Collective are petitioning Dr. Rob Davies, Minister of the Department of Trade and Industry, to amend the Copyright Act of 1978.
Now, we're not lawyers, but from what we understand, South Africa's copyright law currently favours the commissioner of works instead of the creators of works. Essentially, when photographers are commissioned by a company or advertising agency to create images, the copyright of that work automatically belongs to to the commissioner.
Obviously, this is not the ideal, and the copyright of the work should belong to the creative, with usage rights licensed to the commissioners, and this is what the petition is calling for.
If you agree, and feel that the Copyright Act should be amended, please visit the petition for more information and sign it on Change.org.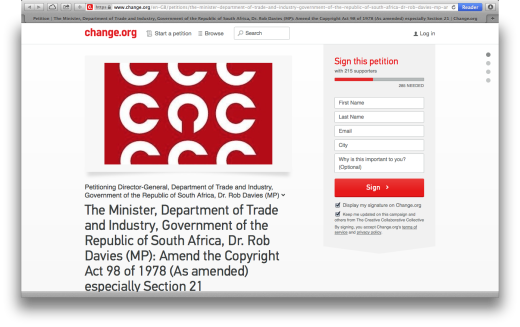 Featured image created by PhilippN and shared under the Creative Commons Attribution Share-Alike license.