Dale Yudelman's Life Under Democracy, the inaugural Ernest Cole Award traveling exhibition will be opening in Joburg soon.
The inaugural Ernest Cole Award exhibition, Dale Yudelman's Life Under Democracy will open on 5 September 2012 at the Wits Art Museum in Johannesburg.
The series was inspired by the lives of ordinary South Africans living in the eighteenth year of democracy and was entirely shot on an iPhone. Dale comments: "Life Under Democracy consists of vibrant daily reflections, shot in passing, with the simple motivation of noticing what is."
Here at Orms, we are proud to be a main sponsor of the Ernest Cole Award, and we're very impressed with Dale's photographs. Mike Ormrod said: "We could not have wished for a better portfolio of work to win this award."
The exhibition, which was framed and printed by Framed by Orms and Pro Photo Lab, opens in Johannesburg, but will be visiting Durban and Cape Town in the coming months.
Exhibition and Book Launch Dates
WITS Art Museum – Johannesburg – 5–24 September 2012 – Opening Wed 5 Sept at 6pm
KZNSA Gallery – Durban – 2–21 October 2012 – Opening 2 Oct at 6pm
AVA Gallery – Cape Town – 29 October–23 November 2012 – Opening 29 Oct at 6pm
The Book Lounge – Cape Town – Wednesday, 7 November 2012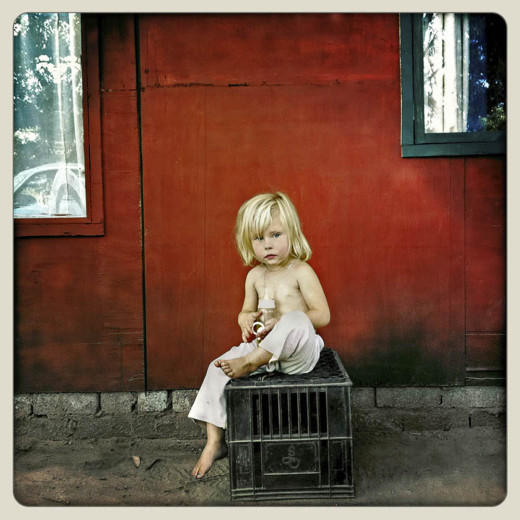 Girl – Coronation Park Squatter Camp – Krugersdorp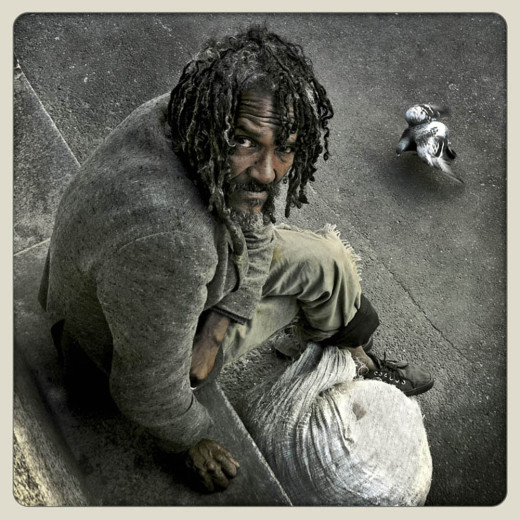 Gregory – Cape Town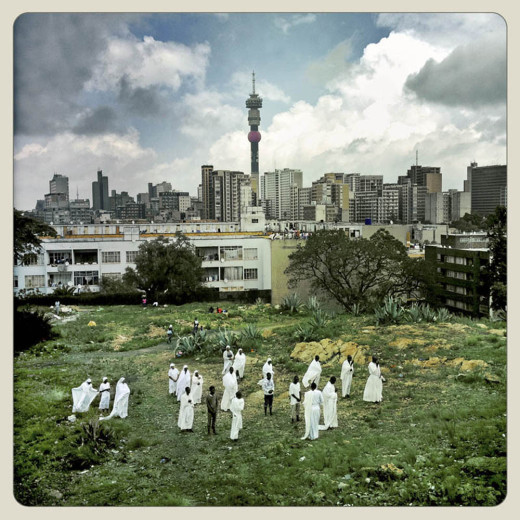 Church service – Johannesburg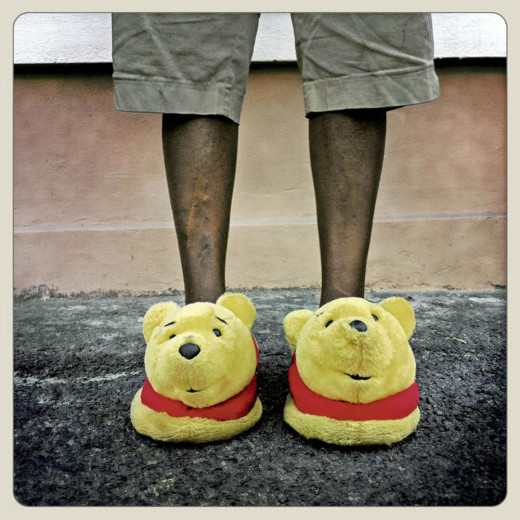 Homeless woman – Gardens, Cape Town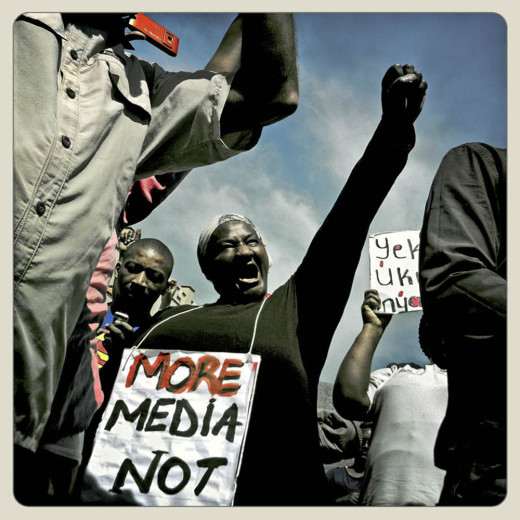 Prescella Moloke – Secrecy Bill March on Parliament – Cape Town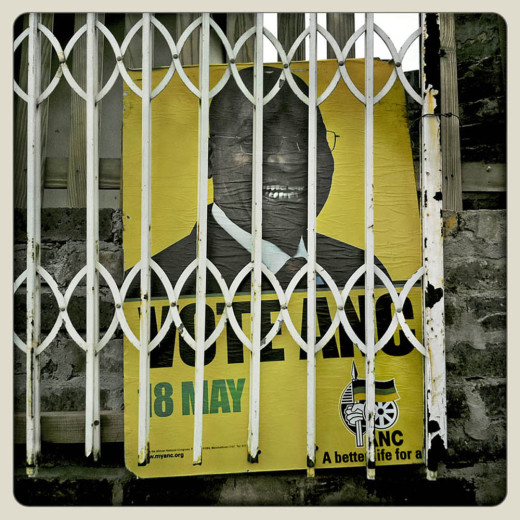 President Jacob Zuma election poster – Imizamo Yethu, Hout Bay, Cape Town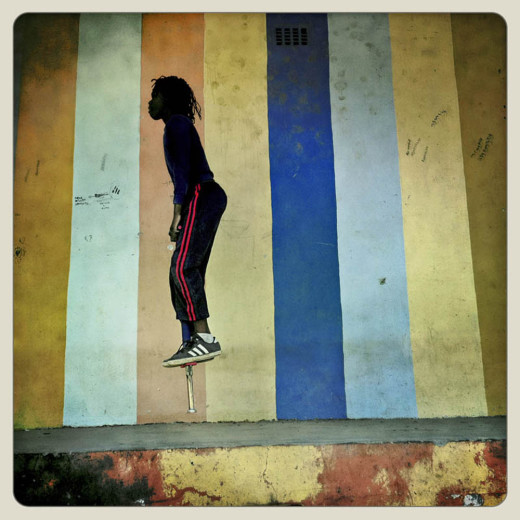 Kuhle – Imizamo Yethu – Hout Bay, Cape Town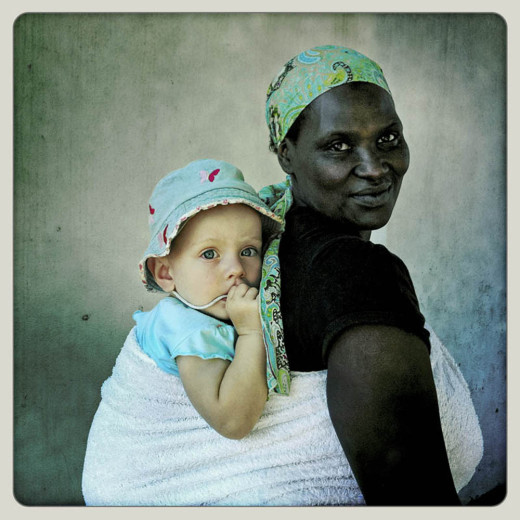 Woman and Child – Hout Bay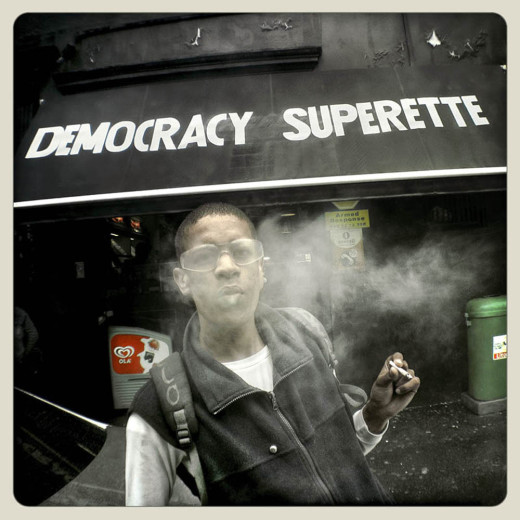 Yazeed Adams – Loop street, Cape Town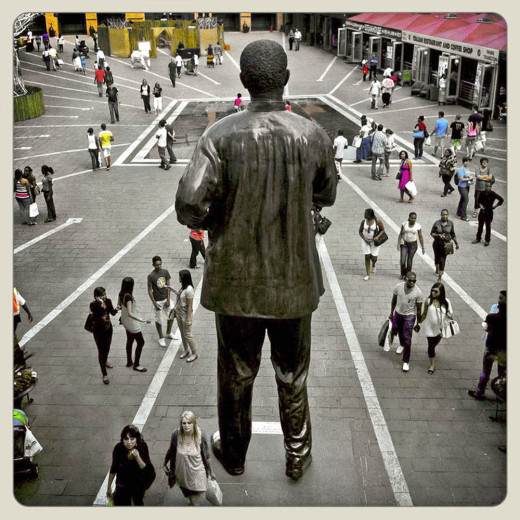 Nelson Mandela Square – Day of Reconciliation – Sandton City, Johannesburg
Press Release
Ernest Cole Inaugural Award Exhibition and Book Launch
The inaugural Ernest Cole Award Exhibition will take place at the Wits Art Museum on 5th September 2012. This will include the book launch of the first winner of the award, Cape Town-based documentary photographer Dale Yudelman. He comments: "Life Under Democracy (published by Jacana Media) consists of vibrant daily reflections, shot in passing, with the simple motivation of noticing what is". Renowned artist, Visual Artists Art Administrator and activist Bongi Dhlomo will open the significant event.
Ernest Cole was born in South Africa in 1940 and received his first camera as a gift from a clergyman. Before leaving the country in the mid 1960s he worked as a photojournalist for Drum magazine, sharing a darkroom with photographer Struan Robertson. On his own initiative, Cole undertook a comprehensive photographic essay in which he showed what it meant to be black under apartheid. The House of Bondage was published in New York in 1967 and was immediately banned in South Africa.
Cole was a courageous documentarian who at times risked his life to share his imagery with the world. "He wasn't just brave. He wasn't just enterprising. He was a supremely fine photographer," says David Goldblatt, a co-founder of the award. Sadly, he never returned to South Africa and died in exile in New York in 1990 just after the release of Nelson Mandela and the unbanning of the ANC and other liberation organisations.
In contrast to Cole's work, Yudelman's project is shot on an iphone and explores the life of ordinary South Africans today. His journey takes us from the streets of Johannesburg to the surrounds of Hout Bay, Cape Town; from street protests to parliament, from the poor to the rich and famous. He delivers a personal, sometimes scathing and often humorous account of our unruly and evolving democracy.
Yudelman's interpretation of Life Under Democracy coincides with the 'digitial revolution' providing a provocative essay of contrast and social commentary executed in his inimitably, edgy style. It is a significant social documentary that invests in the power of smaller moments and features South Africans in their eighteenth year of freedom.
The Award, initiated by University of Cape Town Libraries, offers a unique opportunity for photographers to complete an existing project focusing on South African society. The award has been made possible by the generous support of the Peter Brown, Gavin Relly Educational, Kirsh Family Trusts and Orms.
Date: Open to the public from 6 September to 24 September 2012
Where: Corner Jan Smuts Avenue and Jorissen Street, Braamfontein.
Underground parking available in University Corner. Entrance off Jorissen Street shortly after Station Street intersection on the left. On street parking is also often available.
Opening hours: Wednesday to Sunday, 10am – 4pm
Exhibition and Book Launch Dates
WITS Art Museum – Johannesburg – 5–24 September 2012 – Opening Wed 5 Sept at 6pm
KZNSA Gallery – Durban – 2–21 October 2012 – Opening 2 Oct at 6pm
AVA Gallery – Cape Town – 29 October–23 November 2012 – Opening 29 Oct at 6pm
The Book Lounge – Cape Town – Wednesday, 7 November 2012