A closer look at David Goldblatt's latest exhibition, "Ex-Offenders", that we printed in preparation for the launch at the Pace / MacGill Gallery in New York.
Legendary South African photographer, David Goldblatt approached us earlier this year with an idea to create an interactive exhibition for his latest show "Ex-Offenders". currently on show at the Pace / MacGill Gallery in New York. He wanted viewers to engage with the captions of each image. As opposed to just being stuck onto the wall, he wanted the captions to be a part of the artwork so that you could not view one without the other.
Many, many prototypes later we came up with the final product below. David's images were printed on Ilford Fiber based paper and printed onto the Light Jet machine. They were then hinged onto an archival mount board with a window mount around the image, creating a white border to frame it. Finally, we framed the image with a thin silver aluminium box frame.
To get the copy mounted at an angle, we printed it directly onto white Dibond and using a bracket, attached it to the bank of the frames t a 45° angle, allowing the viewer to read the caption without straining their neck.
The pictures probably do much better justice than my description! You can read more on the official press release by the Pace / MacGill Gallery below.
Ex-Offenders at the Scene of Crime or Arrest
South Africa and England
2008-2016
In this gallery are photographs from a project on which I have been working since 2008. Its origins lie in the simple observation that many of us in South Africa are the victims of frequently violent crime. With much stress and at considerable cost we try to protect our persons and property. Yet withal we remain extremely vulnerable to attack by people who would seize our things and damage or end our lives.
I have asked myself, in the fear and fury of holdups with knives and guns, who are the people who are doing this to us? Are they monsters? Are they 'ordinary' people – if there are such people as 'ordinary'? Could they be my children or grandchildren? Are they you or me? How did they come to do this? What are their lives?
I decided to try to find some sorts of answers in the way I know best, through photographs and words. I wanted to meet people who had done crime. I wanted to meet them not as incarcerated criminals, but as 'you' or 'me'. I wanted to do portraits of them in the present that would in some way relate to their crime in the past  by going to a place that was probably life-changing for them and their victims: the scene of crime or arrest. I wanted to hear their stories not as a journalist or reformer but simply as the curious recipient of whatever they wanted to tell me of their life. And so I came to this project. I recognised that the people whose portraits and stories I sought would probably be unwilling to go back to the scene of their crime or to expose themselves and their lives to me. Why should they? They would very likely fear that I sought to dramatise and expose, and they would, as many people now do in relation to photography, fear that I would  make money out of them.
So I arrived at a way of working that has resulted in what you see here. I approach people who have offended or who were alleged to have offended, and who have, in most cases, been in prison. They are now on parole or free. I pay R800  to photograph and interview them. They sign a release giving me permission to exhibit and publish the work. Once gallery commissions, if any, have been paid, I give all income derived from this work to the rehabilitation of offenders.
What I am doing is naive, unscientific and abhorrent to the practice of good journalism. Since I am not a journalist and owe allegiance to no one other than my subjects and myself, I do not apologise for or hide the fact that I pay the people who collaborate with me.
In many cases the payment was critically persuasive: people coming out of prison are often in dire need and while R800 is not a huge sum it is not insignificant. The payment, together with my undertaking not to make money out of this work has, I believe, been taken by most of the people I have engaged with, as indications of my serious interest in them.
For many the visit to the scene of crime is the first they have made since their stay in prison. For some it has been a cathartic moment; for all, it has been a a moment of gravity. For many, the recording of their words has been an opportunity to tell, perhaps for the first time, their story without being judged. I have been told of crimes, including murders, that were never charged. It is possible that I have been lied to. But since my interest is in what the subjects have to say about their life, crime, hopes and fears, the lies, if any, are part of it.
Most of the people I have photographed are desperate to go straight and to earn an honest  living. In a world of high unemployment and often cripplingly bad education plus a criminal record, many seem set up for failure. Yet most are full of hope. I see them not as criminals, not as offenders, but as ex-offenders.
In 2012 at the invitation of Multistory, a community arts project in the British midlands,  I extended the project to ex-offenders in England. There is a mixture of South African and British ex-offenders in this exhibition.
————————————-
The Director of Multistory, Emma Chetcuti, enabled and carried the project forward in England, assisted by Caron Wright, Laura Dicken, Claire Wearn and Emma Purshouse.
Brenda Goldblatt condensed the interviews and wrote the texts presented here. 
David Goldblatt
Johannesburg, August 29 2016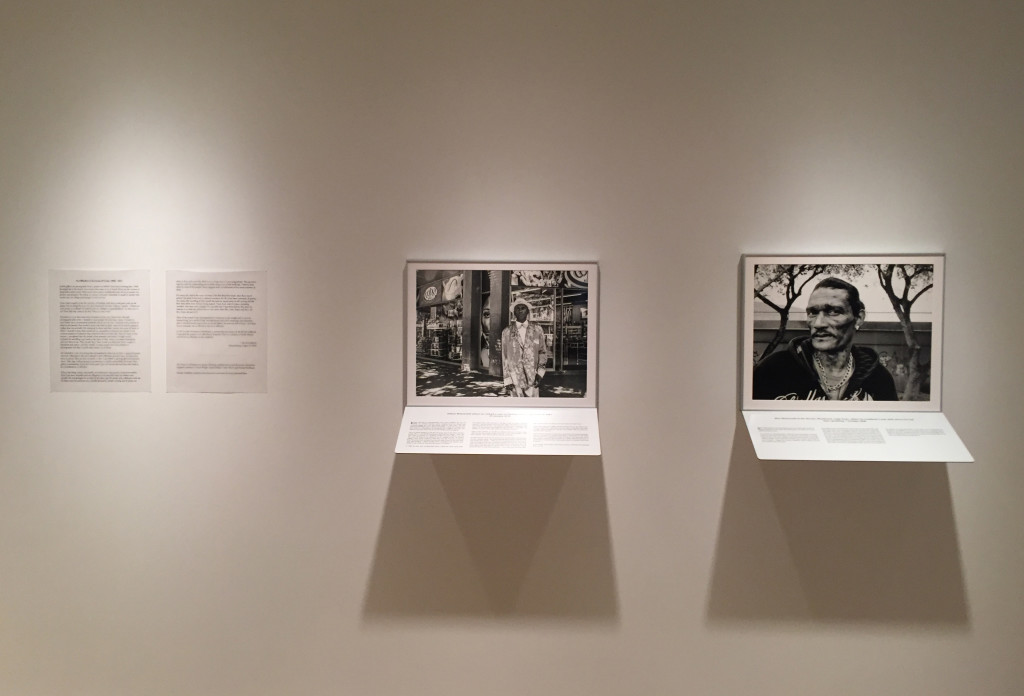 A few frames from the exhibition:
Here, on this bed, in 2007, Ellen Pakkies strangled her son Abie. Lavender Hill, Cape Town.  | 12 September 2010

When I was born we lived in the street. I was two when my mother married. We moved to Kensington, lived in a backyard. The owner's sons started abusing me when I was four. They came when my parents were drunk. A man lived next to us who had committed murder. One day he told me to lie next to him. I was an obedient child. He raped me. I was sodomised. I was six years old.

I didn't know what it was to be a child because I grew up without friends, alone. My parents were there, but also they were not there. I didn't trust anyone. I did not go to school. My mother never saw the pain in me because I kept it to myself, with a smile on my face.

By the time I was 11 I had been abducted twice and sexually abused. I had to share a bed with a rapist because he brought liquor into the house. He began to boss me, so I ran away. I was thirteen years old. I was gang raped. I ate out of garbage bins, prostituted myself to stay alive. It felt dirty, but it was my way to escape.

My oldest son was born from rape when I was 17. I married when I was 18. It lasted six months. My second marriage lasted two years. I had two sons, Abie and Colin, with him. I met Ontil, the man I am married to now, when I was 28.

Abie was a quiet child, very loving When he said something he made you laugh. At 13 he began to change, because he started using tik1. From then on it was downhill. Clothes and dishes were stolen. Anything he could lay his hands on was stolen. Power lines were cut. Bathroom pipes were stolen. It was so bad we put burglar bars on the doors and windows. They didn't keep Abie out. One evening I come home there is no linen on my bed. He stole it through the window with wire. The things that he stole were not important to me. He was important to me. I made this room for him, at the back. I tried to make him feel that he belonged somewhere, but he never saw it like that.

I had to leave the house quietly because he would follow me, force me to draw money at the ATM, until my wages were finished. I had one pair of panties. I stank because I couldn't wash properly. One day I thought I could not go on like this. I went to court to get an interdict. It didn't work. I gave up hope.

One day Odil and I were going shopping, I let Abie in the house, said: 'Make something for yourself to eat. Don't go into our room'. On the way, Odil remembered he forgot his money at home. I came in and saw Abie coming out of our room with two bags. We pursued him. I gave him R20 to buy drugs.

Next morning I went to talk to him. I took him some tea. I saw a rope on the way, grabbed it. I stood in front of him with the rope in my hand. I cried because of what I want to do. I put the rope around his neck. He woke with a fright, grabbed a plank and swore at me. I said to him: 'Don't swear at me and put the plank down, I want to talk to you'. I asked him : 'Why don't you appreciate what I do for you? When are you going to listen?' He said: 'Mammie, I am going to listen'. As he said that I pulled the rope. I cut my hands. I used his sweater to pull tighter.

I went to get dressed and came back to look at him. He was lying peacefully, like someone asleep. I told my boss, Mr Rodgers: "I have killed my son". He took me to the police station. Mrs. Rogers supported me. She bought me underwear and towels. The clothes that I had were full of stains. You must bare your shame before everyone.

My tears continued for a year. I spoke to a psychiatrist during the trial, the first time I told my story. I received a three-year suspended sentence, 62 hours community service. Now mothers with children on drugs come to me and I stand by them, help them to the best of my ability. They don't want to share this with anyone because people look down on them, stepping on their heartache.*1Methamphetaime
Kapou Maaneveld where he robbed a man on Darling Street, Cape Town in 1987. | 23 January 2010

Kapou was born in Bonteheuwel, one of five children. He was 10 when he started missing school, stealing from his family and smoking dagga. At 13 he was living rough in Cape Town. His first judicial punishment was a caning for robbing a shop, the second a two year stint at a reformatory for breaking into a bakery. At 23 he was sentenced to four years for the for the Darling Street mugging.Once in jail he wanted to join the 26 gang, one of the three numbers gangs (26, 27 and 28) that dominate South African prisons. "They told me I must see blood, so I stabbed another prisoner. Officers saw me do it, put the dogs on me. They put me in a single cell for 18 months, added a year to my sentence. Then they sent me to prison in Mossel Bay. The gangs there ordered that the jail must be put on fire. We were shot with teargas. I spent another year in isolation, had another year added to my sentence. Now my four years is six years."

In 1993 he was sent to Brandvlei Prison where he spent time with his brother, Blitz, who was also a member of the 26. Kapou tattooed himself: 'I cut the number 26 on my nose, Baby John Tribe on my head, two scorpions on my face." He robbed a warder of his sunglasses and watch "to buy tobacco and dagga for me and Blitz. I got R90, and another six years. Then eight years for stabbing someone."

Kapou spent another six months in solitary, locked up 23 hours a day, after he was found with a knife in his cell. 'I can't see any light. I can't hear anyone. I was missing home, missing my family."

He was released back into the prison to a cell with Blitz and members of other number gangs. The prison officials were trying to isolate them and break their power. "They put us on punishment to force us to stop our gang activity. But my head is pushed far into this gang thing and I can't pull it out. The day I finish with the 26, is the day I die." By then Kapou had the rank of Captain One in the 26 hierarchy, which permitted him to stab other prisoners. "I am a big man, the man who goes out first from his camp, to see how deep the waters are."

Kapou was released in 2004. He had served 20 years. He lived on the street in Cape Town, collecting scrap iron. Blitz, his brother, was killed in 2008. "When I heard this I let go of my trolley with my scrap iron, and fall down and cry."

Kapou was wearing the costume of a Carnival dancer in this photograph. He was a member of a troupe. New Year is celebrated in Cape Town with parades by competing groups of dancers and musicians. Every year Kapou is given a new costume by a friend, Richard Stemmet, in gratitude for the protection Kapou gave when his brother Mark was in prison.

In December 2010 Kapou was back in prison, sentenced for breaking into a car.
We need your VOTE!
We are incredibly excited to once again be up for the Best Photographic Blog Award at the 2016 SA Blog Awards! Please take a moment and vote for us by clicking on the SA Blog Awards Badge below – Thank you!