Implemented Environments is now on show at the Brundyn + Gonsalves gallery in Loop Street, Cape Town.
Implemented Environments is now on show at the Brundyn + Gonsalves (formerly iArt) gallery in Cape Town. Featuring works by various South African artists, including Zwelethu Mthethwa, Willie Bester and Sean Slemon, the exhibition is centred around the theme of "green issues".
Below you'll find some of the works on display, as well as the exhibition's press release. We've also embedded a video interview with Zwelethu Mthethwa at the end of the post.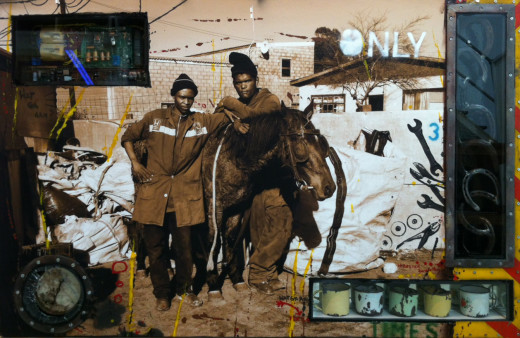 Zwelethu Mthethwa and Willie Bester – Experiment 5 … Wat ga' aan
Participating Artists:
Jessie Hammond, Mohau Modisakeng, Daniella Mooney, Zwelethu Mthethwa, Sean Slemon, Jan van der Merwe, Barbara Wildenboer and Willie Bester.
Implemented Environments is on display from 5 December 2011 to 25 January 2012 at Brundyn + Gonsalves, 71 Loop Street, Cape Town. The gallery is open from 9-5 on weekdays and 10-2 on Saturdays.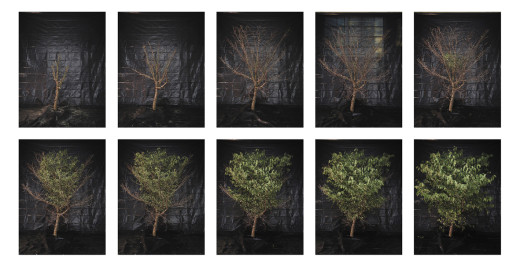 Sean Slemon – Public property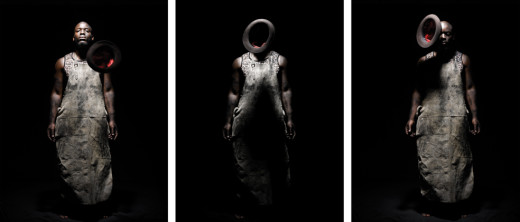 Mohau Modisakeng – Untitled
Daniella Mooney – Obscured by clouds
Press Release:
There can be little doubt that "green issues" are at the forefront of contemporary collective consciousness. Notions of recycling, climate change, and environmental sustainability are all pertinent topics of discussion and have manifested themselves in such diverse initiatives as the United Nations Environment Programme's Billion Tree Campaign and Greenpeace. With the upcoming COP-­‐17, UN Climate Change Conference in Durban all eyes will be on South Africa as a central figure in this global dialogue.
Yet to view a notion of environment in isolated terms of its nature connotations is to ignore the fundamental interrelations of the word in its broader context. The Oxford English Dictionary supplies multiple definitions of environment including:
Freq. with the. The natural world or physical surroundings in general, either as a whole or within a particular geographical area, esp. as affected by human activity.
The social, political, or cultural circumstances in which a person lives, esp. with respect to their effect on behaviour, attitudes, etc.; (with modifying word) a particular set of such circumstances.
Art. A large three-­‐dimensional artwork designed to be experienced from within.
Thus the term becomes something that one experiences, but also something that one perpetuates and has the potential to influence; environment as an entity sustained by a series of actions and reactions.
With this in mind, Brundyn + Gonsalves proudly presents Implemented Environments. The exhibition incorporates a diverse array of responses to the theme although consistent throughout is a frank honesty in the artists' reflections. Indeed the exhibition runs the gamut from the whimsical to the confrontational. Implemented Environments marks an insightful and relevant investigation into South African artists' meditations on notions of environment; whether addressing ecological, economic or sociopolitical conditions or simply reflecting on the earth-­‐human connection.
Participating Artists:
Jessie Hammond, Mohau Modisakeng, Daniella Mooney, Zwelethu Mthethwa, Sean Slemon, Jan van der Merwe, Barbara Wildenboer and Willie Bester
For more information:
fiona@brundyngonsalves.com
leighanne@brundyngonsalves.com
021 424 5150