Photos from the Cape Town Month of Photography Grand Opening, featuring almost 30 photographers in 3 exhibition spaces.
We attended the Cape Town Month of Photography's Grand Opening at the Castle of Good Hope last night, and despite the stormy weather trying its best to dampen the evening, it turned out to be a great show.
The Castle is hosting multiple exhibitions featuring many talented photographers in three separate exhibition spaces – there's a wealth of great photography on show! For a full list of the artists exhibiting, please refer to the flyer at the end of this post.
During the event, the grand prize for the best-of-show was also announced, with Nel de Franca's "Lost Moments" installation taking the top honours. Nel won a Nikon D800 DSLR sponsored by Nikon SA, as well as a Nikon 50mm f/1.4G lens sponsored by Orms Pro Photo Warehouse.
The exhibitions will be on show until 21 October 2012, and will be open from 9AM-3:30PM daily – it's well worth a visit!
Nel de Franca receiving the grand prize of a 50mm lens from Orms's Jason Ormrod and a D800 from Nikon SA's Luigi Bennet for her installation above, titled "Lost Moments".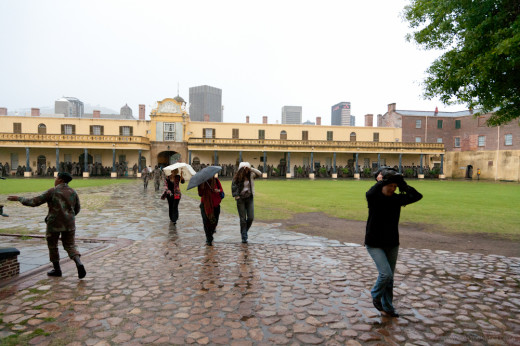 The infamous Cape Town weather…