Photos and a review of First Thursdays July: Bringing street art into the gallery & taking theatre to the streets.
As part of last night's First Thursdays, Orms Print Room & Framing sponsored two highly eclectic exhibitions; Marco Vanrenterghem's Photograffs: Walls of Cape Town and Oscar O'Ryan's Motion: A photo story of dance. Both shows evoked stances of being very current and trendy, yet simultaneously rooted in historical traditions; and of consisting of local subjects and content, while also appealing to broader, international contexts.

Marco Vanrenterghem is a graffiti hunter and photographer, and he has united these two passions to create Photograffs: Walls of Cape Town, a photo-documentary of the street art that currently exists within the city of Cape Town. The show highlights the artists and the artworks. The written content describes the stories and repertoires of each artist, while the images are mostly grayscaled, leaving the graffiti pieces in bright colours, which seem to pop right off the surface.
Many of the photographs have been printed onto traditional photographic light-sensitive paper with a metallic finish using our Lightjet printer, and the prints were then mounted using Dibond. Dibond is a great mounting technique as the image is not constrained behind glass or within a frame, and it really works with the metallic paper, which itself has an iridescent and reflective quality. The metallic paper is also great for highly contrasted and saturated images, and enhances the depth so it really works with this visual imagery.
The other photographs are printed onto aluminum and they have such a unique "wow factor", as they have a real tactile and gritty appearance, reminiscent of the streets in which the pieces are actually located.
While all of this is going on within the gallery walls, on the outer side of the gallery Mak1One begins spraying a piece on a garage door. This gives the show a truly holistic appeal, as it emphasizes that the art of graffiti is a living organism, bred on and from the streets. It's a lifestyle, it's a language, and it's local.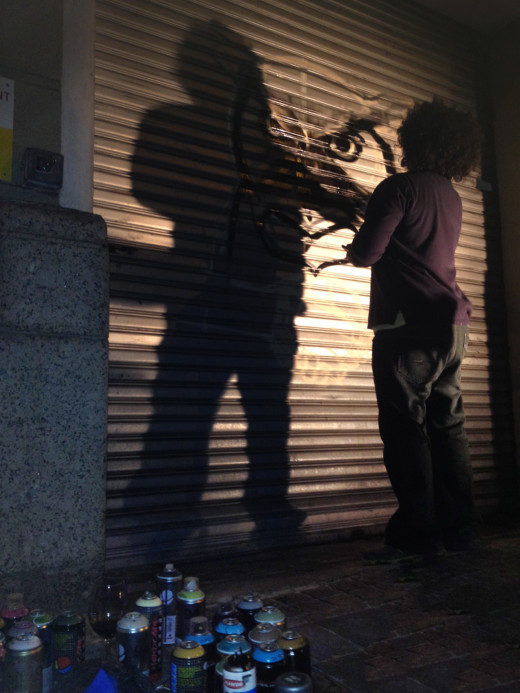 One street up, at Youngblood gallery, is Oscar O'Ryan's Motion: A photo story of dance, an official project of the World Design Capital 2014. Oscar collaborates with Darkroom Contemporary, a public awareness campaign that aims to raise awareness about the dance and theatre movement in Cape Town.
Oscar, in all his humility, insists that the show should be less about him as a photographer, and more about the dancers themselves. The dancers are the features of the photographs. They are all prominent personalities who comprise Cape Town's dance industry. Dancers featured in this year's project include Grant van Ster and Shaun Oelf of Figure of Eight Dance Collective, Philip Boyd – founder and CEO of Dance For All, Simone Botha of Bovim Ballet and Rosana Maya of Tiera Flamenca. Their personal backgrounds and stories are portrayed in text alongside the photographs. The city itself is showcased too, as historical architectural landmarks and urban environments provide the backgrounds, the colloquial stages, in which these dancers perform.
During the evening a snippet of Darkroom Contemporary artistic director and choreographer, Louise Coetzer's Blueprint is performed. This performance is inspired by architecture, and encourages the audience to reassess the relationship between dance and design. "Highlighting the similarities and differences between man and his surroundings, Blueprint questions our place within a concrete and technological jungle, and considers the impact urban and technological advancements have on human connection and interaction."
Oscar's objective to promote the local dancers and their environments is thus highly successful. Yet one cannot ignore the sheer beauty, pure simplicity, and grace, in which the dancers' movements are captured in that instance of clarity, composed within the landscapes with such simplicity. The prints are produced using Giclee inkjet printing techniques, onto Somerset Velvet, a cotton rag slightly textured off-white paper, which further enriches the softness of the imagery.
First Thursdays, for me, is about making art more "user-friendly" per se. It's about demystifying traditional connotations of "high art" and of galleries being spaces that are only open to an exclusive, elite audience. It's about breaking down conventional barriers to promote inclusivity. It seems that Marco Vanrenterghem and Oscar O'Ryan, have furthered these ideals. While Marco has brought graffiti into the gallery space (yet still keeping it firmly rooted in and on the streets), Oscar has brought dance out of the theatre, and has offered it to the city's people and spaces. It is through artists like Marco and Oscar that arts and culture in Cape Town are becoming more and more accessible. See you next First Thursdays!
Motion: A photo story of dance is open from 3 July 2014 to 2 August 2014 at Youngblood Gallery, 70-72 Bree Street, and Photograffs: Walls of Cape Town is open from 3 to 17 July 2014 at Alliance Francaise, 155 Loop Street.