One of the most appealing professional photography careers is a fashion photographer.
One of the most appealing professional photography careers is a fashion photographer. Mention that you're a fashion photographer and immediately people picture gorgeous exotic locations, even more exotic models, high society functions and huge pay cheques. These impressions have lead to the market becoming extremely competitive.
But they're not strictly true – a career in fashion often involves great discomfort in isolated locations, coaxing temperamental models to co-operate, tirelessly marketing yourself and waiting for months on end for a pay cheque from picture editors who've forgotten your name. If you're still interested in becoming a fashion photographer there are some tips that will make it easier to break into the field.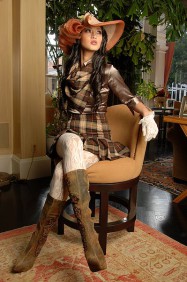 Research
Read fashion magazines and look carefully at the photographs. Reading the magazines and keeping abreast of the trends in fashion and also in what's currently popular in terms of photo-spreads will give you a real advantage when it comes time to put your portfolio together. You have to be extremely creative as a fashion photographer, often you will be required to tell a story with your shoots.
Practice
Once you've decided what kind of styles you like, try shooting photos in those styles. Put together sets (you have to be creative and able to design settings as a fashion photographer) and lighting and see if you can recreate the work of your favourite photographers. The most important thing you will need to learn about as a fashion photographer is lighting. Play with lighting constantly, learn the accepted rules, and then break them and develop a style that works for you.
Contacts
This is a two part challenge. The first set of contacts you will have to make are with other aspiring fashion professionals. Get to know wannabe models, and student designers. Make friends with a young make-up artist and an apprentice hairdresser. These people may make up your team one day – and even if they don't you need to learn to work as part of a team if you want to be a fashion photographer. The second set of contacts is the photo editors, magazine stylists and photo agents who will give you your break. Learn the names of these people, and try to make contact with them.
Portfolio
You will need a portfolio if you want to be a fashion photographer. The portfolio should be made up of photos that have a theme, but also show your versatility. You will have to try to express your individual photographic "voice" in your portfolio. If you have had photographs published, make sure you include tear-sheets in your portfolio. The rest of it should be comprised of 4×5″ transparencies or 8×10″ prints.
Equipment
You will need at least a Digital SLR camera, strobe lights, a reflector and a tripod. If you have a studio, or access to a studio you already have an advantage. Make sure the studio has a private changing area. Your own car is also a good idea as you are likely to spend a lot of time trekking to and from locations as a fashion photographer.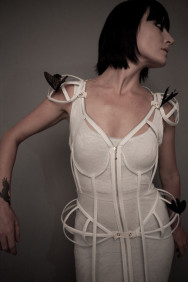 Confidence
As a fashion photographer you will have to be able to direct. While top professional models know how to pose and often have some acting skills, most models will need to be posed and micro-managed on the set. It is however a good idea to listen to the model if she has suggestions – she may have a good idea, and even if he doesn't it will relax the model. You also need to be able to take charge on a set, while you will be following the client's brief, you need the ability to take the photographs you think will work best and the ability to tell make-up artists, hairdressers etc what you want.
Marketing
As fashion photography is such a competitive field, being an excellent photographer with a talent for composition isn't enough. Its a good idea to set up a website and digital portfolio (on a cheap flash drive or disc). If you don't feel up to the challenge of aggressively marketing yourself it may be a good idea to find a photo agent.
If you can break into the world of fashion photography it can be immensely rewarding, both financially and creatively.