Cape Town-based food photographer Russell Smith shares the incredible photos from his latest shoot with Col'Cacchio.
Article and photographs by Russell Smith. If you enjoy this post, be sure to read Russell's tips.
I have recently just completed another great campaign with my client Col'Cacchio pizzeria.
For those of you who are not familiar with the brand, it is a successful pizza/pasta franchise that is all over South Africa. Its HQ is based in Cape Town and when they employed their new Creative Manager, Ingrid Pearce, I started with them on their new look almost two years ago.
Ingrid had the vision of making the brand more image driven and taking it away from the restaurant and into sexy cooking settings, full of fresh ingredients that told a more contemporary story but always keeping it inviting and appetizing.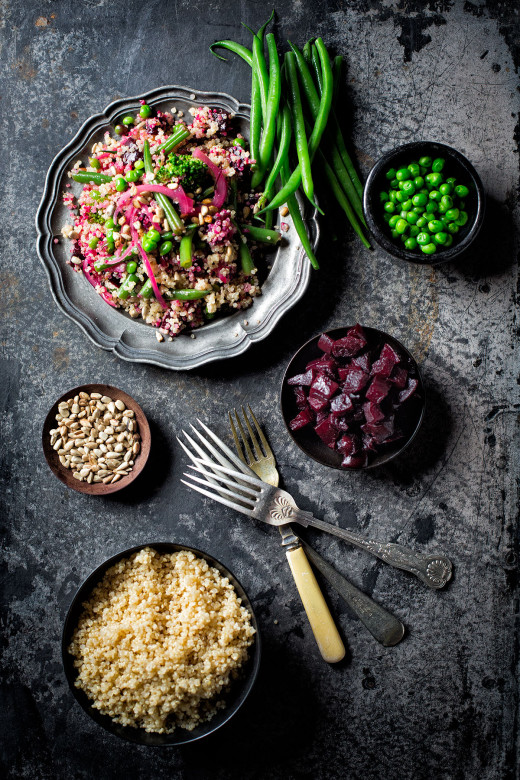 The images we shot would be used in all marketing collateral and would form part of a library that they could draw from. This would be divided amongst images of pizzas, pastas and salads with a smaller percentage on desserts and cocktails.
The lighting and styling was crucial. Props and backgrounds were carefully considered while the food had to be true to what was served in the restaurant even if we styled with different plates and cutlery.
I had to convert the Col'Cacchio restaurant into a studio as that was were the kitchen and ovens lived. I set up a window with a silk scrim, bounced light in from outside, blackened out peripheral ambient light and used some small white reflectors to bounce back light into the food.
This last campaign required us to push the shoot a little further as many of the competitors started doing the same thing.
We came up with the concept of shooting on dark backgrounds. Brushed mettle trays, dark slate tiles and wood gave wonderful textures and helped the colour of the food to jump out. The idea was to go unashamedly dark especially in the shadows. A seemingly small detail but one that would have been difficult to sell without the trust I have built up over the time working together with Col'Cacchio.
We also decided to keep it mostly shot from directly above which works well on pizzas and generally makes the images more graphic.
Lisa Clark was responsible for the magnificent styling.
Post originally appeared on Russell's blog. Russell is a prominent food and portraiture photographer based in Cape Town, but also enjoys to document his travels.