Ever wanted to see what a Nikon 1200-1700mm lens looks like? Or a 6mm fisheye? What about a Canon 5200mm mirror lens?
This amazing picture of a photographer carrying Nikon's monster 1200-1700mm f/5.6-8 telephoto zoom appeared on Reddit and PetaPixel yesterday. At a weight of 16kg and a total length of 880mm, this must have been quite a lens to work with – but when you simply have to have that 1700mm reach, what else can you do? Read on for some more interesting niche lenses.

Much like the 1200-1700mm, the Nikon 6mm f/2.8 fisheye, pictured below, needs to be ordered before it actually gets produced – they don't keep them in stock. It has a field of view of 220 degrees, which means it can actually 'see' behind itself.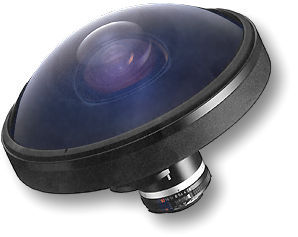 Canon fans need not be left out – Here's the Canon 5200mm f/14 mirror lens:

This massive telephoto was developed to take photos of objects "18 to 32 miles away." It weighs about 100kg and has a minimum focussing distance of 120 meters. Notice the small silver and black thing on the right? That's the camera…
If you'd like to learn more about these lenses, start here:
Nikon 1200-1700mm on MIR
Nikon 6mm fisheye on MIR
Canon 5200mm on MIR