Fujfilm has unveiled the beautifully designed X-M1 compact mirrorless camera, take a look and read more about it.
Fujfilm has announced the latest entry in their X-series of cameras, the mirrorless X-M1. The new camera joins the XPro-1 and X-E1 as the new entry level X-mount camera, which makes it compatible with all the Fujinon XF and XC lenses currently available.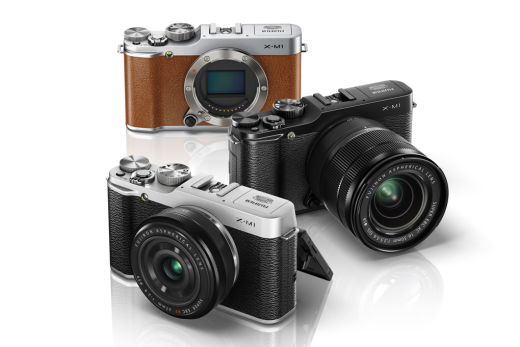 Introduction
Fuji's X-series cameras are well known for their good retro looks and great handling, and the X-M1 looks like it will continue this trend. The camera does lack the optical/electronic viewfinder of its siblings, but the high resolution 3″ display on the back can tilt upwards or downwards, which should make up for the omission of the viewfinder.
In terms of design, the camera is a mix of the Fuji X-E1 and the X20, featuring almost exactly the same body design of the latter – compact, solid and stylish – and the versatile lens mount of the former. It's amazing to discover that they have managed to squeeze an APS-C sized 16 megapixel X-Trans sensor into a body this small. The camera will be available in three colourways: black, silver and black, and silver and brown – we're quite partial to the silver and brown version's good looks.
Beyond that, the camera features all of the new improvements of the X100s, including faster autofocus, new menu systems, and snappy performance, thanks to the EXR II processor.
But what good is a camera without a lens? With the X-mount, the X-M1 can be used with any of Fuji's existing XF or XC lenses, which includes some excellent fast primes. The new camera will also be available in a kit containing a new XC 16-50mm f/3.5-5.6 lens, which is a little slower than the previous XF 18-55mm f/2.8-4 standard zoom, but the XC lens is more compact and lightweight.
Here's the tech specs at a glance:
16 megapixel X-Trans sensor with no low-pass filter
ISO 200-6400, expandable to 100-25,600
5.6 frames per second burst mode
Full HD 1080p video recording at 30fps
3″ high resolution display with tilt functionality
Built-in WiFi
Video Overview
Pricing and Availability
We don't have official word from Fujifilm South Africa yet, but keep an eye on this post or on Orms Direct for updates.
Read More
DPReview hands-on preview
PetaPixel
The Verge
Product Shots