Meet the new Fujifilm XP80 waterproof action camera, now available on Orms Direct.
Fuji's latest compact action camera, the Fujifilm Finepix XP80 is now in stock at Orms Direct. The digital camera comes with a 16 megapixel BSI-CMOS sensor, a wide-angle lens with internal 5x optical zoom and is capable of capturing stunning Full HD or 240 FPS high speed videos. The camera is waterproof, shockproof, freezeproof and dustproof – in other words, made to suit an active lifestyle. The compact also features wireless connectivity for simple sharing, remote shooting with a smartphone or tablet along and a host of powerful picture taking features.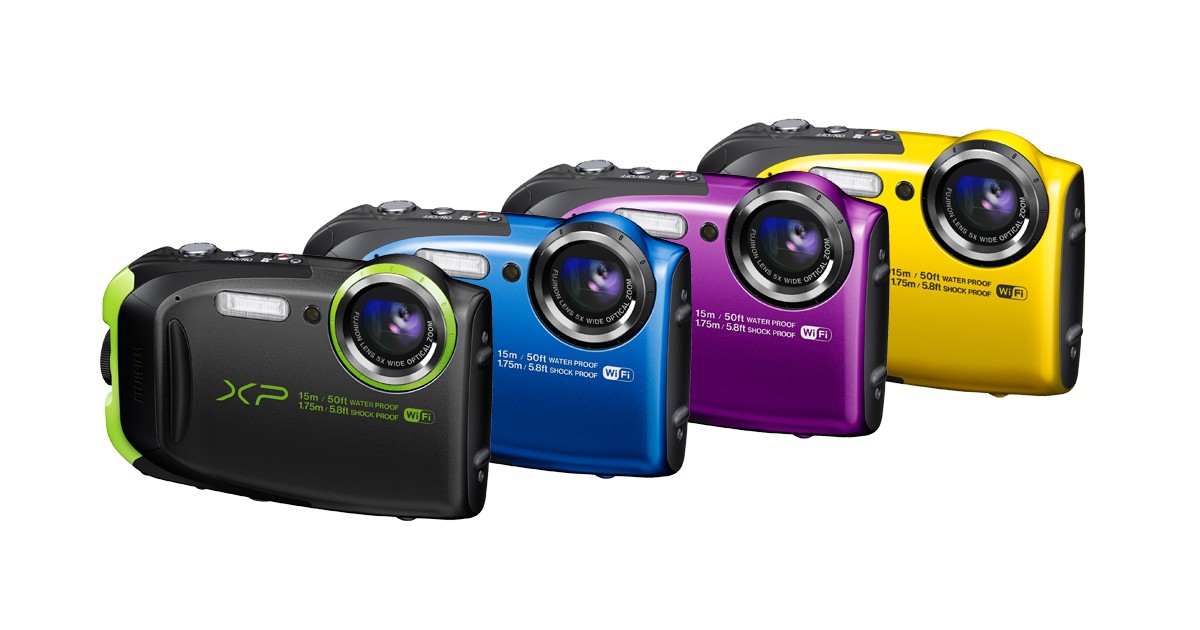 Lifeproof design: waterproof, shockproof, freezeproof, dustproof.
The Fujifilm Finepix XP80 features a lifeproof design that is waterproof up to 15m; shockproof up to 1.75m; freezeproof to -10 degrees Celsius and dustproof.
Wide angle 5x optical zoom with image stabilisation.
The Fujifilm XP80 features a 5x optical zoom lens (35mm equivalent of 28-140mm), and will allow you to capture both wide angle and close-up visuals. Optical image stabilization reduces camera blur to help produce images that are detailed and sharp.
16 Million pixels BSI-CMOS sensor
A 16 megapixel BSI-CMOS sensor captures stunning and detailed images. The sensor features a powerful sensitivity range of 100-6400 ISO and allows the camera to capture bright images even in low light situations.
Full HD recording
The Fujifilm FinePix XP80 can shoot 1920 x 1080-pixel full HD video. A dedicated movie recording button makes it easy to switch to movie recording mode with a single touch. 7 types of advanced filters can also be used to further enhance your videos.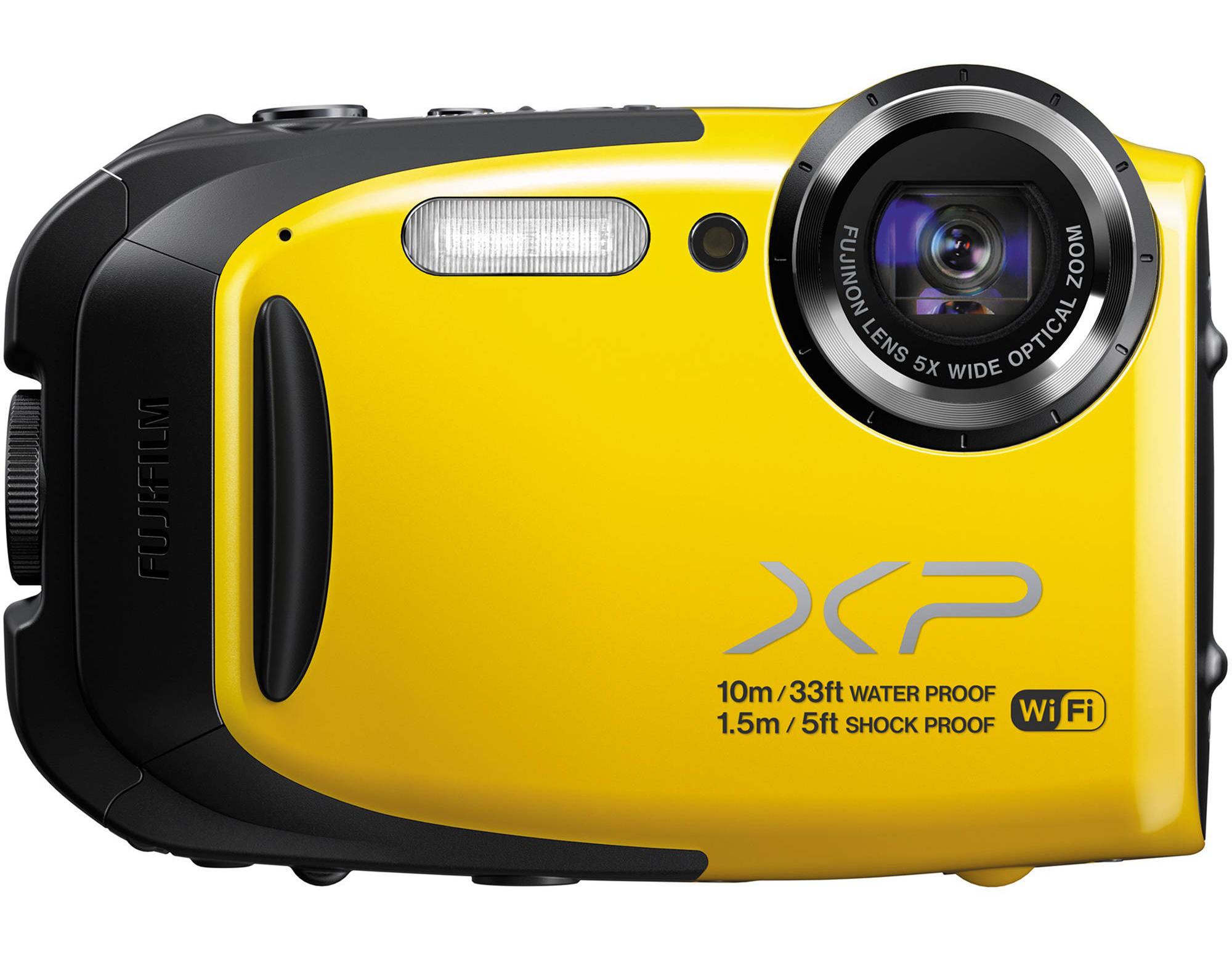 High speed movie
The FinePix XP80 can capture stunning high speed videos up to an amazing 240 fps. With the high speed video mode you will be able to create stunning slow motion videos and see every frame in detail. High Speed Movie can be recorded at the following speeds and sizes: 240 fps (320 x 240 pixels), 120 fps (VGA 640 x 480 pixels) and 60 fps (HD 1280 x 720).
Compact and light
At just 104.1mm (W) x 66.5mm (H) x 25.9mm (D) the camera is very compact and at 179g (with memory card) it is extremely light.
10 frames per second continuous picture shooting
The XP80 can capture fast moving action with a super-fast continuous picture shooting rate at up to 10 frames/sec at full resolution.
Easy photo transfer
A single push of the Wi-Fi button transfers photos to a supported smartphone or tablet without having to enter an ID or password, allowing you to share photos with friends or upload to social media.
Remote shooting
Remotely shoot pictures from a supported smartphone or tablet (Requires the free Fujifilm Camera Remote app). This function allows you to adjust zoom settings or switch to movie recording, making it a particularly useful feature when shooting wildlife that is difficult to approach or in tough wilderness conditions.
Interval Timer Shooting
The interval shooting mode takes pictures at set intervals, ideal for time-lapse photography of sunsets, opening flowers or other transitions in nature. Intervals can be set to 10 minutes, 5 minutes, 60 seconds, 30 seconds or 15 seconds.
Movie edit
The camera also incorporates a number of advanced movie-editing features, including "movie trimming" to cut un-wanted footage from movies, and "movie join" to join multiple separate clips into a single movie.
Lens and wind noise cancellation
Noise cancellation eliminates the sounds made by the zoom lens during recording and a wind filter reduces wind noises during recording.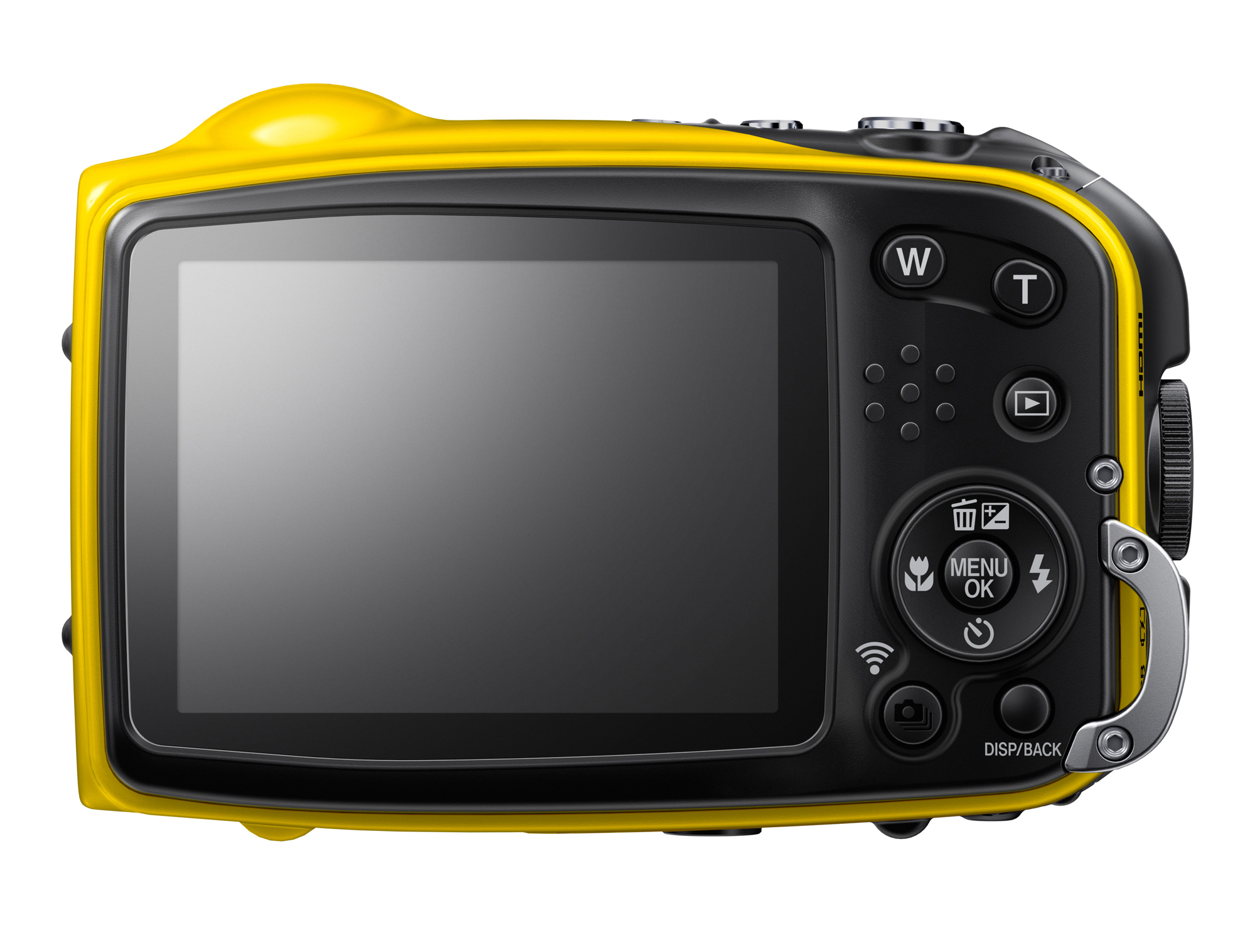 Action camera mode
Action camera mode is perfect for recording footage whilst enjoying outdoor sports. In action camera mode, the LCD monitor automatically turns off when you start to shoot movies, thereby supporting energy-saving shooting.
AUTO scene recognition
Scene Recogniton Auto ensures the optimum camera settings are always deployed for the best images of a given scene.
Underwater shooting modes
Dedicated "Underwater" and "Underwater macro" modes ensure that underwater colors are reproduced exactly as they are seen by the human eye.
Motion Panorama 360
Select "Motion Panorama 360" mode, press the shutter button and sweep the camera to pan the scene. The FinePix XP80 cleverly produces a stunning 360° panorama shot, effortlessly and automatically!
Pro Low-light Mode
Ideal for shooting non-moving subjects in low light, this mode automatically takes a series of four high-sensitivity & low-noise exposures and then combines them into an image with less noise than the single exposures.
Dynamic Range (HDR)
This mode uses Multi Frame technology to capture three consecutive photos shot at high speed-under-exposed, normal exposure, and over-exposed. The three images are then layered to an optimum balance of detail in shadow and highlights, eliminating "blackout" or "washout" and producing pleasing, natural gradations.