What goes into shooting a Getaway Magazine cover photo? In hist latest guest post, Russell Smith shares his behind-the-scenes experience.
Article and photos by Russell Smith, a Cape Town-based photographer.
If you have been following me on my Facebook page or website, you would have seen a few of the recent covers that I have worked on with the team at Getaway Magazine.
After 25 years of having landscapes on the cover, it was boldly decided upon to use a female model in an environment that would link to an editorial inside the issue.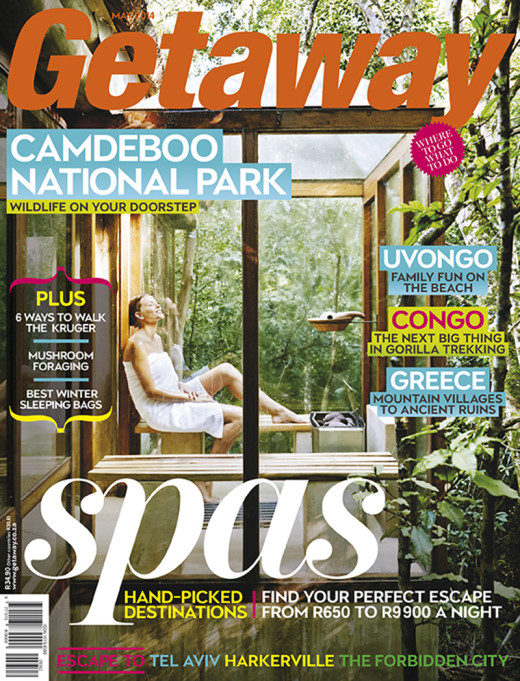 The Brief
For one it wasn't a fashion shoot, even though it needed to have an elegance and beauty. We have always briefed the model to be herself in the environment she is in, rather than sell the clothes she is wearing. It is more about lifestyle and giving off a sense of 'wanting to be there'.
Depending on the issue and season, we cover all sorts of terrain from safari to beaches and farms. Not a bad gig to be photographing, especially since we get to see some of the most magnificent parts of this country. We also get to stay in amazing places, hosted more often then not by the most hospitable of people. This particular shoot was at a place called the Trogan House Forest Spa in the Crags near Plettenberg Bay, high up above the trees!
We had rain while we were there, which seems to follow us on these Getaway cover shoots, but fortunately came right the morning we had planned to shoot.
The team is relatively small and is usually made up of Jacqui MacGregor, the art director/co-ordinator/stylist/driver and designer at the magazine. A hair/make-up stylist, Lauren Telo, and the model, Marie Taljaard. When I can, I'll take an assistant with, but on long trips and when accommodation is tight, it often works out that the team on hand assists me.
When one does a shoot in a studio over a day, often the team arrives in the morning and leaves at the end of the day. Even if you have worked with the stylists or models before, there is something to be said for sharing a road trip and a night's stay over before shooting together. It brings everyone much closer and results in a much more cohesive shoot and bond between photographer and model.
We usually try and get one sunrise and one sunset into our shoot to cover both looks and different angles on sunlight. Our last shoot was in exactly the same location but back lit both times giving us two angles to shoot from.
In terms of gear I like my Canon 70-200mm f/2.8 for blowing out backgrounds and showing less distortion on the model, but often this leaves me far away from my subject. Communication with the model isn't always so effective and since I often need a lot of room in the cover image for mastheads and cover lines it often works out easier to use a wider Canon 85mm f/1.2 lens or even my Canon 24-70mm f/2.8 at the 70mm range. This allows me to get in a little closer to the subject.
I have in the past tried to bring in off-camera flash but have found that it lends something a little unnatural to the scene and that manipulating daylight often does the trick. This may even require me shooting images with the assistant bouncing or softening light while in my frame. I would then shoot the same image without the assistant there and easily erase them in post-production. I would use a tripod in these instances so as to lock off identical frames that are easy to retouch.
Another important aspect that ensures the shoot goes well is working with the right models. That is not to say just good-looking people, but rather those confident enough to be in front of a camera and not break out into modeling poses. Often I take a few options for the cover and this means that besides wardrobe and hair changes the model needs to have a few different looks to give as well.
And then some of the images that were shot potentially as cover options but were used in the magazine instead.
Thanks to the team:
Art director: Jacqui Macgregor
Hair/make-up: Laren Telo
Model: Marie Taljaard
Photographer's assistants: Jacqui Macgregor and Laren Telo
This post originally appeared on Russell Smith's blog, and has been reposted here with permission.