An in-depth review of the Gigapan Epic Pro robotic panoramic camera mount by Robert Miller – Now in stock at Orms!
A Gigapan review by Robert Miller. Visit Gigapan.org to view gigapixel panoramas.
As many of you know and some will not know, I took delivery of my Gigapan Epic Robotic Panoramic head towards the end of last year and I though with Orms Direct becoming the official agents, it was time to do a quick review.
Photo above: The Gigapan Epic Pro and a Nikon D700 on the centre spot of Cape Town Stadium, where it was used to create 360° scene plates that will be used in a TV commercial.
Review Background
The Gigapan Epic Robotic heads are not the only robotic panoramic heads on the market, but it's the only ones I have seen to date that I believe doesn't have glaring design flaws or major oversights (although it does have a few small issues that are more annoying than debilitating). The company that manufacturers it, Gigapan Systems, is a commercial spin off of research collaboration between a team of researchers at NASA and Carnegie Mellon University. The technology behind the design is based on technology employed by the Mars Rovers. Now please don't get confused here as many worldwide seem to have been -The Gigapan heads are based on the technology used by the Rovers; it's not the same head that was used on the Rovers. The heads that went to mars would not have been made of plastic.
What Is The Gigapan Designed For?
I don't think Gigapan are being anything other than direct in marketing this as a head designed to take extremely large panoramic images. In fact, to quote their website: "GigaPan gives experienced and novice photographers the technology to create high-resolution panorama images more easily than ever before, and the resulting GigaPan images offer viewers a new, unique perspective on the world."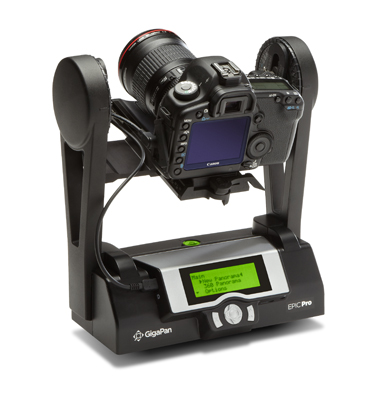 Gigapan Epic Pro
This is not a general all-purpose panoramic head and is not suited to taking small interior panoramic images as it's not actually designed to use extremely wide angle lenses. Gigapan actually states this fact in their documentation. What it is designed for is producing extremely large panoramic images consisting of hundreds or thousands of images and it's very good at doing this.
Design And Construction
The head is pretty well designed and thought through, however it has limited vertical travel when using some wide angle lenses as the camera mount collides with the LCD screen and housing.
The controls are easy to use, but require that one reads the manual beforehand.
The head comes in three models which cater from basic point-and-shoots through to high-end point-and-shoots and from low-end DSLRs to Pro DSLRs and medium format cameras.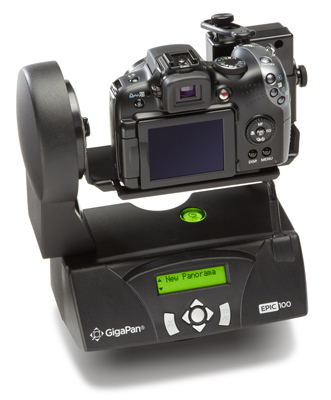 Gigapan Epic 100
Construction is good, but some components are not as precisely aligned as one would hope for and the camera and arms adjustment system is not as precise as one would hope for requiring a little bit of trial and error.
All in all though, it's pretty good value for money.
What Is It Good For And What Isn't It Good For?
I have 2 heads including the Gigapan Epic pro, and the following are some areas where I would use the Epic and where I would not:
High resolution panoramic images – Yes
High resolution panoramic interiors – Yes
Interiors or scenes with moving people and objects – No
Sporting events – No
Dangerous or inaccessible locations – Yes
Scenes with rapidly changing or erratic light conditions – Possibly
Shooting
Shooting with the Epic is really easy. You can either tell it to shoot a 360° image or define an area for it to shoot. It has a trigger cable that can be used to trigger the shutter on many cameras that are supported, so once it is set up, you can leave it to shoot unattended or even trigger it remotely with a radio trigger. It lets you easily set up the lens field of view and control the overlap but I would like to see the ability to set up your own lens database in the future where you could pre-program your settings for various lenses.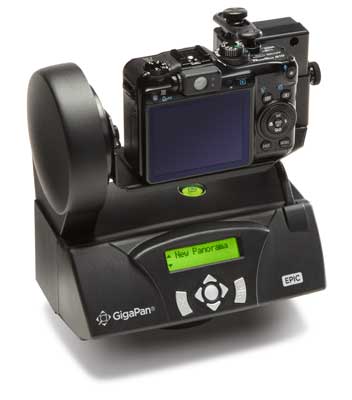 Gigapan Epic
What it doesn't have, in fact, what none of the systems have, is an easy way to find the entrance pupil of the lens you are using meaning that you could find your images will not stitch properly until you figure out where this point is and how to find it. Companies like 360 Precision have actually published this information for a large number of lenses and camera bodies and I think Gigapan Systems need to do the same if they are targeting the novice market.
Stitching
Once you have shot your images you need to stitch them together into a panorama. A stitching package is supplied with the head, however I, and most of the pros that I know who use the heads feel that the software is not good enough and we would recommend PTGUI which is fast becoming recognised as the industry standard for panoramic stitching.
Conclusion
To conclude, the head does pretty much what it says it will on the box and is a purchase that I in no way regret making. What one does need to realise though, is the head will just take the sequence of images you tell it to; it will not make you a great panoramic photographer, that unfortunately as with most things in life, comes with hard work and a lot of practise.
Robert Miller a.k.a. Panascape is a Cape Town based photographer specialising in panoramic images and commercial photographer. Robert imported his own Gigapan. As Orms is now the South African agent for Gigapan Systems, we reached out to Robert for a review based on his experience with the device. The entire range of Gigapan Robotic Panoramic Camera Mounts is now available at Orms!