View the local GoPro Hero3+ pricing and availability information, as well as the brilliant announcement video.
GoPro announced updates to their popular Hero3 series of action cameras last week, with the new Hero3+ Black and Hero3+ Silver editions featuring multiple improvements, including a sharper lens and smaller bodies. But, before we dive into the specifications, take a look at the amazing announcement video we've come to expect from GoPro:
What's new?
The
GoPro Hero3+ Black Edition
is the smallest and lightest GoPro camera yet – it's 20% smaller than the previous models, which makes it the most mountable, wearable and versatile GoPro ever. It features a brand new lens, which increases sharpens by 33% and reduces imaging artifacts. GoPro users will also be pleased to know that the Hero3+ Black Edition has a 30% longer battery life thanks to more efficient electronics, and that the audio quality has also been improved, allowing you to capture even the most subtle of sounds. With upgraded WiFi connectivity, you can now control, view and share content  faster with the GoPro WiFi Remote and GoPro App – and you can even update the camera's firmware wirelessly through the app. Other new features include SuperView, which offers an even wider perspective, a new Auto Low Light mode that intelligently changes frame rates based on the lighting conditions.
GoPro Hero3+ Black Edition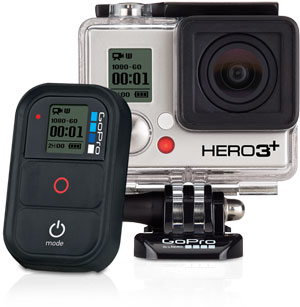 Video capture at resolutions up to 4K
Stills capture at 12 megapixels
Built-in WiFi
WiFi Remote included
Expected to be available in South Africa on 1 November
Order the GoPro Hero3+ Black Edition at R5,995
GoPro Hero3+ Silver Edition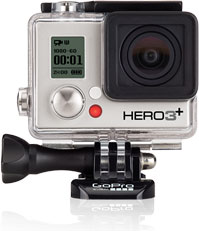 Video capture at resolutions up to 1080p60
Stills capture at 10 megapixels
Built-in WiFi
Expected to be available in South Africa towards the middle or end of November
Order the GoPro Hero3+ Silver Edition at R4,695