View the photos from the launch of the new Orms Samsung Galaxy store this morning, as well as a look at all the new gear!
The Orms Samsung Galaxy Store opened this morning at Orms Cape Town in Roeland Square!
Mr. Han, the head of Samsung Africa, attended the opening to cut the ribbon with Mike Ormrod: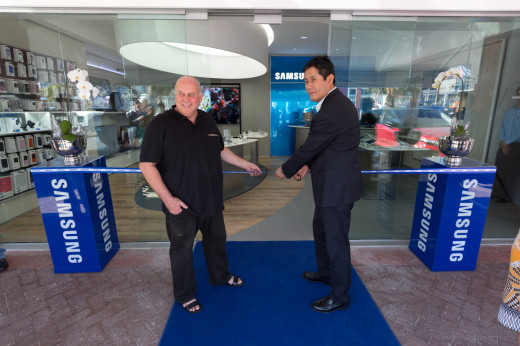 We're running plenty of specials to celebrate the opening of the new store, all of which are also available to online customers: View the Samsung specials on Orms Direct. We are also giving away five Samsung Galaxy S4 Zoom cameras! View all the giveaway details in our previous post.
We also have stock of the brand new Samsung Galaxy S5 on hand, available for in-store and online orders.
From the official press release:
Samsung Brings an Extraordinary Experience to Cape Town

Cutting edge technology and customer care wrapped into one GALAXY Store

JOHANNESBURG, South Africa – 11 April, 2013 – Today, Samsung Electronics South Africa officially announced the opening of its GALAXY Store in Roeland Square, the first of its kind in Cape Town. This store promises an exciting and stimulating environment in which to experience Samsung's world-class mobile, finest television and digital imaging technology, all at one easily accessible location.

Offering the latest range of smartphones, tablets, cameras, premium televisions and accessories visitors can interact with knowledgeable Samsung representatives for advice, training or assistance to select the correct solution to match their needs. The opening of the store is part of Samsung's strategic approach of bringing new experiences and access to product specialists to consumers across the country.

"Samsung is a global leader in offering consumer devices that work seamlessly together and brilliantly on their own," says Michelle Potgieter, Director of Corporate Marketing and Communications at Samsung Electronics South Africa. "This premium retail outlet is the ideal environment where our consumers can interact with knowledge experts and discover how to get the most out of their Samsung products – from assisting the aspiring or professional photographer choosing the correct camera or lense, to information on our wide range of mobile solutions and value added benefits."

"Capetonians now have their very own GALAXY store where they can discover how Samsung's technology can make a lasting difference in their daily lives. We realise that our consumers require engagement that is not only focused on hardware, but  the complete Samsung eco-system surrounding our products," adds Potgieter.

The GALAXY Store in Roeland Square is also able to facilitate service repair bookings with the closest Samsung Smart Care Centre or assist with mobile phone upgrades and queries.

"We are delighted to be able to give Cape Town community easy access to Samsung's mobile and digital imaging solutions and will continue to open additional stores across the country to allow for more consumer experience firsthand on what the Samsung brand has to offer," concludes Potgieter.

The GALAXY Store is located at Roeland Square on the corner of Roeland and Upper Canterbury Street in Cape Town. Telephone: 021 469 3573.
Here's a few snapshots from this morning's opening ceremony, as well as some photos of the new Samsung gear on display!