Shooting the Salomon Skyrun: Craig Kolesky shares the photographer's perspective of the 100km+ mountain race.
Article and photos by Craig Kolesky.
The Salomon Skyrun powered by Powertraveller is a 100+ kilometre mountain race in which athletes have to be totally self-sufficient and navigate by map, compass and a GPS unit. It takes character and mental strength as much as physical fitness and ability. The mountain elements are unpredictable at best and lethal at worst. Most athletes will be on the mountain for over 25 hours. The reward? Ultimate respect in the trail fraternity. That – and as all 'sky runners' will tell you – the privilege to experience a mountain wilderness not too many people have ever set foot on.
The 2014 edition of the iconic event saw the biggest elite international field ever assembled at a South African trail race, including the current course record holder for Hurt 100 in Hawaii, Gary Robbins; Nick Clark, who has placed well at Western States and Hardrock 100; Mike Foote who has finished on the podium at Ultra Trail Mont Blanc; reigning Andorra Ultratrail champion Julia Böttger and 2013 Zugspitz Ultratrail winner Philipp Reiter lining up along side SA's finest.
In the end it was South African Iain Don-Wauchope who won in a new course record of 12:08. He was followed by Canadian Gary Robbins – current course record holder for Hurt 100 in Hawaii – finishing second in a time of 13:47 with South African Jock Green rounding out the podium in 14:12:53. Landie Greyling won the women's race and finished seventh overall.
I was tasked once again to capture this race and tell the story in megapixels. Here's some insight into what the Skyrun was like from a photographer's perspective:
Orms: What was your favourite moment at this year's SkyRun?
Craig: That's a tough one, the part I remember the most is that finish line. When normal people finish the race, it's a huge achievement – to see how guys started on the start line as strangers and cross the finish line with a new friendships is pretty cool to witness. That mountain will humble you very quickly.
And worst moment?
The moment I decided to hike up Holstans Peak, it started to rain pretty badly and there weren't many runners around to shoot, I managed to find shelter under a rock for about 45 minutes until the rain became a bit more manageable. The bad conditions do make great images but not are not so great for your gear.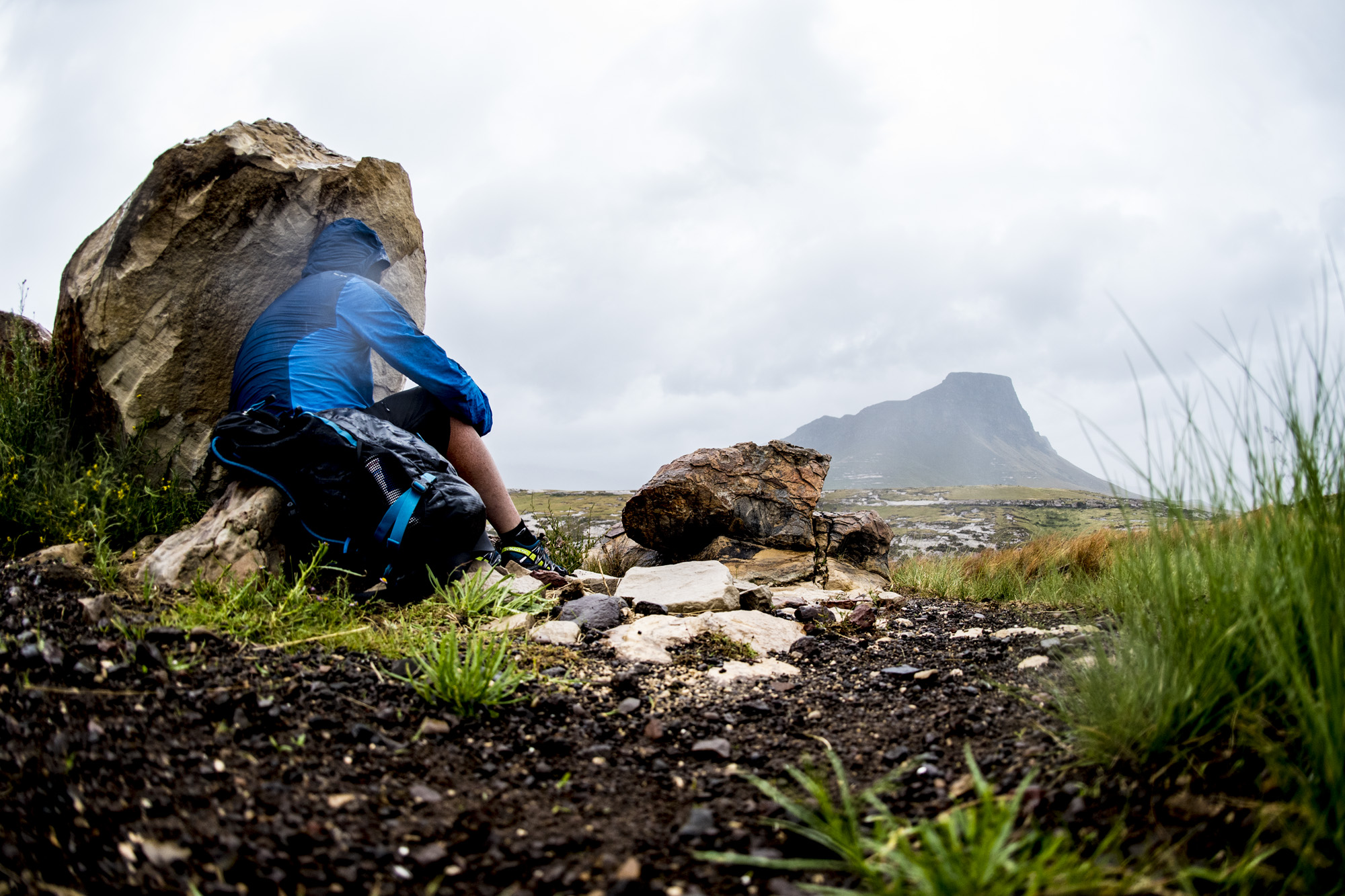 Above: A rock offers some much needed shelter from the rain.
Many people don't realise that shooting a trail run is almost as hard on the photographer as it is on the runners. How do you prepare for it and what makes it easier?
Yes, we have to be just as prepared as the runners when we out there, we have to carry the same gear as well as our cameras. The race has compulsory gear and we also need to stick to that. I kind of got the easy part were I get to drive a Landy to some parts as well as a quad bike. I think in total I hiked about 30km, but then you get Kelvin Trautman who hiked about 50km on day one and I think 20km on day two, pretty crazy. At the end of the day we are out there to capture the race and the only way to do this is to be out there with the runners from start to finish.
What gear did you take along?
If we are hiking so much we try stay as light as possible with gear – if you take too much gear you end making your job harder actually because you end up having too much camera gear to try and use. On this shoot I wanted to test the new Nikon D750 so I took it along, whenever I found some sort of signal out there I posted a few pics on social media for Pure Adventures.
So here is my gear list that I carried on me:
Fstop Loka UL bag
Nikon D4S + battery
Nikon D750 + battery
16mm
Speedlight
Monopod
Monfrotto light stand
Pocket Wizard Plus III and MiniTT1 transmitter
4x 32 GB Lexar CF cards
4x 32 GB Lexar SD cards for the D750
PowerTraveller Solar Panel
Llama bars
Energy gels
A Red Bull
1.5 litres of water
Salomon rain jacket
Saloon wind shell
Space blanket
LED lenser head light
Peak Design Capture Clip – This clips the camera to my Pack strap so it is quick to get to my camera while hiking.
Leatherman
iPhone
GoPro
Energizer batteries
Garmin watch with route loaded on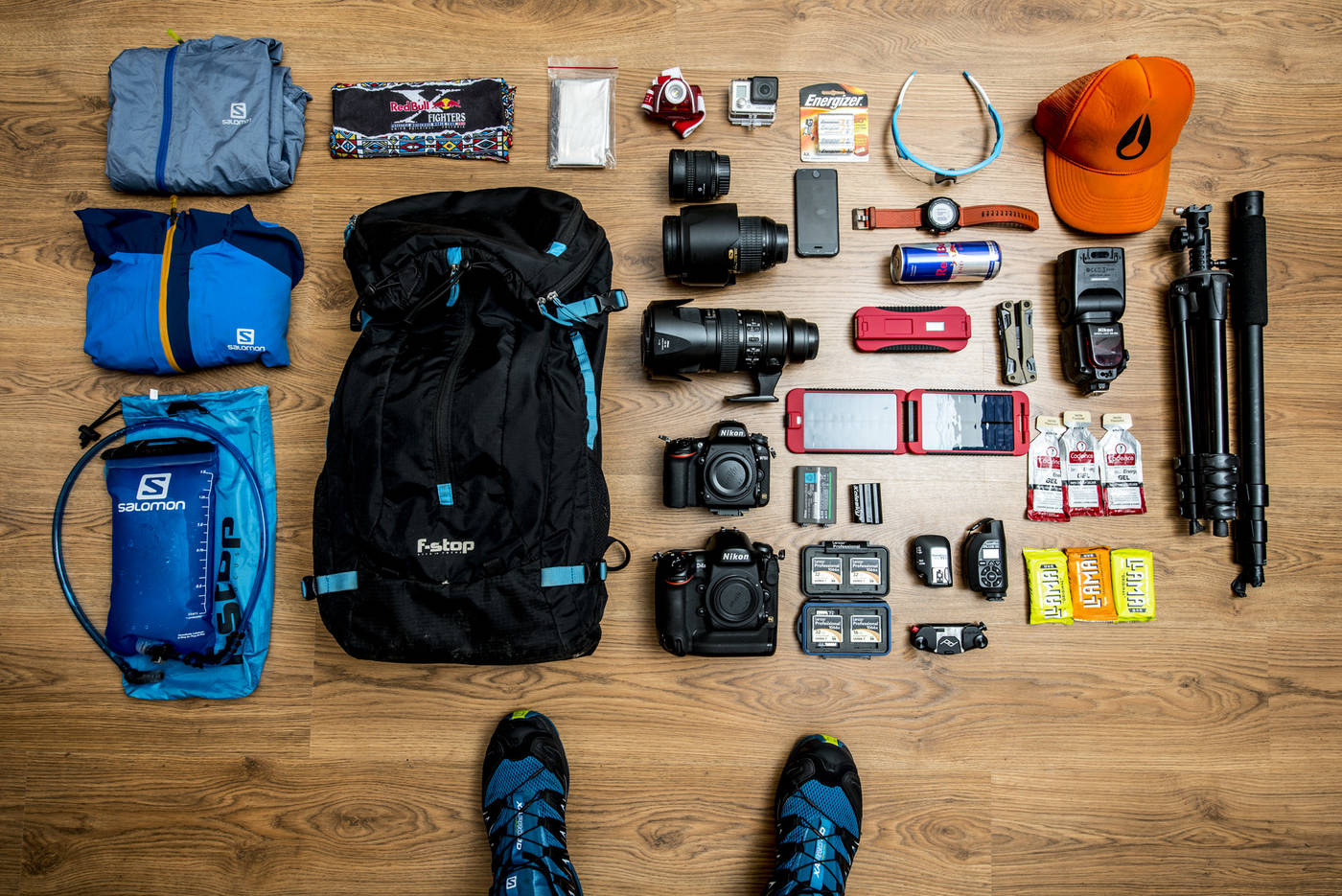 Do you have any tips for shooting trail running?
Do a lot of hiking/running yourself, get fit so you can get out there on the route – the best images you will get are far off the beaten track.
Pack your gear well in advance.
Know the route (and the competitors) do your research so you have a good idea of what and where (and who) you are going to shoot. If you don't know the route then recce it or find out as much as possible and the cool landmarks.
Update: A great look at the challenges of the Skyrun, filmed by Pure Adventures.