Introducing Orms Photo Art, an exciting new online platform which connects photographers and art buyers.
Yesterday, we launched the submissions portal for our new Orms Photo Art website – an exciting new way for photographers to sell their work as printed and framed artworks, and for buyers to source new art!
Take a look: http://ormsphotoart.co.za
Right now, we are accepting submissions only. We are hard at work at creating the buyer's side of the website, which will hopefully be launched soon. In the meantime, take the time to learn more about Orms Photo Art: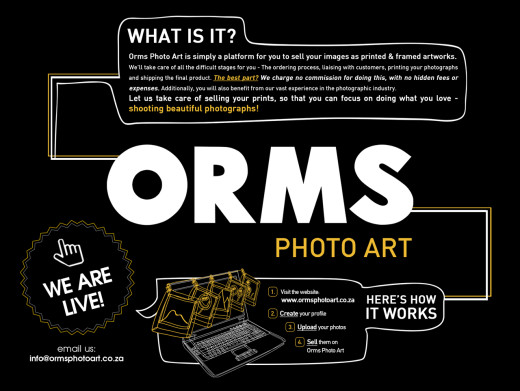 What is Orms Photo Art?
Orms Photo Art is an online platform which connects photographers and art collectors.
As a photographer, you gain access to a diverse range of buyers, including decorators, collectors and art lovers.
As a collector, you have access to hundreds of phenomenal images without the added gallery fees and commission you would normally have to pay. You also get the opportunity to customise the presentation of the work – You decide how you want your image printed and framed.
How does it work?
Once an image is purchased on the site, the buyer's chosen printing and framing will be carried out by our framing and printing experts. These works of art will then be sent via courier or collected from Orms in Cape Town. No digital images will be sold to ensure that images bought can be used for aesthetic purposes only and not commercial use i.e. flyers, websites, billboards etc. This way you are not selling your digital rights.
All photographs for sale on the Orms Photo Art site are carefully selected by a professional team of curators to ensure that we only feature world-class art.
How do I submit images?
Use our simple online uploader to submit your three (3) chosen images. These images must be 2000 pixels wide at 72 DPI. Please ensure that your uploads showcase your personal style. You will also be asked to share some information about yourself as well as a link to your personal website or blog if you have one.
Where can I learn more about Orms Photo Art?
If you have more questions, please read our comprehensive FAQs. If you've heard what you need to know and you are interested in selling your photos through Orms Photo Art, then hit up our submissions page.
We hope you are all as excited as we are about this project! Let us know what you think in the comments below!