Get the most out of your iPhone's camera with Fernando Badiali's iPhoneography course, starting at the CTSP next week!
The Cape Town School of Photography's iPhoneography course kicks off next week, with our favourite smartphone shooters Fernando Badiali and Clair McNulty sharing their tips and advice for getting the most out of your iPhone's camera.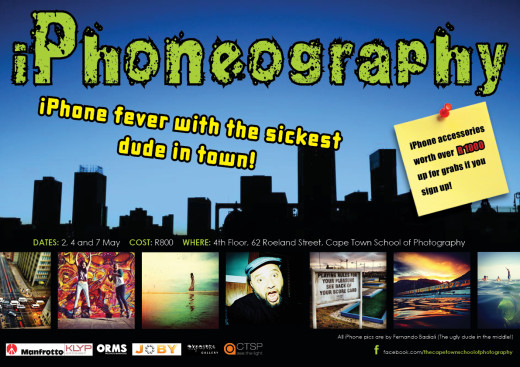 Details
The course will be presented as two evening classes on 2 May and 7 May, as well as a walk through Woodstock on Saturday 4 May.
The cost of the course is R800 per person, and one lucky attendee will win iPhone accessories worth R1000! All you need to bring is your iPhone loaded with the following apps from the App Store: Snapseed, Camera Plus, Twitter, Instagram and Hipstamatic.
For more information and to book your spot, please visit the CTSP website, and join the event on Facebook.
Here's some of Fernando's amazing iPhone photos, who is currently exhibiting his work at Exposure Gallery, along with Clair: