The Results: View the winning images and judges comments from the 2014 Kirstenbosch Photographic Competition.
For the second year running, the Kirstenbosch branch of the Botanical Society of South Africa ran a great photographic competition centred on the garden's diverse fauna and flora.
The competition started in May, and ran until 31 December 2014. The overall winners were announced at a prize giving ceremony and exhibition at the Botanical Society's Conservatory on March 31st. The overall winner, Jako Tromp received a Canon 70D DSLR with an 18-135mm lens, sponsored by Orms in conjunction with Canon SA, Orms also printed the photos for the exhibition.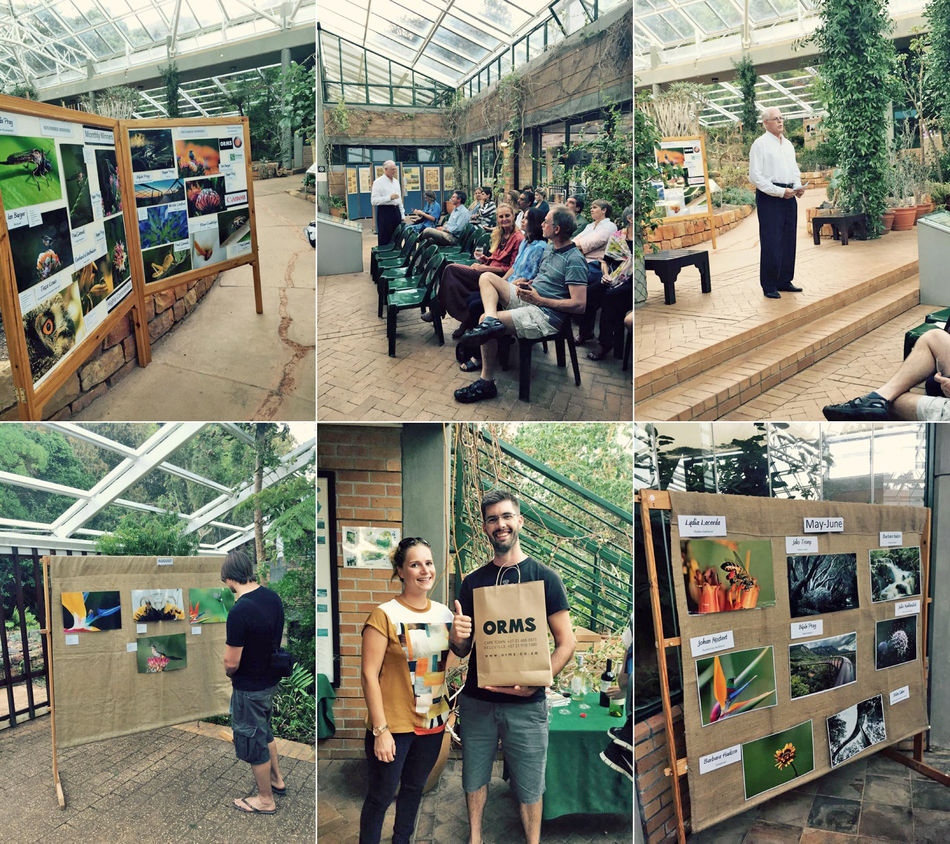 Overall winner Jako Tromp receiving his Canon 70D DSLR with and 18-135mm lens..
Judges Comments:
"It gives me great pleasure to congratulate the winners of this competition. As usual there were many entries of a high quality and great impact. Many well taken entries were projected and indeed it was not easy to narrow the entries down to the 10 best and selecting the 3rd, 2nd, and 1st entries.
When the judges look at the entries with the aim to select the outstanding images, we look at the use of colour, focus, the environment (location), composition and overall affect. All these aspects must be in some form of balance with each other and every image is different in terms of where the emphasis is. In the end, it is the balance between impact and composition and the above mentioned aspects that will ensure a good image."
Winning Photos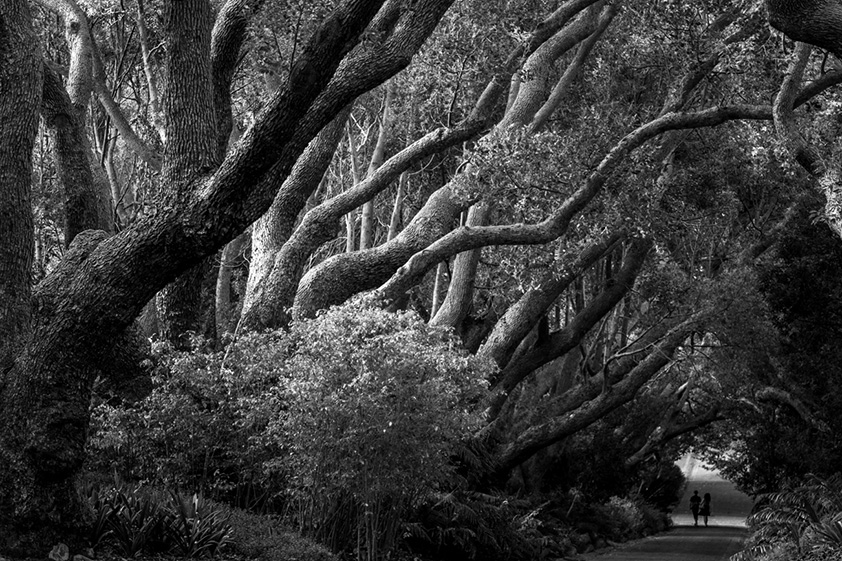 Overall Winner: "Lovers Lane"
By:  Jako Tromp

Judges Comments: "This is truly a great image. First of all, the fact that it is black and white guarantees that our attention is not distracted by any colour that may be distracting. The interplay between the massive size of the trees and the small figures in the right hand bottom corner gives us not only the feeling of the "human smallness" against nature, but also the symbolic meaning of "nature protecting" the human being by the slanting trees to form a frame for the people walking in the distance. To me it adds the message of age when we realize that these trees were there long before the couple and will still be there long after their departure of this life. The fact that the centre portion of the trees are somewhat lighter than at the sides of the image is due to the sun falling on the tree trunks and ensures that our attention is mostly attracted to that part of the image. Well done!"
Camera Settings:
Camera: Canon EOS 70D
Lens: EF-S18-135mm f/3.5-5.6 IS STM
Aperture: f 5.6
Shutter Speed: 15th of a Sec.
ISO: 200
Exposure Mode: Manual
Metering Mode: Evaluative
White Balance: Auto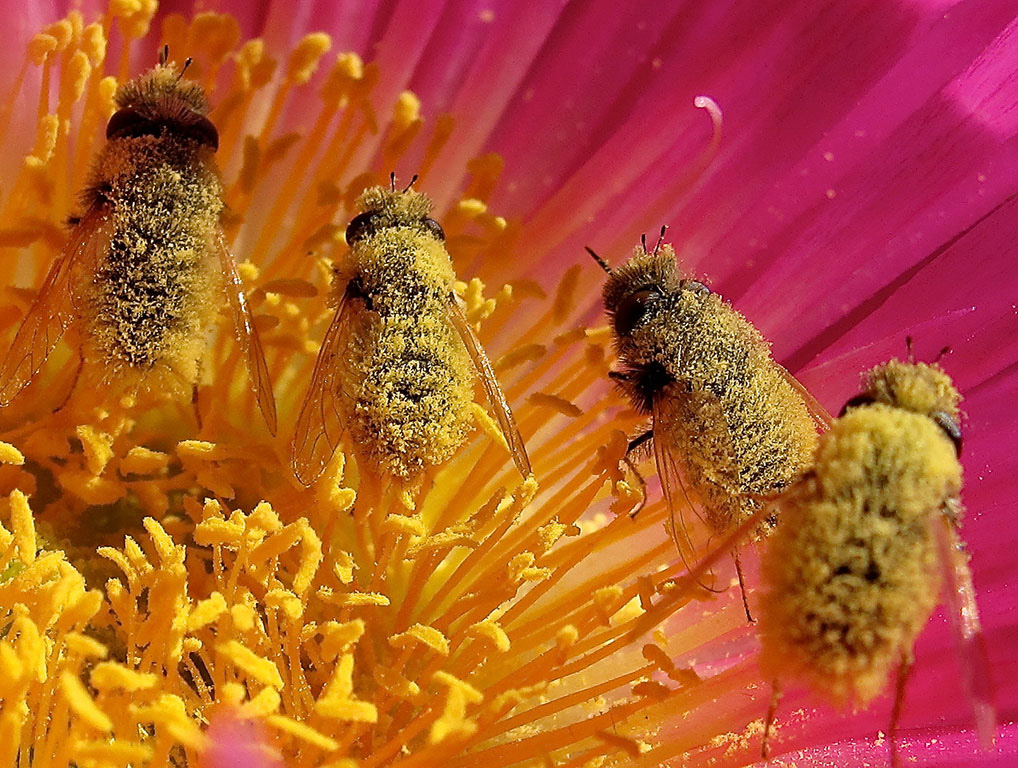 Second: "Life in Springish"  (F.M 1399)
By: Fabio Marco Obertufer
Judges Comments: "The feeling of this image is joyful and vibrant due to the bright, warm bright colours and obviously the happy bees! The placement of the middle section of the flower in the lower left corner of the picture is well done and have the effect that the position of the bees is on a slight diagonal line. Diagonal lines always have the effect of movement and this is exactly what we feel in this image. We know the bees will be taking off shortly so real movement is on the way. It is unfortunate that the far right bee is severely out of focus and is a little distracting due to this and therefore it is not of any help to reinforce the rest of the image."
Camera Settings:
Camera:  Canon PowerShot G10
Lens: Fixed Zoom; Focal Length for shot 6.1mm
Aperture: f4
Shutter Speed: 1/1000 of a second
ISO: 80
Exposure Mode: Auto
Metering Mode: Evaluative
White Balance: Auto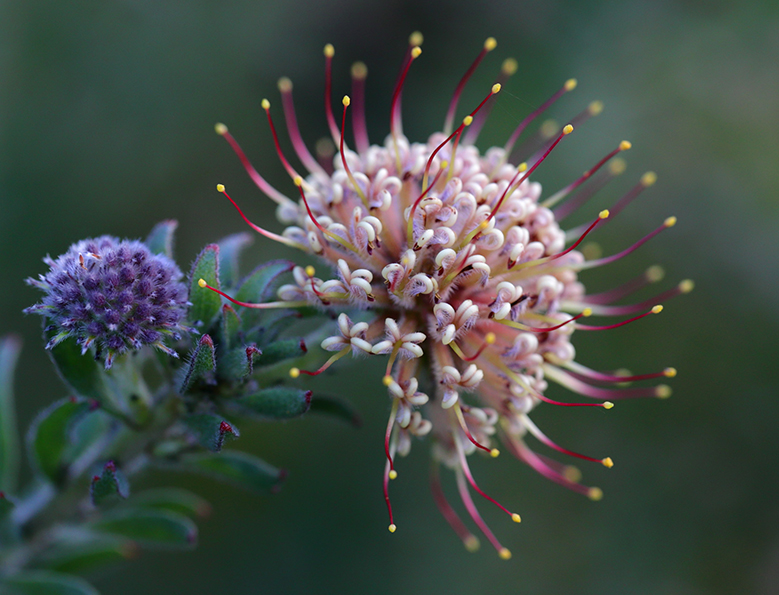 Third: "Delicate Beauty"
By: Julia Mukheibir
Judges Comments: "The photographic techniques in this image are very well handled. The focus is very good on the primary subject i.e. the middle section of the flower. The yellow out of focus stamens are well handled to ensure that the main section of the flower remains in focus. The fact that the plane of sharp focus also includes the bluish little flower on the left form an excellent balance for the main flower to the right and to make sure that we focus on the main flower remain it is of a lighter pinkish tone. The background is well out of focus and of a similar colour as the main stem, ensuring that there are no distractions behind the flower. Depth of field is well controlled."
Camera Settings:
Camera:  Canon EOS 6D
Lens: EF100mm f/2.8L Macro IS USM
Aperture: f 5
Shutter Speed:  400th of sec.
ISO: 1600
Exposure Mode: Auto
Metering Mode: Evaluative
White Balance: Auto