View these amazing artworks created by Natascha Petersmann from Map Lovers, beautifully printed on metal with a glass overlay.
Today we bring you a look at two of Natascha Petersmann's latest works. We came across these beauties in the framing factory last week and thought they would make a nice update to a previous feature we did on Natascha's work.  For those of you who don't know, Natascha is a Cape Town-based artist and the mastermind behind Map Lovers.  She blends photographic and illustrated works with overlays of maps or topographical charts, creating unique layered artworks.
For her latest artworks Natascha printed the photograph on metal, we took a close-up so you can see the beautiful gentle texture of the image on metal. This time she used an overlay of the Hawaiian Islands, printed on glass. Capturing the multi-layered aspect of the pieces is a bit tricky, but we hope the close-up shots illustrate the effect. It's definitely best experienced in person. As these were snapped in the framing factory, we will ask Natascha to send us an image or two once they have been hung in their new home.
A section of the image that was printed on metal.

Closer look at the glass overlay.

The finished product inside the Orms Framing Factory.
The second piece from Natasha is a stunning black and white image of Signal Hill, with a topographical chart overlay.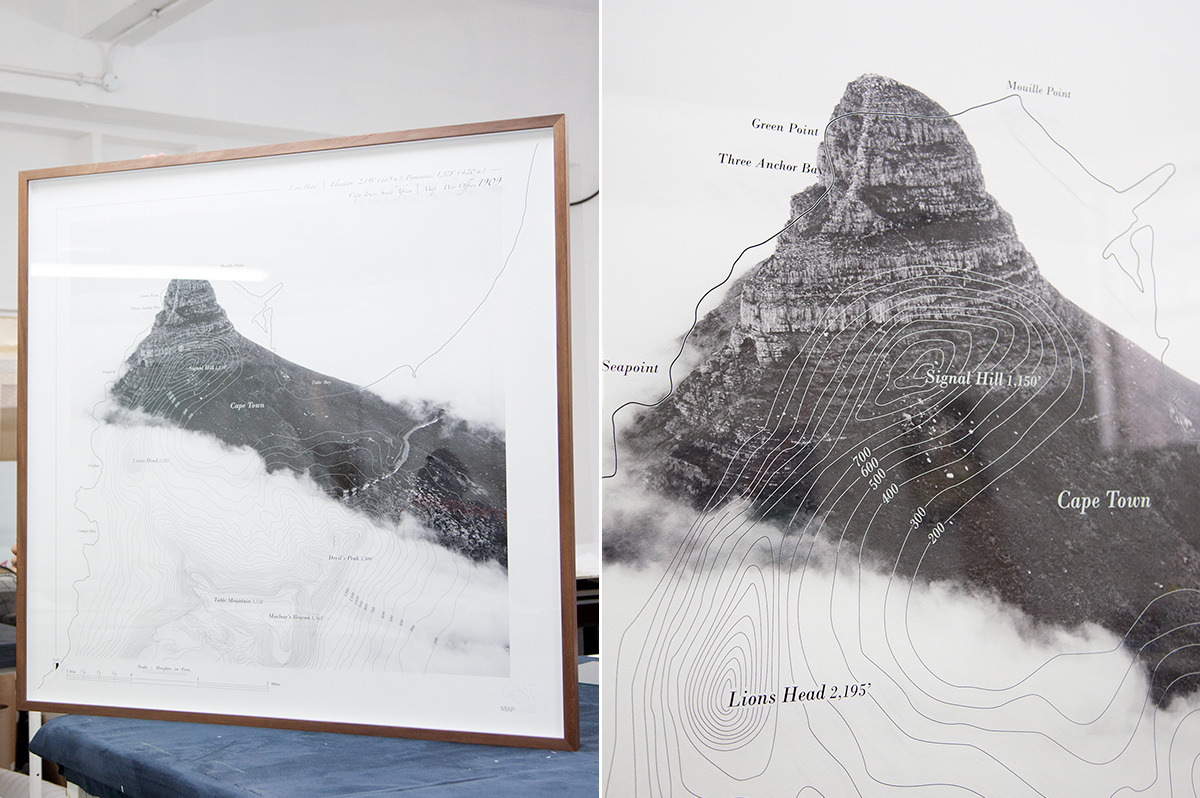 Map Lovers explained in Natascha's own words:
"Have you ever found yourself sucked into a map, dreaming of places you've been, remembering a journey and inspired to travel? Too many times I caught myself wondering how to illustrate a memory in an innovative way.
Thus Map Lovers, "Customised Maps as Art" was born. Maps displayed in a beautiful, funky, designer way, personalised, to tell your story and show your photos. Retaining all the correct geographical information, they give context and perspective to an experience or future dream. They include a collection of neutral signature maps designed to fit into anyone's world."
"These artworks range from world maps, to routes covered on foot, flown in a hot air balloon or sailed across seas. Display your best photos in an unforgettable way. Maybe you rode the Argus or captured the sunset on a beautiful beach. They awaken the discoverer and seem to open up opportunity and a promise of freedom. Map Lovers reflect your adventurous soul and leave you full of excitement."
"The artworks are an interesting synergy between the art and framing. They consist of a picture (photo, painting, map or illustration) and information or an illustration printed onto glass. They are then framed to create a cool dimension with shadows falling from the glass onto the artwork in the background. Map Lovers clients range from photographers displaying their best work to collages of one's life. Using the top printers and framers has led to a high quality, sophisticated, sassy product. We work closely with Orms to maintain authenticity and great craftsmanship. We print on a range of beautiful papers and play with the versatility of Plexiglas, choosing from an enormous range of framing options to pick one that accentuates the work.
The effects and possibilities are endless and with your story they make for a unique, stylish piece."
Natascha's Map Lovers artworks are printed and framed by the Orms Print Room & Framing. For more information or to commission a work, please visit the Map Lovers website, or follow the project on Facebook and Twitter.