Read as we meet Frances White, one of the incredible artists behind our exclusive wallpaper range…
"I've always loved pattern and colour. One of my earliest childhood memories is paging through one of my parents' books and coming across magenta, cyan and yellow colour separation patterns, which when combined together produced printed colour. I didn't understand what they were at the time, but those simple, bright patterns made a very vivid impression on me.
Having been an artist, and then a designer, I now find myself trying to work at the intersection of both of them. My interests are varied, and my style is probably most strongly identifiable as Pop-Art. I'm something of a perfectionist, and also a bit of a traditionalist; in that I want what I make or design to be timeless, high quality, and to last a long time.
One of the things that's come up consistently over the past few years, is the aim to decorate the world and to make beautiful things, and the desire to make art and design that's affordable and accessible.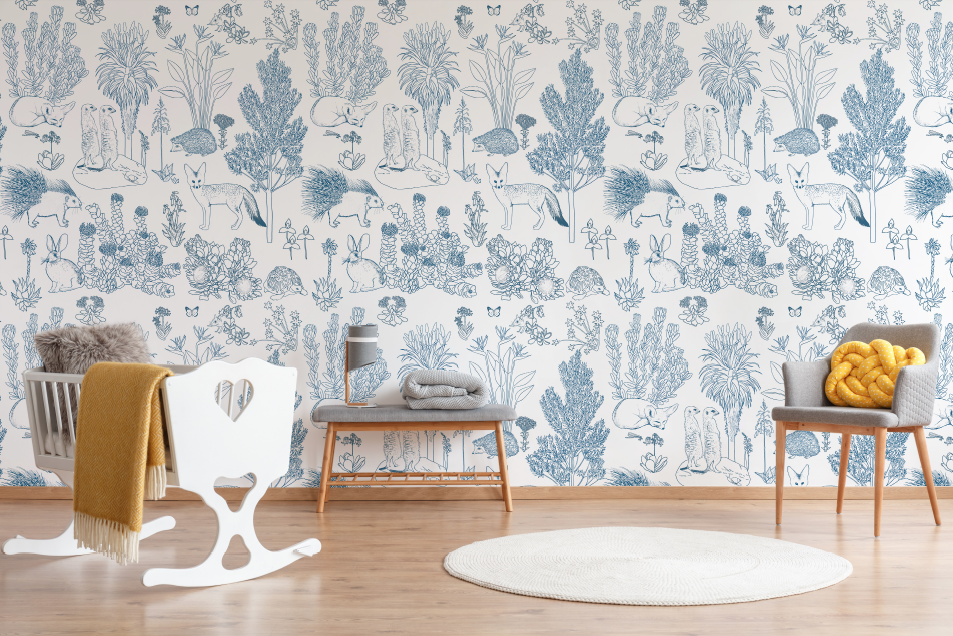 I was born in KwaZulu Natal, grew up in Johannesburg and studied Fine Art at Michaelis at the University of Cape Town. I majored in painting, history of art and English. In my late twenties, I started dreaming of making patterns for surface design. I love mixing colours and painting, but the advantage of making patterns for wallpaper and textile design are that they can be reproduced over and over, and that they are used in a functional way.
In 2012 I launched my surface design company, My Favourite Colour, at the Design Indaba in Cape Town. I made just enough stock to test the range, and it was a success and one of the best weekends of my life(!) I made good sales, met a number of important South African retailers and exporters, made new friends in the creative industry, and essentially felt confident enough to invest in a few rolls of fabric and take My Favourite Colour to the next level of selling wholesale. In 2013, I designed a CoLab range of products with Mr Price Home, and in 2014 we moved back to Cape Town. Three years ago -encouraged by my husband- I started painting again, and have felt very at home with being an artist again.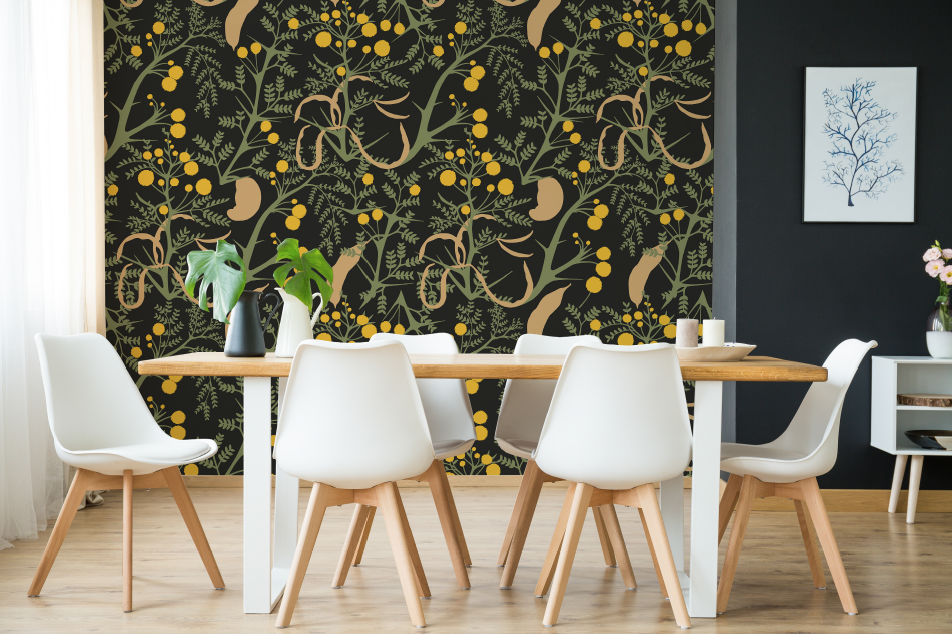 Last year I designed a range ten patterns for a local Cape Town company's new range of beach umbrellas and beach bags. I enjoyed this project because I got to do all the design work -the part I enjoy most- and they handled the production and retail. The range can be seen here.
Recently, during the month of June, I had a solo painting exhibition at Chandler House in Cape Town. The show 'Late Bloomer', was conceptualised, produced and framed in four months, and was a series of medium-sized oil paintings of contemporary florals and botanically impossible landscapes. Now that it's over, I'm in the stages of planning a bigger body of work and more serious show. I'm currently designing more wallpaper artwork for Orms, busy with two painting commissions that came about from the show, and still retailing and wholesaling a few surface design products from my collection -mostly melamine trays, colouring-in posters, and screen-printed tote bags.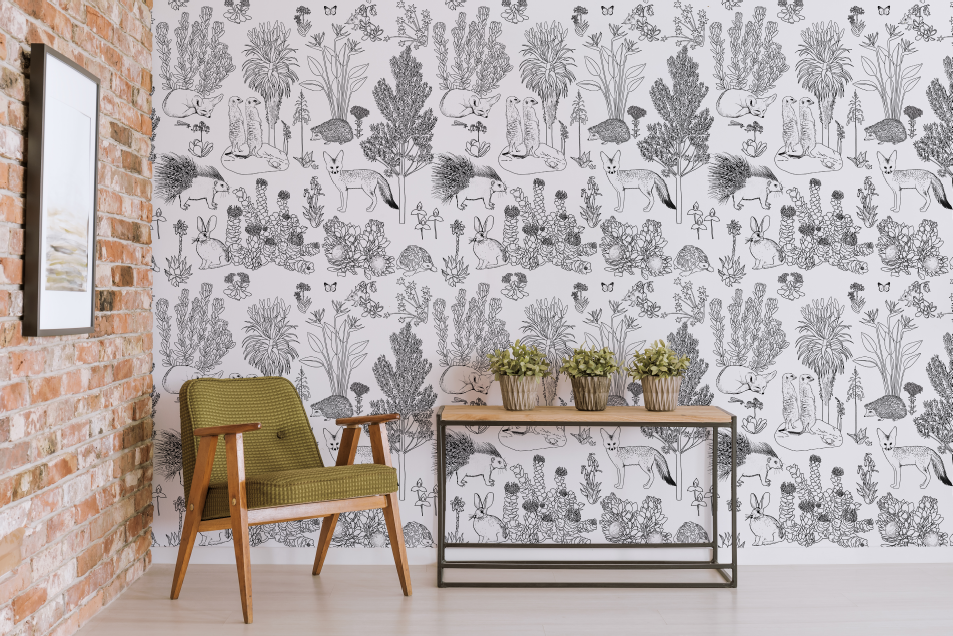 I love my Cape Wild Meadow and Mimosa patterns and the various colourways that are newly available at Orms Print Room & Framing. The artwork has translated beautifully to wallpaper, and is of the highest standard. I've really enjoyed working with the decor printing department and Leanne in particular, who I know from when she printed fine-art prints for me. Her work, work ethic, and customer service is impeccable. I'm currently busy with a lot of new wallpaper artwork which Orms will launch in spring, and can't wait to see how the new designs turn out! There are some wonderful contemporary African designs, and some beautifully bright and contemporary florals, amongst others in the new collection.
It took a while to get the balance between handmade and digital right. I do a lot of drawing and painting of the different elements for each pattern on paper, which I then scan, deep-etched and digitally collage into a repeated pattern. I like the balance between the hand-drawn and hand-painted elements and the freedom to resize and space and repeat and slightly edit the components digitally. I find that patterns that are wholly digitally designed tend to be quite flat, and sometimes a bit too perfectly symmetrical. In streamlining my method, I discovered gouache paint and fell in love with the luminous quality of its colour and its fast-drying pigments.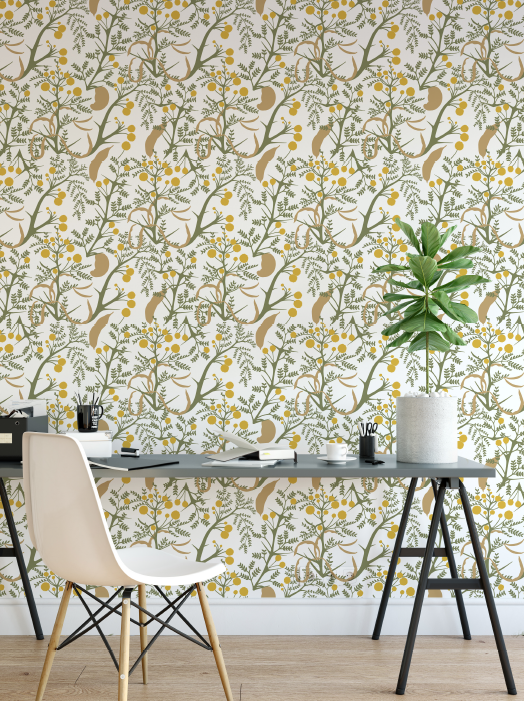 I like all things bright and beautiful. One of my favourite quotes is Goethe's 'We are shaped and fashioned by what we love' which I believe wholeheartedly. I love and am inspired by nature, colour, light, art, painting, mountains, swimming, flowers, meadows, reading, poetry, lyrics, collecting pictures, looking for treasure at second-hand shops, disco and things that shine, glitter or sparkle.
I have always really admired William Morris and the Scandanavian Jobs Handtryck as pattern-makers. My favourite artists are Gary Hume, Piet Mondrian, Bridget Riley, Ellsworth Kelly and the Swiss artists Lori Hersberger and Ugo Rondinone (from the two years that I lived in Zurich). Locally I love the work of Jacob Pierneef and the more contemporary Heath Nash, Georgina Gratrix, Jake Aikman, Fanie Buys and Rosie Mudge. Confetti System is an American company that I find incredibly inspiring, and I love the clean, classic and colourful style of the Danish furniture design company HAY, and also the Dutch design duo Scholten & Baijings. Locally, I love the colourful leatherwork made by Missibaba, the furniture designer Haldane Martin, and my two best treasure troves in Cape Town are Vamp and Glitterati.
I've always loved neon-pink, but if I had to choose my absolute favourite colour, it would be a soft, flat, sunshine yellow."