Canon has revealed the brand new Canon EF 24-70mm f/4L IS USM and the Canon EF 35mm f/2 IS USM.
Canon has announced two new EF-mount lenses, the Canon EF 24-70mm f/4L IS USM and the Canon EF 35mm f/2 IS USM. Both lenses feature Canon's latest Image Stabiliser technology for avoiding blur as a result of camera shake. Canon has also released updated lens caps with the new lenses, featuring a centre-pinch design.
EF 24-70mm f/4L IS USM Specifications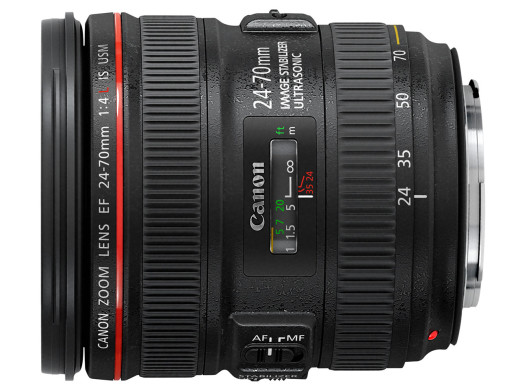 24-70mm focal length with constant f/4 maximum aperture
Macro mode with 0.7x magnification
'Hybrid IS' optical image stabilization – 4 stops for normal shooting, 2.5 stops for macro
Dust- and splash-proof design
EF mount for APS-C and full frame Canon SLRs (and EOS M via Mount adapter EF-EOS M)
EF 35mm f/2 IS USM Specifications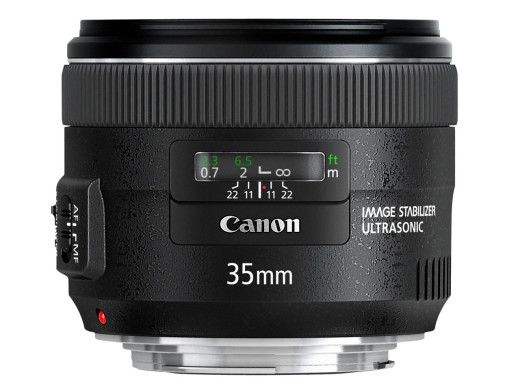 Fixed prime 35mm wide angle lens
4 stop Image Stabilizer
Fast f/2 minimum aperture
Compact size and design
Circular aperture
New Canon Lens Caps

These two lenses will be the first Canon lenses to ship with an updated lens cap design. Matching the design of other manufacturer's lens caps, Canon's new centre-pinch lens caps will be much easier to remove, especially on lenses with hoods mounted. These lens caps will also be available to purchase separately at a later stage.
Local Pricing and Availability
We don't have a current ETA on the arrival of these lenses in SA, nor any local pricing information. We'll update this section as we receive official news.
Hands-On Previews
More Product Images
Press Release
London, UK, 6 November 2012 – Canon today adds to its world-famous EF lens series with the launch of two models designed for enthusiasts and professionals – the EF 24-70mm f/4L IS USM and EF 35mm f/2 IS USM. Offering first-class optical technologies alongside highly compact designs, the new lenses are perfect for a range of creative purposes, including reportage, landscape, portrait, and travel photography.
Ideal for use alongside DSLRs like the new EOS 6D, both new lenses utilise the latest Canon technologies to consistently deliver superb results. Both include aspherical lenses and Super Spectra Coatings optimised for each individual element, Canon's industry-leading Image Stabilizer (IS) technology and Ultrasonic Motors for superfast
Auto Focus (AF) – providing outstanding optical performance. The EF 24-70mm f/4L IS USM is also the latest lens to feature Hybrid IS, delivering shakefree shots at any distance, including at macro focal lengths.
EF 24-70mm f/4L IS USM – high performance, high flexibility, Hybrid IS
The EF 24-70mm f/4L IS USM is the latest addition to Canon's elite L-series, and expands the range of standard zoom EF lenses available for both professional and amateur photographers. Ideal for reportage and wedding photography, it combines an essential everyday focal range with a premium quality L-series construction, delivering consistently sharp, professional-quality stills in a range of different situations. A new macro function also optimises the placement of lens groups during macro photography, allowing shooting at a maximum magnification of 0.7x – reducing the need for photographers to carry a dedicated macro lens.
Its first-class optical system includes two aspherical elements alongside two Ultra-low Dispersion (UD) lenses, each with optimised Super Spectra Coatings to minimise chromatic aberration, colour blurring and flare. A constant f/4 aperture throughout the zoom range provides photographers with exceptional creative control, allowing blurring of the background of a scene at all focal lengths. A nine-blade circular iris also assists photographers in making their subjects stand out, delivering beautiful out of focus highlights (bokeh) in the background blur to add atmosphere to a shot.
The EF 24-70mm f/4L IS USM also features a newly designed IS system, delivering blur-free images throughout the zoom range. Canon's advanced optical IS offers a 4-stop light advantage, while Hybrid IS effectively compensates for angular and shift shake during macro shooting for stable close ups.
Superfast AF performance is provided by a small, ring-type Ultrasonic Motor (USM). Working in combination with a high-performance CPU and advanced AF algorithms, USM technology enables accurate, silent and ultra-responsive autofocusing. Full-time manual focusing also ensures adjustments can be made even when AF is engaged.
The EF 24-70mm f/4L IS USM features a high grade, usability-focused design – both inside and out. The exterior features a high quality leather-texture coating, a revised shape ensures ease-of-use, and the focusing and zoom rings have been designed for optimal operation. Additionally, a dust and drip-proof construction is resistant to dust and moisture, a lock function protects lenses from knocks when travelling, while fluorine coating minimises the amount of dust, dirt and fingerprints that adhere to the front and rear lenses – helping to maintain superior image quality and reduce the need for cleaning.
EF 35mm f/2 IS USM – take a wider look at the world
The new EF 35mm f/2 IS USM is designed to offer outstanding flexibility – allowing photographers to capture an even broader range of scenes and subjects in wide-angle. The lens is Canon's first-ever 35mm prime to feature optical Image Stabilizer technology, which combines with high quality optics to offer outstanding performance
from a lightweight, compact body. The 35mm focal length also provides the ability to capture everything from close-up portraits to wide-angle landscapes, making it an ideal companion for travel or general reportage photography.
Its advanced specification offers photographers great flexibility to shoot a wider-range of scenes and subjects. A bright, fixed f/2 aperture also allows photographers to employ a shallow depth of field, and optical IS offers users a 4-stop light advantage, allowing the capture of blur-free images in low light conditions when shooting handheld. Intelligent detection of panning motion is also supported, with Panning IS mode automatically engaged to enable photographers to capture movement with greater accuracy.
Designed to deliver exceptional image quality, the EF 35mm f/2 IS USM features an aspherical glass-moulded (GMo) element positioned at the rear of the optical path to correct aberration for the entire optical system. Additionally, each individual element features optimised Super Spectra coatings to reduce ghosting and flare – ensuring excellent colour balance with minimal need for post processing. A combination of a ring-type USM and high performance CPU also provides rapid AF performance, with full-time manual focus also available for users who want to retain maximum control.
New lens caps – designed for greater ease and convenience
Both new lenses also come with newly-designed Mark II lens caps, which incorporate a hook mechanism in the centre of the cover, as opposed to the sides. Simply pinching the hook allows users to quickly remove and replace caps mid-shoot, especially when using lens hoods. The re-designed lens caps will start to be rolled out across Canon's entire EF lens range from the beginning of January 2013, and will also be available to buy separately.