Nikon SA has announced the new AF-S 80-400mm f/4.5-5.6, as well as new compacts, including the DX-format Coolpix A.
Nikon SA announced the new Nikkor 80-400mm f/4.5-5.6 ED VR and a selection of compact cameras this morning, including the large-sensor Nikon Coolpix A. Read on for more details and specifications.
Local pricing and availability is not yet know at this time, check Orms Direct for updates in the future.
AF-S Nikkor 80-400mm f/4.5-5.6 ED VR
Nikon's new 80-200mm features a variety of improvements over its workhorse predecessor, including newly designed optics with 20 lens elements in 12 groups for sharper results, and a built-in focus motor enabling the use of autofocus on the latest generation of Nikon DSLRs. The original 80-200mm introduced Vibration Reduction in Nikkor lenses, and the new lens features the latest VR system, compensating for up to four stops of light – great news for those who work with available light.
Nikon Coolpix A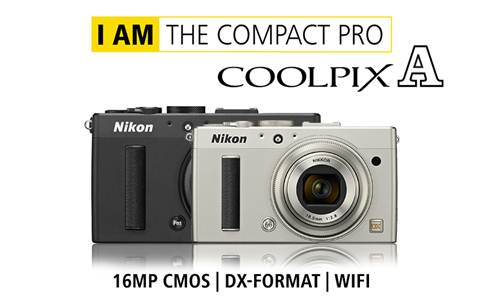 The Coolpix A is Nikon's first compact camera offering a DX-format sensor, and also happens to be the world's smallest camera with a 1.5x crop sensor. The larger sensor should offer vastly improved low-light performance in a compact form factor, and is capable of sensitivities up to ISO 25,600. The Coolpix A will make for a great compact camera for professionals and enthusiasts.
Key Specifications
16.2 megapixel DX-format sensor.
18.5mm f/2.8 lens, equivalent to 28mm.
4 frames per second continuous shooting.
ISO 100-6400, expandable to 25,600.
Full HD movie recording.
Expeed 2 image processor.
Nikon Coolpix P330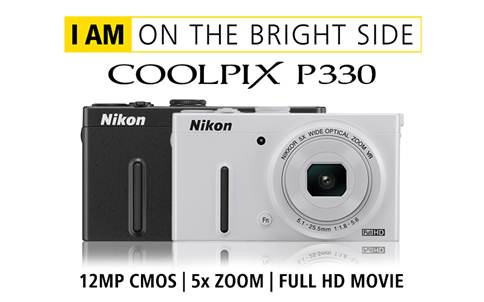 The Coolpix P330 offers a 5x zoom lens, ranging from 24-120mm (35mm equivalent) and starting at a bright f/1.8, and a 12 megapixel backlit CMOS sensor.
Key Specifications
12 megapixel CMOS sensor.
5x optical zoom, large f/1.8 starting aperture.
Up to 10 frames per second continuous shooting.
ISO 100-6400, expandable to 12,800.
Full HD movie recording.
Built-in GPS.
Nikon Coolpix L320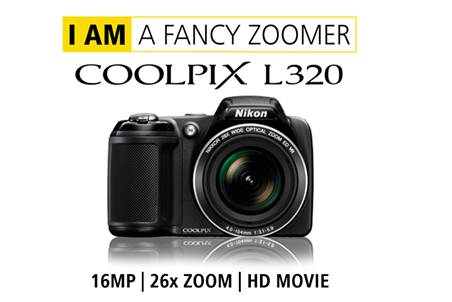 The Nikon Coolpix L320 features an impressive 26x zoom lens, covering the 35mm equivalent focal lengths of 22.5mm all the way to 585mm. Other highlights include the 16.1 megapixel sensor and optical Vibration Reduction.
Key Specifications
16.1 megapixel CCD sensor.
26x optical zoom, starting at 22.5mm (35mm equivalent).
Compact body.
More Product Shots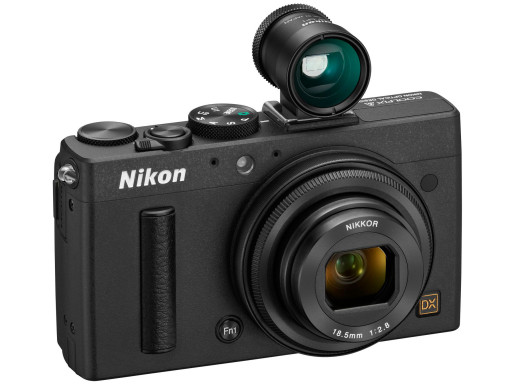 Nikon Coolpix A with optional optical viewfinder.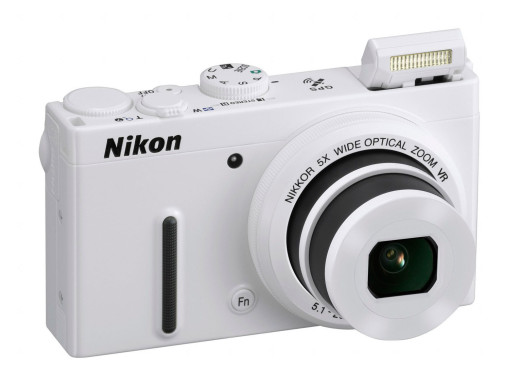 Nikon Coolpix P330 in white.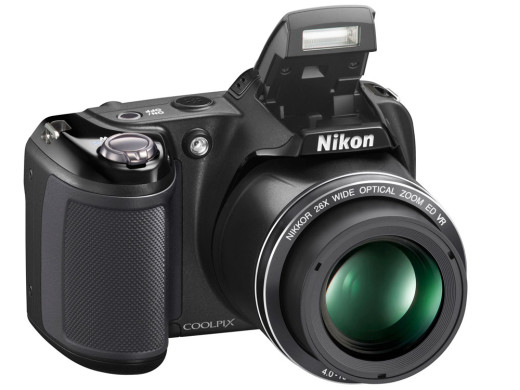 Nikon Coolpix L320.
Press Releases
Johannesburg, South Africa, 05 March 2013 – Nikon today announces a new FX-format telephoto zoom lens with broad 80¬–400mm focal range and superior optical design.
A highly anticipated update to Nikon's immensely popular AF 80–400mm telephoto lens, the new AF-S 80–400mm f/4.5-5.6G ED VR telephoto zoom lens boasts an improved optical construction that easily meets the demands of today's D-SLRs.
Well-suited to subjects such as wildlife, landscapes or sports, this lens covers everything from mid- to super-telephoto. It offers superb optical performance in diverse conditions, and Nikon's Vibration Reduction system allows for up to 4-stop compensation throughout the zoom range, even at 400mm.
Romi Jacobs, Chief Operating Officer for Nikon in South Africa, says: "Nikon's original AF 80-400mm lens was something of a revolution when it launched. As the first NIKKOR to combine groundbreaking Vibration Reduction technology with a versatile telephoto range and relatively compact, take-anywhere build, it quickly became a favourite. Now upgraded for the new generation of DSLRs, the AF-S version of this lens offers a greatly improved autofocus mechanism, increased VR compensation and an enhanced optical formula. A worthy successor, we're sure this lens will build on the success of its predecessor."
Optical prowess
Crafted with fast, high-resolution D-SLRs in mind, the newly designed optical construction boasts 20 elements in 12 groups. Designed to deliver superb results in diverse conditions, the lens is equipped with Nikon's Nano Crystal Coat as well as four ED (Extra-low Dispersion) glass elements and one Super ED glass element. The Nano Crystal Coat combats ghosting and flare, and the ED glass helps correct the kind of chromatic aberration and optical colour defects that longer focal lengths, in particular, can experience.
The four stop advantage
To improve stability throughout the broad zoom range, the VR (Vibration Reduction) mechanism provides compensation equivalent to a shutter speed approximately four stops slower. Normal and Active VR modes deliver stable shooting for different amounts and rates of camera movement, while automatic tripod detection reduces vibration from shutter release when the camera is mounted on a tripod.
Reliable workhorse
The strong combination of broad 80–400mm range and relatively portable build makes this lens an incredibly convenient way to meet most telephoto requirements. You can reduce focusing time when shooting within a specific distance range by using the focus limit switch that offers two settings ("FULL" and ∞-6m). The AF works even when a 1.4x teleconverter is attached to an f/8-compatible camera.
A reliable workhorse, the high-quality, ergonomic construction features a metal mount, and rubber weather sealing for protection against the elements. An integrated barrel lock barrel lock prevents the barrel extending under its weight when the lens is not in use.
This lens comes with a lens cap (LC-77), a lens hood (HB-65), a lens case (CL-M2), and a detachable tripod foot that improves balance and enables more comfortable switching between landscape and portrait orientation when the camera is mounted on a tripod.
Johannesburg, South Africa, 5th March 2013 – Nikon has made D-SLR performance in a compact body more accessible than ever before, incorporating a large, DX-format 16.2-megapixel CMOS sensor (23.6 x 15.6 mm) and an EXPEED 2 image processing engine into the new COOLPIX A, for capturing professional images on the go. Meanwhile, the new COOLPIX P330 raises the standard for advanced compact cameras, with a bright f/1.8 NIKKOR 5x optical zoom lens, large back-illuminated 12-megapixel CMOS sensor (1/1.7-in.), advanced lens shift vibration reduction, Full HD movie recording, RAW (NRW) data processing and Wi-Fi compatibility.
Romi Jacobs, Chief Operating Officer for Nikon in South Africa, comments: "With an impressive high definition NIKKOR fixed wide-angle 28mm f/2.8 lens and high ISO capability, the COOLPIX A is an impressive companion, ideal for things like reportage photography. The P330 delivers pin-sharp images in any light, and its backlit, 1/1.7-in. CMOS sensor plus full manual controls will please any creative photographer. Both new models are Wi-Fi compatible, so high quality images can be uploaded via a dongle to any smart device for easy sharing*."
The COOLPIX A — The professional choice of compact camera
Ideal for any photography enthusiast, the 16.2-megapixel COOLPIX A is the world's smallest camera to feature a DX format sensor, and handles demanding shooting situations with ease. In pursuit of high resolution and high definition of the entire image, the A adopts a sensor unit that does not incorporate an optical low-pass filter. The result is an optical system that makes the most of the potential of the high-definition NIKKOR lens and the resolution of the DX-format sensor. Combined with the EXPEED 2 image processing engine, also used in DSLR models, the COOLPIX A guarantees superior performance and maximum image quality, all while consuming minimal energy.
When taking pictures in low light or capturing fast-moving subjects, a high ISO (100-6400, extendable to 25600) light sensitivity ensures superbly detailed images with minimal noise. When you want to control the quality of light, you can turn to the camera's six different settings of Active D-lighting, attach a compatible external Speedlight flash unit, or use the UR-E14 adaptor ring to create different effects by attaching lens filters (46mm) or a lens hood (HN-CP18) to reduce peripheral light.
Whatever light conditions you are shooting in, advanced Nikon lens technology ensures outstanding precision, sharp resolution and high contrast. The NIKKOR fixed wide-angle 18.5 mm f/2.8 lens (28mm equivalent) offers exceptional definition throughout the entire aperture range and all optical aberrations (e.g. spherical or coma) are minimized without the need for digital compensation. The seven blade rounded iris diaphragm reduces light where necessary and gives beautifully natural background blur.
Full creative control
PSAM exposure modes enable greater creative control, and two user modes let you recall your preferred camera settings instantly. A customizable function button means you can bypass the menu and set shortcuts to your favourite camera settings for fast setup, and the lens focusing ring enables manual focus and manual override when in Auto focus mode.
The COOLPIX A also supports 14 bits compressed RAW (NEF) image data, conveniently in line with the format used in DSLRs. Pure, unprocessed images can be edited in-camera, on the large 7.5-cm (3.0-in. 921k dot) LCD monitor. Picture Control allows you to adjust the contrast and colour settings (Standard, Neutral, Vivid, Monochrome, Portrait, Landscape, and Custom) to match your situation. For those who want to have some fun with their images, photos can be enhanced on the spot with a wide range of filter effects such as Selective Colour mode, which converts images to monochrome and then adds a splash of the colour of your choice.
Additional Key Features of the COOLPIX A
Wi-Fi compatible: use Wi-Fi to transfer your high-quality images and movies to your smart device* via an optional Wi-Fi dongle (WU-1a).
Full HD (1080p) movie recording: in 30, 25 or 24 fps and in stereo, through the built-in stereo microphone.
Advanced GUI: employs a graphical user interface (GUI) inherited from Nikon's DSLR range.
Continuous shooting at 4 fps (up to 26 frames): capture fast-moving action at 4 frames per second.
Optional external optical viewfinder: for those who prefer a traditional viewfinder, this optional attachment (DF-CP1) offers an alternative to the LCD screen. The 'hot shoe' can also be used to attach a more powerful External Speedlight flash unit.
Compatible with Optional GPS (GPS-1): allowing you to record the exact location (latitude and longitude) of images as a 'geotag'.
SD card compatible: increase storage capacity by using SD cards (SDHC, SDXC and UHS-I compliant) to save your images and movies.
P330 — An exceptional performer
Worthy of any serious photographer looking for portability with performance, the COOLPIX P330 has a bright NIKKOR 5x optical zoom lens (24–120mm) which offers fast f/1.8 aperture at wide angle, HRI glass and a seven blade iris diaphragm for natural background blur, while a Neutral Density filter enables greater exposure control.
A highly sensitive, backlit, 1/1.7-in. 12-megapixel CMOS sensor produces superb results in all manner of tough shooting situations, while Nikon's second-generation vibration reduction system reduces the effect of camera shake in real time, allowing the use of shutter speeds up to three stops slower. A new Active mode ensures clear shots even from moving vehicles.
Give full expression to your creative side in manual mode and access your favourite setting instantly with the ergonomic function button. To shoot movies, Full HD (1080/60i) filming is available at the touch of a button, at 60, 50, 30 or 25 fps and it's also possible to shoot in RAW (NRW) format. You can use the optical zoom with autofocus when recording, and film in slow or fast motion using speeds of up to 120 fps.
Creative features like Macro mode allow you to focus on subjects really close-up to capture the smallest of details, while Easy Panorama 360°/180° makes capturing breathtaking vistas as simple as panning the camera vertically or horizontally to take in the view.
For travellers on the go, a built-in Global Positioning System (GPS) records the exact location (latitude and longitude) of images as a 'geotag', and allows review of point-of-interest (POI) information in playback. To share adventures with friends and family, the camera's Wi-Fi capability enables the transfer of high-quality images and movies to a smart device* via an optional Wi-Fi dongle (WU-1a).
Additional Key Features of the P330
High ISO (100-6400) light sensitivity (manually extendable up to 12800 using the Hi2 setting): enables faster shutter speeds for finely detailed images with minimal noise when you shoot fast-moving subjects or take pictures in low light.
Auto HDR mode: capture images with impressive tonal detail in any situation when you shoot in HDR mode. The camera combines two shots taken at different exposures during a single shutter release to create an image with wide dynamic range and rich colour gradation.
High-speed continuous shooting: shoot up to 10 full-resolution shots at 10 fps, or up to 30 full-resolution shots at 1 fps.
Fast and accurate AF: when you want to capture complex subjects, you can shoot with a 99-point autofocus system for extra-sharp results.
Subject Tracking AF: capture sharp shots of subjects that can't or won't stay still. Subject Tracking AF keeps the camera focused on the selected subject even if it is moving around.
Retouch menu: enhance your photos on the spot with a wide range of filter effects. Examples include Selective Colour, which converts your image to monochrome and then adds a splash of the colour of your choice, while Cross Screen adds a starry effect to bright objects.
20 scene modes: automatically optimize the camera settings for popular photographic styles, effects and locations. Achieve great shots just by selecting the mode that matches your situation.
EXPEED C2: Nikon's fast and powerful image processing system provides high-speed operation, enhanced movie recording, high-sensitivity performance and maximum image quality.
* Requires installation of the Nikon 'Wireless Mobile Utility' application (iOS and Android™ compatible) on your smart device.
Android, Google, Google Play, YouTube, and other marks are trademarks of Google Inc.
Nikon releases the new COOLPIX L320, an easy-to-use digital compact camera with 16.1 effective megapixels and an ultra high power 26x optical zoom.
Johannesburg, South Africa, 5th March 2013 – Nikon is pleased to announce the release of the new COOLPIX L320 digital compact camera. The L320 is a digital compact camera that is one of the smallest in its class, while offering a 26x optical zoom that covers a wide-angle 22.5mm to super-telephoto shooting at 585mm (35mm format equivalent). Equipped with 16.1 effective megapixels and a high performance lens-shift Vibration Reduction (VR), the camera produces clear, sharp images in each shot. The L320 also incorporates an Easy Auto Mode for a simple and enjoyable shooting experience.
COOLPIX L320 Primary Features
A 26x optical zoom NIKKOR lens captures a variety of shooting scenarios
The ultra-high power zoom built in the L320 offers the capability to cover everything from a wide-angle 22.5mm to super-telephoto shooting at 585mm (35mm format equivalent). This allows the camera to capture a diverse range of scenes, from close-ups of facial expressions to landscapes from a distance. The L320 is also one of the smallest cameras (111mmW x 76.3mmH x 83.1mmD) among models with the equivalent zoom ratio. In addition, the high-performance lens-shift Vibration Reduction (VR) function offers worry-free shooting by effectively reducing image blur caused by camera shake.
The high-pixel count CCD image sensor and 16.1 effective megapixels ensure high image quality
The L320 is equipped with a CCD image sensor and a high pixel count of 16.1 effective megapixels. This ensures an effective processing performance along with sharp, high-quality images.
Various easy-to-use shooting functions for all scenarios
With the Easy Auto Mode, users only need to simply turn on the camera and select from the automatic modes, which include Portrait, Night portrait, Night landscape, Landscape, Backlighting and Close-up scene modes. Pressing a single button also enables instant movie recording.
The approx. 230k-dot, 7.5 cm/3-in. TFT LCD monitor with anti-reflection coating offers superb visibility
The large 3-inch TFT LCD monitor provides excellent visibility for shooting, applying settings and viewing images.
AA-size batteries are compatible for reliable use
For convenience, readily-available alkaline, large-capacity lithium or rechargeable Ni-MH batteries can also be used for the L320.