Merging the features of smartphones and compact cameras together, Nikon has unveiled the Android-running Coolpix S800c.
Nikon has announced the new Coolpix S800c, a fully fledged 16 megapixel, 10x zoom camera running Google's Android mobile operating system.
Coolpix S800c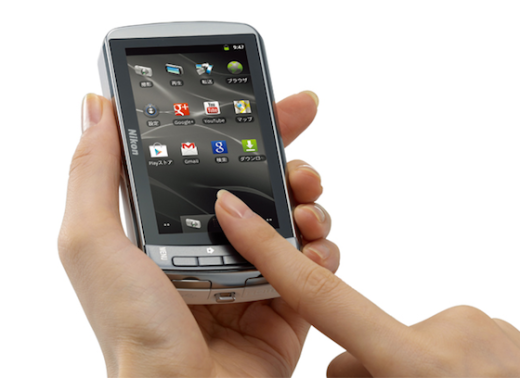 Even though it is running a fully fledged mobile OS, the S800c can't make phone calls, but with the built-in WiFi, you can make use of the networking features to instantly share your photos online. What's more, with the inclusion of the Google Play Store, you have a massive variety of Android photography apps at your disposal, including favourites like Instagram. A nice-to-know is that Nikon wisely chose to load up the unskinned, stock version of Android 2.3, or Gingerbread. Although certainly not the camera's main feature, the use of Android means that you'll also be able to browse the web, watch online movies, check your email – pretty much do anything you can on a modern smartphone. Perhaps even play a round or two of Angry Birds? Interesting possibilities.
In terms of hardware, the S800c features a 16 megapixel CMOS sensor behind a 10x, or 25-250mm equivalent, zoom lens. As is standard these days, it can also record video footage at Full HD 1080p quality. Other features include built-in GPS, and an Expeed C2 image processor. Worth mentioning is that it includes a Xenon flash, and not an LED flash as found on most mobile phones.
On the back of the camera, you'll find a 3.5″ capacitive touch screen and the typical three Android navigation buttons – very similar to a smartphone. We imagine the majority of the camera's settings will be handled via the large touch screen and the multitude of camera apps available on the platform.
We can't wait to get our hands on the Coolpix S800c. It should be available in the coming months in black, white, red and silver – We'll keep everyone updated when stock arrives.
Press Release
Camera 2.0: the COOLPIX S800c
THE CONNECTED SOCIAL IMAGING DEVICE WITH ANDROID™ AND WI-FI
22nd August 2012, Johannesburg, South Africa – Nikon today announces the COOLPIX S800c, the compact camera that delivers perfect photos plus much more. Powered by an Android operating system, it connects to the Internet via Wi-Fi to download any application from Google Play™, opening up a world of photo apps, social media apps and games. Packing a 10x optical zoom NIKKOR lens, back-illuminated 16-MP CMOS sensor and high-resolution 8.7 cm (3.5-in) touch screen, it also has all the photography features you need to make sure you never again need to choose between an instant upload and getting a quality image worth sharing.
Romi Jacobs, Chief Marketing Officer for Nikon in South Africa, explains: "The COOLPIX S800c is the camera that loves your social life as much as you do. You can record Full HD movies and take superb pictures, even in low light such as at a party. As soon as you have something you want to share with friends, you simply tap the screen to upload to Facebook, Twitter or other social media sites or online albums and watch the positive comments come flooding in."
The Android Camera
With its Android OS, the COOLPIX S800c camera can become a fully-fledged entertainment centre. Download all the latest apps from Google Play and you can access social media updates from friends, get directions and information about the local area when you're on the move, or play a game while you travel: the possibilities are endless.
Photos they will 'LIKE'
To ensure sharp shooting in any situation, the COOLPIX S800c has a highly sensitive back illuminated CMOS image sensor so that even in low light or extremely bright conditions, the camera will easily capture the scene, while the EXPEED C2 image processing system and superior autofocusing ensures quick response. So when you want to share a spontaneous moment with friends, you can be sure that you will share the experience exactly as you remember it.
The NIKKOR wide-angle 10x optical zoom lens (25–250mm) with ED glass enables superior sharpness and colour whatever situation you're in, whether you want to zoom out and capture the whole scene, or get up close and personal for a perfect portrait shot. Meanwhile, advanced blur-reduction technology minimizes the effects of subject movement, low light and camera shake.
A smart touch
As sensitive as the best smartphones, the anti-reflective, ultra-high resolution 8.7 cm (3.5-in) OLED (819K-dot) touch screen with wide viewing angle makes operating the S800c simple and fun. Scroll through your photos, and select and edit any that you want to get creative with.
Other key features
Share your world: easily connect to the Internet via Wi-Fi. Upload photos and movies to social media and photo sites, or transfer images directly to your smartphone or tablet.
myPicturetown.com: view your photo gallery even when you're not connected to the Internet. An in-camera application lets you connect directly to Nikon's Internet based photo storage service.
Built-in GPS: record the exact location (latitude and longitude) where you took your photo as a "geotag" in the image data (Exif). Compatible with any Google application that requires GPS.
Full HD (1080p) movie with stereo sound: easily record life in motion. You can use the 10x optical zoom with autofocus when filming, and HS movie mode lets you record slow-or fast-motion movies using recording speeds up to 240 fps (VGA).
Lens-shift Vibration Reduction: capture steady photos and movies thanks to Nikon's automatic vibration reduction technology, which counters the effects of camera shake in real time.
Motion Blur Detection: High ISO (up to 3200) light sensitivity reduces blurred images in low light. Motion detection compensates for camera and subject movement. Best shot selector (BSS) selects the sharpest of up to 10 sequential shots.
Backlighting HDR delivers detailed images of high-contrast scenes.
Easy Panorama 360°/180°: move the camera vertically or horizontally to create dynamic panoramas.
Continuous mode: capture sharp shots of the action at a fast 8.1 fps.
Internal memory: 1.7GB of internal memory for pictures and movies and 680MB for applications. When you need more space, the camera is compatible with SD/SDHC cards (up to 32GB).
The COOLPIX S800c comes in four colours: silver, red, white, black.