Nikon has unveiled the new D5200 DSLR, featuring a 24.1 megapixel sensor, 39-point AF and 2,016 pixel RGB metering.
Nikon has unveiled the latest update to their mid-level D5000-series, the Nikon D5200 DSLR.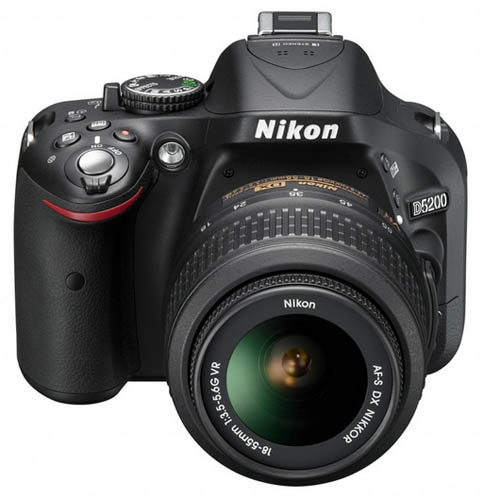 Featuring a 24.1 megapixel DX-format CMOS sensor, the D5200 captures even finer details than before. The new camera also inherits the D7000's superior autofocus and metering systems – that's a 39-point AF system of which 9 points are cross-type, and a 2,016 pixel RGB metering system. Other key features include a new Expeed 3 processor, ISO expandable up to 25,600 and a vari-angle LCD. The D5200 is also compatible with Nikon's optional WU-1s WiFi module, allowing you to share images wirelessly directly from the camera.
Specifications
DX-format 24.1 megapixel CMOS image sensor with EXPEED 3.
High ISO (100-6400) extendable to 25600: keeps the detail with low noise in low-light situations.
39-point AF system with nine cross-type sensors in the centre.
2,016 pixel RGB metering sensor.
Continuous shooting at 5fps.
Full (1080p) HD movies with up to 60i/50i recording and a built-in stereo microphone.
Movie AF modes: Live View autofocus works when shooting movie clips, keeping subjects in sharp focus.
Vari-angle LCD monitor: 7.5cm (3.0-in), 921k dot vari-angle screen.
Available in three colours: black, red and bronze. The red and bronze versions will only be available in SA via special orders.
Local Pricing and Availability
We don't have an ETA for the D5200's arrival in SA yet, nor any pricing information, but we'll update this section of the post as we receive more information. Pre-orders on Orms Direct should go live as soon as we know more.
Product Images
Press Release
Johannesburg, South Africa, 6 November 2012: Nikon introduces the latest D-SLR to its mid-range DX-format line-up, the 24.1 megapixel Nikon D5200, designed to bring out your creative side. From beautiful still photos to smooth Full HD movies, this camera empowers your freedom of expression, letting you capture your own unique view of the world.
Romi Jacobs, Chief Operating Officer for Nikon in South Africa says: "The inspiring Nikon D5200 is ideal for those who are passionate about photography and want to experiment with the camera's superior features. The impressive image and movie quality alongside a versatile vari-angle LCD monitor lets users unlock their creative potential."
Breath-taking image quality
The third camera in its series, following the D5000 and the D5100, the Nikon D5200 offers a massive leap in image-quality. In addition to the 24.1-megapixel DX-format CMOS sensor for finely detailed images, the new EXPEED 3 image processor provides high-speed operation and excellent, rich colour reproduction – as well as enhanced movie recording. The high ISO sensitivity (100-6400 which is extendable to 25600) delivers brilliant shots in dark or poorly lit environments as well as producing clear images of fast moving subjects.
The Nikon D5200 shares an AF system, metering sensor and scene recognition with the Nikon D7000 series, giving this camera a new level of performance and much enhanced image quality. The superior accuracy of the 39-point AF system and nine cross-type sensors delivers razor sharp images by focusing precisely on the subject you choose. Meanwhile, the 2,016-pixel RGB metering sensor provides precise data to the camera's Scene Recognition System, which optimizes exposure, autofocus and white balance immediately before the shutter is released.
Image creations from any angle
The Nikon D5200's versatile 7.5cm (3-in) vari-angle LCD monitor provides the ultimate freedom and flexibility to take beautiful shots and movies from virtually any position. You can flip, tilt or turn the swivel monitor to get really creative with your angles. In addition, the Nikon D5200 is an intelligently designed lightweight camera, with clear menus and superior ergonomics, making it a pleasure to manoeuvre and shoot with.
Wireless connectivity to share your creations
Wirelessly transmitting images from your camera to an Apple™ or Android™ smart device is possible by using the optional WU-1a Wireless Mobile Adapter. This means you can share images that you are proud of with friends via social networks and email for instant reactions. It is even possible to control your camera remotely from your smart device to help you take beautiful shots without disturbing your subjects.
Distinctive HD movies
Effortlessly alternate between shooting stills and Full HD movies with smooth (up to 60i/50i) recording at the flick of a switch. The camera's subject tracking of moving objects in three dimensions, with full time servo AF (AF-F), ensures focus of moving objects throughout filming. Adding to that, creating movies to be proud of can be achieved with in-movie editing and the camera's built-in stereo microphone.
Inspirational Effect and Scene modes
Be even more original with the Nikon D5200 Effects mode. A range of seven special effects: Selective Colour, Miniature, High and Low Key, Silhouette, Colour Sketch and Night Vision can be applied in real time to images and movies through Live View so you can see what your final creation will look like before you shoot it. In addition, in-camera High Dynamic Range (HDR) and D-lighting capture detailed images of high-contrast scenes, increasing creative possibilities. You can also select from 16 different Scene modes – they optimize the camera settings, such as shutter speed, ISO and aperture – to the situation you are shooting. It is great for a quick shot or if you are still learning about D-SLR photography.
Key features
DX-format, 24.1 megapixel CMOS image sensor with EXPEED 3 for exceptional quality
Vari-angle LCD monitor: View life at a unique angle with a high resolution, 7.5cm (3.0-in), 921k dot vari-angle screen
Compatible with Wireless Mobile Adaptor WU-1a to transmit images from the camera to Apple™ or Android™ smart device and remote shooting
High ISO (100-6400) extendable to 25600: keeps the detail with low noise in low-light situations
Razor-sharp 39-point AF system with nine cross-type sensors in the centre. Offers fast and precise autofocus coverage across the frame
2,016 pixel RGB metering sensor delivers highly accurate metering for exact exposures and provides precise data to the camera's Scene Recognition System
Scene Recognition System optimizes exposure, autofocus and white balance immediately before the shutter is released
Continuous shooting at 5fps: so you do not miss that fast-moving action shot
High dynamic range (HDR): Gives detailed shots of high-contrast scenes by combining two shots taken within a single shutter release
Active D-Lighting: Retains details in highlights and shadows for well-balanced images, even if the subject is moving
D-Movie: Full (1080p) HD movies with smooth (up to 60i/50i) recording and a built-in stereo microphone
D-Movie AF modes: Live View autofocus works when shooting movie clips, keeping subjects in sharp focus
In-built stereo-microphone for improved sound quality
Updated new generation GUI Design
16 Scene modes: Automatically adjusts camera settings, including Picture Controls and Active D-Lighting, for optimal results.
Effects mode – seven effects including Selective Colour and Miniature, which can be applied in pre-shoot, for more creative movies and stills
Compatible with WR-R10 Wireless Remote transceiver and WR-T10 Wireless Remote transmitter that let you control key camera functions from a distance
GPS compatible: Records the exact location of the camera when a picture is taken by using the optional GP-1 unit
NIKKOR lenses: take advantage of Nikon's legendary NIKKOR lenses and make the most of the camera's 24-megapixel resolution. Capture photos with vivid colour and striking contrast. Shoot movies with crisp detail or experiment with cinematic effects.
Available in three colours: black, red and bronze
Lightweight body (505g) with an intelligent design and superior ergonomics