Nikon has revealed the new D5300 DSLR with built-in WiFi and GPS, as well as the new Nikkor 58mm f/1.4G lens.
Nikon's on a roll these last two weeks, with a new DSLR and lens announcement coming hot on the heals of the Nikon D610 reveal. Earlier this morning, Nikon took the wraps off the new D5300 DSLR as well as the new 58mm f/1.4G lens.
Nikon D5300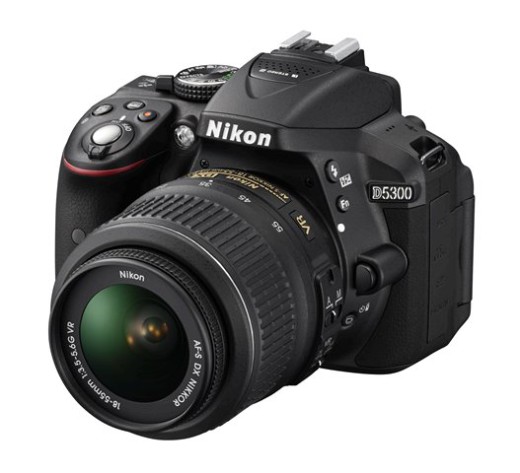 The Nikon D5300's main new features include built-in WiFi and GPS, allowing you to easily connect to other devices, share your photos online, and geotag your images.
The 24.2 megapixel CMOS sensor remains the same as the Nikon D5200, but photos captured with the D5300 will be sharper than its predecessor, thanks to the exclusion of the optical low-pass filter. Other improvements include a larger, higher resolution display, and a smaller, lighter body.
Here's a rundown of the key specifications:
DX-format 24.2 megapixel CMOS sensor with no optical low-pass filter.
ISO 100-12800, extendable to 25600.
39-point AF system with nine cross-type sensors in the centre.
2,016 pixel RGB metering sensor.
Continuous shooting at 5 frames per second.
Full HD movie recording at up to 1080p60.
Vari-angle LCD monitor: 3,2″ 1,037k dot variable angle display.
Available in three colours: black, red and grey. The red and grey versions will only be available in SA via special orders.
Video Tour
Nikkor 58mm f/1.4G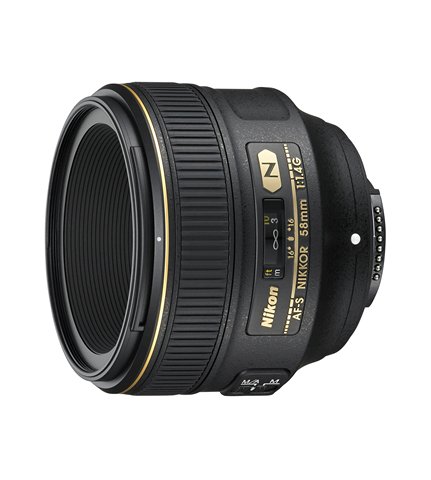 The Nikkor 58mm f/1.4G is a premium lens aimed at the professional market. Offering the versatile perspective of 58mm with the shallow depth of field and light gathering abilities of the large f/1.4 aperture, the lens is perfect for both portraiture and low-light conditions.
The lens features fast autofocus, with an ultrasonic motor driving the rear elements, and full-time manual override via the focussing ring.
Local Pricing and Availability
We haven't heard official pricing and expected arrival dates yet – Will update this post as we receive more info!
Product Images
Nikon D800 with the new 58mm f/1.4 mounted: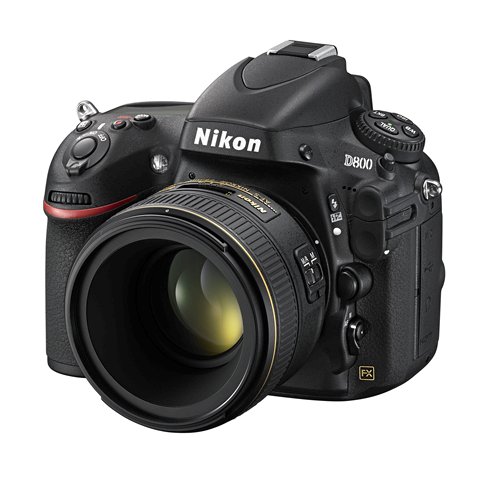 Press Release
Johannesburg, South Africa, 17th October 2013 – Nikon in South Africa today announces the D5300, the first DX-format D-SLR to feature built-in Wi-Fi and GPS.

Optimised for creativity and streamlined for flexibility, the D5300 is an upper entry-level D-SLR designed to inspire spectacular photos and videos. As the first Nikon D-SLR to boast built-in Wi-Fi, it offers creative explorers a fantastic opportunity to capture and share the magic of their world in incredible detail. The camera's innovative 24.2-megapixel DX-format CMOS sensor is specifically designed with no optical low-pass filter (OLPF) so even the finest details and textures are captured with stunning sharpness. Photos are ready to share immediately using the built-in Wi-Fi function, which connects the camera directly to a smartphone or tablet, and the GPS function adds geotags to travel pictures in-camera. Capable of bringing creative ideas to life with striking clarity, this is an inspiring camera that draws exciting new perspectives out of everyone who shoots with it. Photo-sharing activities will never look the same again.

Marli van Schalkwyk, Head of Marketing for Nikon in South Africa, says: "The D5300 is a great camera for creative, socially active people who want to share their view on the world through high-quality images. With built-in Wi-Fi and GPS, plus an impressive feature set that includes light sensitivity up to ISO 12,800 and Nikon's powerful new EXPEED 4 image processing engine, this camera raises the bar for the kind of images you can share. Plus it's a pleasure to use, thanks to its large, high-resolution vari-angle screen."

Built-in Wi-Fi

As the first Nikon D-SLR to be equipped with built-in Wi-Fi, the D5300 takes photo sharing to a whole new level. Photos can be sent directly from the camera to any iOS™ or Android™ smart device¹, ready for easy upload to social networking sites like Facebook, Instagram, or Twitter. Thanks to the impressive image quality of the photos, you can attract attention and captivate everyone in your world with the stunning images you share. Also incredibly useful for shooting photos, the Wi-Fi function makes it possible to control the camera remotely using the connected smart device, plus you can preview the scene you're shooting on the smart device's screen. Combine these features with the camera's vari-angle monitor, and the possibilities for amazing self-portraits are endless!

Built-in GPS

When it comes to sharing exciting images, the D5300's built-in GPS integrates perfectly with the in-camera Wi-Fi function. A simple way to geotag images without using any external adapters, the GPS function gets your travel pictures ready for sharing by logging location information such as latitude, longitude, and altitude in the image's EXIF data. Your travel pictures gain an extra level of detail, and since the GPS logger function works when the camera is turned off, you can actually keep track of your route even when you're not taking pictures². Nikon's ViewNX 2 software can help create stunning travel maps and you can showcase your maps on NIKON IMAGE SPACE, or any other social networking or photo-sharing website that support GPS, like Flickr. 

Incredible image quality

At the core of the D5300 is a 24.2-megapixel DX-format CMOS sensor that renders the truest, most detail-rich images possible. Designed without an optical low-pass filter (OLPF), this innovative sensor makes the most of every megapixel to more faithfully render exactly what the lens sees. The textures of fine details like hair or feathers are captured perfectly, and images explode with clarity—especially when captured with a NIKKOR lens.

High ISO light sensitivity (up to 12,800, extendable to 25,600 equivalent) combines with Nikon's powerful new image processing engine, the EXPEED 4, to ensure even clearer photos and movies than before when shooting in low light. The amazingly accurate 2,016-pixel RGB metering sensor sends data to the Scene Recognition System, thus enabling optimum auto exposure, AF, and auto white balance for the best possible image quality. Fleeting movements or expressions can be captured at exactly the right moment thanks to continuous shooting speeds of up to 5 frames-per-second, and focus is spot-on thanks to the intelligent 39-point AF system, which boasts nine cross-type sensors in the centre for astounding accuracy.

A fresh perspective

Designed to stimulate photographers to find their own angle on photography, the versatile D5300 is fully equipped to help create interesting and inspiring images. The large 8.1 cm (3.2-in.) LCD monitor with wide-viewing angle and high 1,037k-dot resolution offers the ultimate freedom to capture unique shots, including great self-portraits, from any angle. Simply flip, tilt, or turn the monitor to explore fresh perspectives and add intrigue to your photos or excitement to your movies.

For even more possibilities, a range of in-camera tools put the techniques pros spend years mastering conveniently at your command. Enjoy optimum results in high-contrast situations with HDR (High dynamic range) mode or quickly capture perfect shots in various situations using any one of the 16 scene modes. When you want to explore different ideas, let your creativity run wild with the camera's range of special effects for photos and movies: evoke a certain mood by isolating specific colours, or create a retro look-and-feel with the Toy Camera effect.

Inspiring Full HD movies

For those who want to take their creative vision to video, the D5300's D-Movie function records smooth, finely detailed Full HD video clips at frame rates up to 50p/60p. Offering the kind of superior performance and sharp focus that's critical for HD video, the camera begins recording with a simple press of its dedicated video record button. Continuous Live View autofocus keeps subjects sharp, even when the action is fast, and you can relax and let the camera keep track of your subject with subject-tracking AF or face-priority AF. Thanks to the camera's built-in stereo microphone and compatibility with Nikon's external ME-1 Stereo Microphone, it's easy to capture footage with crisp, clear sound. And when it comes to sharing your latest creation, the HDMI output lets you connect your camera directly to an HDTV screen so you can enjoy your movies and photos in superb high-definition.

Intelligent design

With a body that's even smaller and lighter than its predecessor (the D5200), plus a larger vari-angle LCD monitor, the D5300 is a pleasure to shoot with. The incredibly lightweight build (the body weighs only 480 g without battery and memory card) makes this a great camera to travel with, and a stable grip lets you get a firm hold on the camera. The large, high-resolution LCD monitor lets you see every detail of your photos and movies, and you can adjust the monitor's brightness for a clearer image on the screen when shooting under bright light or in dark situations. The newly designed pentamirror increases viewfinder magnification to approx. 0.82x, making it even easier to accurately compose your shots. Nikon's superior ergonomics, clear menus, and one-touch buttons for frequently used functions like D-Movie and Live View make operation quick and intuitive, so you can focus on your ideas.

NIKKOR, Speedlight, and system compatibility

One of the D5300's greatest advantages is its compatibility with Nikon's wide range of NIKKOR lenses and powerful system accessories. Combine the D5300 with such versatile partners, and your creative options become limitless. NIKKOR lenses are renowned across the world for their optical performance, and the D5300 is compatible with the full range of DX-format lenses. From compact zooms that are perfect for general use or travel, to fast prime lenses that enable beautiful bokeh (background blur), as well as wide-angle and micro lenses, there is a lens for every situation. Whichever you choose, you can enjoy the precision and flexibility to make the most of the camera's 24.2-megapixel resolution and capture photos with vivid colour and striking contrast, or experiment with cinematic effects when shooting movies. In addition to lenses, Nikon Speedlights like the SB-400 and SB-700 open up opportunities to get creative with light, and optional wireless remote control devices like the WR-R10 and WR-T10 let you control key camera functions from a distance, even if there are obstacles between yourself and the camera.

Summary of Key Features

– Built-in Wi-Fi and GPS – 24.2-megapixel DX-format sensor with no OLPF – Superb low-light performance with ISO 100–12,800 (expandable to ISO 25,600 equivalent) – Fast and powerful EXPEED 4 image processing engine – 39-point AF system with nine cross-type sensors in the centre – 2,016-pixel RGB metering sensor with Nikon's Scene Recognition System – 5 fps continuous shooting – Large vari-angle monitor: 8.1 cm (3.2-in.) LCD monitor with wide-viewing angle and high 1,037k-dot resolution – Full HD movies at 1080/50/60p – HDMI output supported – Built-in stereo microphone and compatibility with Nikon's ME-1 Stereo Microphone – HDR and Active D-Lighting – Special effects for still images and movies – 16 Scene Modes – Viewfinder with increased magnification (approx. 0.82x) using a newly designed pentamirror – Small, lightweight body: Approx. 125×98.0×76.0 mm. Weighs just 480 g (without battery and memory card) – Stable grip for secure handling – Improved graphical user interface for clearer menus – Expandable system: Compatible with the full range of NIKKOR DX-format lenses and specific Nikon Speedlights – Compatible with the WR-R10/WR-T10 Wireless Remote Controllers.

¹ To prepare your smart device to receive photos, simply download the free Wireless Mobile Utility. The Wireless Mobile Utility is compatible with iOS™ and Android™ smart devices, and can be downloaded to your smart device from Google Play™ and the Apple App Store™. Android, Google, Google Play, YouTube, and other marks are trademarks of Google Inc. ² Compatibility varies by country.