Win a 12 day Antarctic expedition! Enter the Oceans of Life photographic contest to win this once-in-a-lifetime trip!
Head's up, nature photographers: Stand a chance to win a 12 day Antarctic expedition by entering the Oceans of Life photographic competition!
All photographers – experts or beginners, local or international – are welcome to enter, and the only criteria is that the photographs feature marine life. There are two categories, Open and Youth, with the prize for the Open category being a 12 day Spirit of Antarctica Expedition with Aurora Expeditions, and the prize for the Youth category is a Canon 7D DSLR kit.
How To Enter: Submit five of your photos on www.oceansoflife.co.za. There is an entry fee of $10. The deadline for submissions has been extended to 8 September 2014!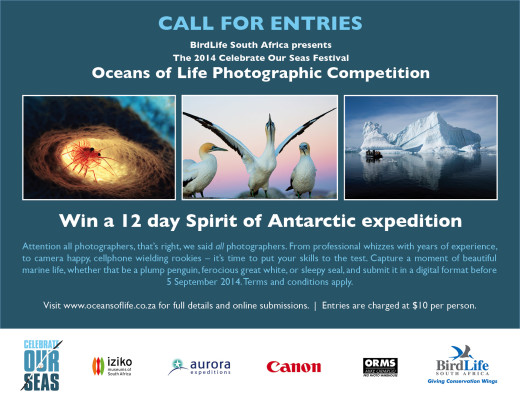 Follow @seabird_sos on Twitter for competition updates.
Here's a selection of entries from previous years, to get you inspired, and check the related links for photos from previous Oceans of Life exhibitions at the annual Save Our Seabirds festival!