If you've driven up Roeland Street this past week, you may have spotted our new Orms & A Fashion Friend billboard.
If you've driven up Roeland Street in Cape Town this past week, you may have spotted our new billboard, in partnership with A Fashion Friend and Elinchrom.
The studio lights featured in the billboard were sponsored by Elinchrom South Africa, and will be used by up-and-coming photographers on shoots for A Fashion Friend.
Elinchrom is a leading manufacturer of studio lights and accessories, including the high-end BXRi monolights and portable Quadra Ranger RX strobes.
A Fashion Friend is an online magazine and fashion portal that champions fresh creative talent for the new fashion generation. Fashion veteran Robynne Kahn had a dream. She wanted to find a way for talented fashion creatives to show off their true creative work and she wanted to provide an environment for new, up-and-coming stylists, make up artist and photographers to shoot current fashion from leading brands or new labels without being held back by their lack of experience and industry connections. Robynne wanted a place for fashion stylists to show hungry, fashion-awake shoppers where the real fashion gems were hiding and offer fashion inspiration to a captive fashion audience. A Fashion Friend is the play space of creatives. It is the home of fashion and a friend to a socially networked community who are hungry for fashion, and want to be kept in-the know and on-trend by the experts, in an authentic manner.
Orms is really excited about our partnership with Elinchrom and A Fashion Friend and all the exciting things to come!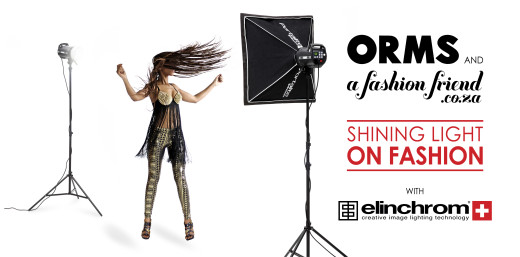 The billboard shot by Frank Ellis, and styled by Robynne Kahn from A Fashion Friend.