This month we're giving away a Lomography Diana F+ camera with a flash and film! Entry details in the post.
UPDATE 24 June 12h10:
The competition is officially closed. Thank you for sharing your beautiful film memories. The winner will be announced later this afternoon.
UPDATE 24 June 14h02:
Congratulations to Mana-zita Barnard, she is the lucky new owner of a Lomography Diana F+ camera and three rolls of colour negative 120mm film to the value of R 1 420-00.
We used a random number generator to pick the winner. You can view the result at the bottom of the post.
Another month has almost passed, which means it's time for our Orms Connect Monthly Giveaway! This week we have an awesome Lomography Diana F+ camera to give away to one of our lucky fans.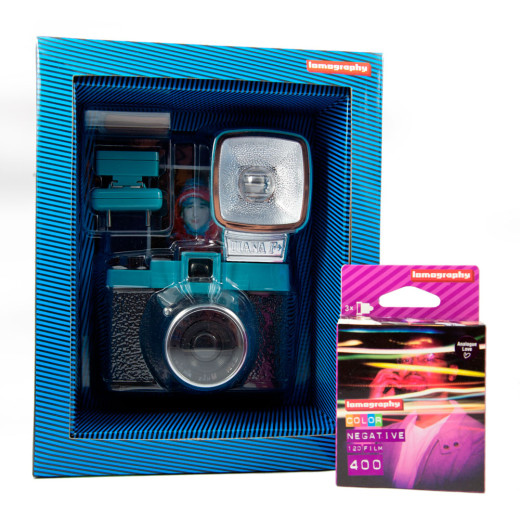 The Diana F+ kit comes with everything you need to get you started with lomography, including the Diana F+ with a standard 75mm lens (equivalent to 50mm on 35mm film), an electronic flash, coloured gels for the flash and a hardcover photo book. We've also thrown in three rolls of colour negative 120 (medium format) film. Read more about film here.
The Ten Golden Rules of Lomography
1) Take your camera everywhere you go.
2) Use it any time – day and night.
3) Lomography is not an interference in your life, but part of it.
4) Try the shot from the hip.
5) Approach the objects of your Lomographic desire as close as possible.
6) Don't think. (William Firebrace)
7) Be fast.
8) You don't have to know beforehand what you captured on film…
9) …Afterwards either.
10) Don't worry about any rules.
The Diana camera was a cult-legend plastic camera in the 60s, famous for its characteristic lo-fi and vibrant images. Updated with new features, the Lomography Diana F+ is a faithful recreation of the original.
How to enter:
If you aren't already a fan of the Orms Direct Facebook page, please like it and then return to Orms Connect and leave a comment on this blog post, answering the question: "What was your first film camera? When did you get it, and who gave it you?" (If you have never owned a film camera, please tell us what your first digital camera was. The Diana might be your first exposure to film if luck is on your side!)
Rules:
1) The competition is open to all South African residents, 18 or older.
2) The winner will be selected randomly, and will need to be a fan of Orms Direct on Facebook.
3) Only one comment/entry per person will count. If you leave more than one comment, it will only count as one entry.
4) Competition closes Friday 24 June 2011 at 12:00 PM.