This April, Orms Print Room & Framing is offering you 15% off all our custom frames!
We offer a wide range of traditional picture framing techniques, from cut-&-join framing and conservation framing, to shadow box framing, block mounting, custom framing, canvas stretching and more.
Your journey will begin with one of our knowledgable framing consultants who will guide you through the process of creating custom framing to suit your creative needs. Don't worry if you're not sure where to start, our Framing Consultants are here to guide you through the process, starting with unique ideas and advice to suit your specific needs. Let's go behind the scenes into Orms Print Room & Framing's framing factory to see exactly what goes into each of our hand-made frames and explain, but a few of the different framing options available.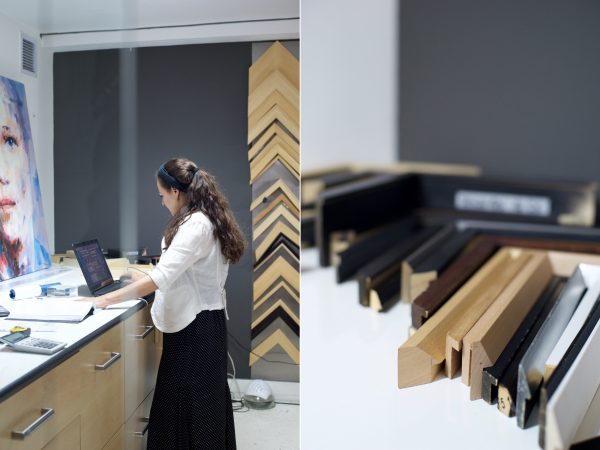 Custom Picture Framing:  Apart from conventional cut-&-join framing, Orms has become the leader in custom framing, with expertise ranging from frame design to master reproduction. We specialise in numerous framing and mounting procedures, and go out of our way to meet your needs and turn your vision into a reality.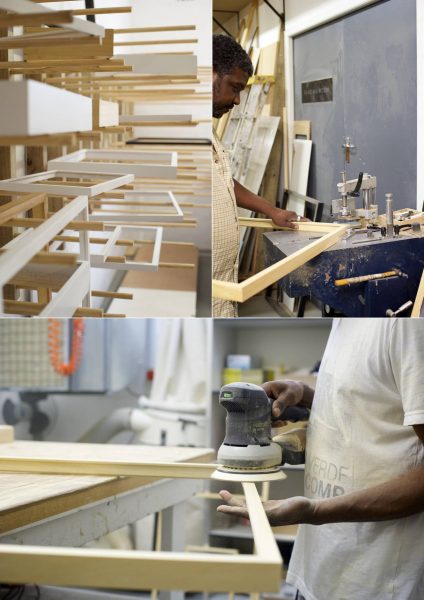 Let's start with selecting the Profile you'd like for your custom framing piece. We offer five options; Box, Flat, Angled, Square or Ornate.
You'll be guided through each option and advised according to the end look and feel you've envisioned for your finished creation.
Next you'll be guided through our range of Finish Options. We offer a choice of seven different finishes including;
Natural: With a natural finish that embraces the flaws and imperfections in the wood and highlights them.
Stain: Raw Obeche wood is sanded and stained to achieve a rich finish.
Show Grain: Natural grain of raw Obeche wood shines through.
Duco: Primer and paint treated, achieves a silky smooth finish.
Synthetic: Synthetic wood emulates a natural wood finish.
Leafed Frame: Hand crafted from start to gold or silver leaf finish.
Aluminium: A wide range of smooth aluminium finish options in various colours and size.
Once you've chosen your perfect Profile and Finish Option, you'll be guided through choosing the perfect Mounting Style for your artwork. We offer a choice of five different Mounting Styles including;
Window Mount: A custom size window is cut in mounting board through which your artwork is displayed.
Double Window Mount: As mentioned above, but with the option of multiple windows.
Float: Ideal for original artwork as it is floated on top of a mount board to avoid any cropping.
Raise: A similar process to floating, but gives the artwork depth and shadow.
Frame to Image: Frame is custom built to artwork specifications, giving you a perfect fit.
Now that you've decided on your Mounting Style let's go on to choosing the perfect *Mounting Substrate* for your custom frame. We offer a range of four different options;
Triplex: Artwork is pasted to triplex board.
Hardboard: Artwork is pasted to fibreboard.
Plexiglass: Artwork is bonded to plexiglass.
Diabond: Aluminium material bonded to a solid plastic core.
If none of these options appeal to you, we do offer alternate options in strapping and hinging.
Strapping: Artwork strapped to backing board and floated onto mount board.
Hinging: Similar to strapping process but with addition of hinged backing board.
Now that your custom framing process is off to a great start there are a few more finishing options to consider. Our choice of Glazing and Hanging options are very dependant on the space in which you are wanting to display your finished piece and your framing consultant will be able to provide expert guidance to which of the five Glazing and Hanging options will serve your artwork best.
Glazing options include;
Clear Float Glass
Non-reflective glass
Clear Float 99% UV protectant glass
Anti-Reflective and 99% UV protectant glass
Plexiglass
Hanging options include;
Teardrops & String
Sawtooth
Small & Medium D-rings 
Double String
Cleat
Now that you're ready to begin the process of creating custom frames for your space, it's great to know that during the month of April Orms Print Room & Framing are offering you 15% off your custom framing order with the exclusion of Diasec Mounting and Museum Glass.
Pop in-store to speak with a knowledgable framing consultant and get started on your journey of creating custom frames. For more information about any of the services we offer be sure to check out the Orms Print Room & Framing website here.
Terms & Conditions:
15% discount on custom framing only valid for in-store orders.
This custom framing discount is not applicable to Museum Glass and Diasec
The discount will not apply on already discounted invoices
Quantity discount on multiple copies does not apply during the promotional period
Offer valid from 2 April 2019 – 30 April 2019