Metallic prints bring out the best in your colourful and vibrant photographs. Read more about this unique substrate.
Have you ever seen metallic prints? Today we'll be introducing Fujicolor Metallic Paper. While printing on metallic paper isn't entirely new, it's still a medium that we get plenty of questions about.
Fujicolor Crystal Archive Digital Pearl or Metallic Paper is a true photographic printing substrate. The paper is exposed to light using our incredible Lightjet, after which it is processed through developing chemicals. Think of the process as a modern version of classic darkroom enlargements. Together with pearl-like mica crystals and metal oxides embedded in the paper, metallic prints offer a unique finish and value.
While it is near-impossible to showcase the paper's vibrant aesthetic on a monitor (as no computer display can reproduce the metallic shine), we took some comparative shots of our sample cards to give you an idea of the brightness of the paper: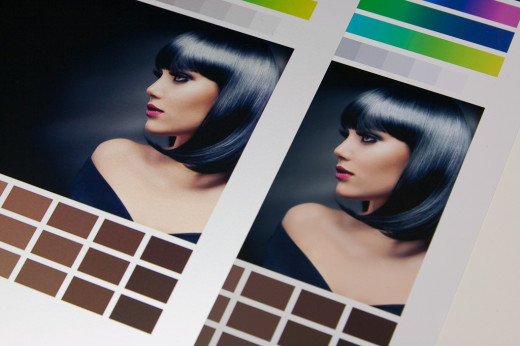 Metallic print on the left, regular gloss print on the right, both samples printed with the Lightjet. The gloss print features great detail and colours, but the skin tone and texture is even better on the metallic print. It really has to be seen in person!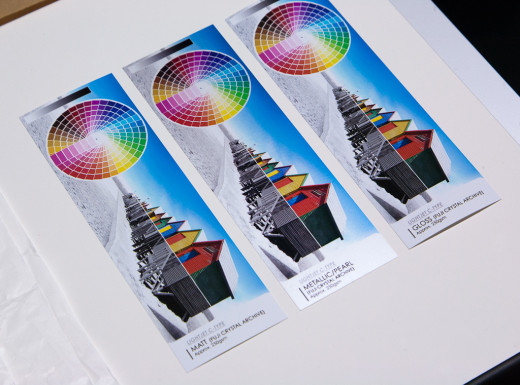 The medium is perfect for bright, colourful, contrasty and vibrant images, as the metallic paper enhances these properties. Portrait photographers will also enjoy the medium's effect on skin textures and tones.
Framing
Metallic paper is also great for mounting on Dibond, and it enhances the three dimensional effect that photographs have when used in Diasec® mounting. It will also look great mounted behind anti-reflective museum glass, although regular glass will take away from the paper's properties. As always, when framing prints with a glossy finish behind glass, it's important to ensure that the print does not contact the glass.
Pricing
The pricing for printing onto metallic paper ranges from R90 for a 200x200mm print, to R1000 for a 1x1m print, with all standard A-sizes and photographic sizes covered. View the full price list here.
For more information about metallic prints, leave a comment below and our Lightjet specialist, Vincent van Graan, will answer your questions. To view samples or get your images printed onto metallic paper, visit the Orms Print Room at 66 Roeland Street – Opposite the road from Orms Cape Town.
By the way, not to be confused with metallic prints, we also offer prints on metal. Pop in to our showroom to preview your printing options!
Here's a few examples of photographs that would look incredible on metallic prints:
I've reached the end of the world by Trey Ratcliff.
Jumping Spider by Thomas Shahan.
Main Street Morning – Fire Engine No. 71 by Joe Penniston.
Chameleon by Sergiu Bacioiu.