Meet Vincent van Graan, our Lightjet printing specialist, and learn more about his work, his book, and his tips for printing.
With years of printing experience, from world-tour exhibitions to once-off prints for aspiring and professional photographers, Vincent van Graan is an authority on photographic printing. A photographer himself, Vincent has a keen understanding of all sides of the art, including advice on the best paper to use.
Annelien Moerdijk sat down with Vincent and asked him some questions about his time at Orms, what inspires him and what his plans are for the future.
Annelien: Tell us a little about yourself, your time at Orms, how you got here and how you started the craft of fine art printing?
Vincent: After completing my BTec Diploma in photography at the Pretoria Technicon, I moved to Cape Town in 2001. I started assisting and doing freelance work and at some point decided to see if life with a monthly salary would be less stressful. I heard about a position at Orms by chance, and decided to go for an interview and have not looked back.
This job gave me the opportunity to move to Muizenberg, which I always dreamt about, and it's where I now life with my amazing wife, two beautiful daughters, two very old dogs and my crazy cat Amelie.
In my time at Orms I have worked in all aspects of the lab, from large format printing, the minilab, scanning and retouching, to the traditional darkroom printing and processing.
Annelien: What type of photographic printing do you do and where do you get the inspiration and knowledge from?
Vincent: I use the Lightjet printer to produce photographic fine art prints. This is a way of printing that combines traditional darkrooms with the digital age.
I still remember my dad's darkroom from when I was very young and have always been fascinated by the chemical process involved in producing photographs. Although I learnt a lot about printing before and at Technicon, and even more since working at Orms, the world of photography and printing have changed so much in the last few years, we have had to move with the times and keep learning and researching as we go along.
When working with so many amazing photographers and their incredible images, it's never difficult to find inspiration.
Our Lightjet 430 in Vincent's darkroom, mixing advanced technology with traditional methods.
Annelien: You are seen as a pro in the industry because of your years of experience as well as working with some really big photographers in the world. How did you accomplish this?
Vincent: That's a difficult one. I think firstly I have a lot of pride in my work and people can often see that. I love what I do and that comes through in my work to. I build good relationships with photographers I work with and try and understand what they want out of their images. One of the main things is definitely knowledge of the industry. Photography and printing can get very technical at times and I think people appreciate being able to speak to somebody that has a good knowledge of the whole spectrum from taking a photo till its hanging on the wall.
Vincent shares a laugh with travel photographer, Eric Nathan, who was printing a selection of his work onto metallic paper.
Annelien: You are the only person in South Africa that does black and white Fibre based printing on the Lightjet. Why is this kind of printing so special?
Vincent: Well I think this is the ultimate in old meets new. We are able to use the Lightjet to expose digital images directly onto traditional B&W paper. This paper is still hand processed and selenium toned and gives you some of the most archival prints available.
Very few labs worldwide expose directly onto B&W paper and although some use inter negatives and contact those onto the paper the quality does not compare with what we can produce.
Details of Vincent's AutoPan paper processor and dryer. The exposed paper rolls from the Lightjet are loaded into the AutoPan in total darkness – not an easy feat – and are then rolled through traditional processing chemicals.
Annelien: You came out with your own book last year. Please tell us the story behind this?
I have always been fascinated by old glass plate negatives and photographs. I have been collecting and restoring them for years. When I came across the most beautiful and best kept collection I had seen, at the Cape Town Archives, I decided to showcase them alongside photographs of the same scenes today. The idea for "Cape Town Then and Now" was born about six years ago and without knowing how much work it will be, I slowly started trying to do everything myself in the small amount of spare time I have. About three years ago I realized I was never going to get it done alone and with the help of some very talented people including Phil Massie and Anne Clarkson I launched the book with Struik last year October.
Six months later the second edition is being printed and the book is something I am very happy and proud about.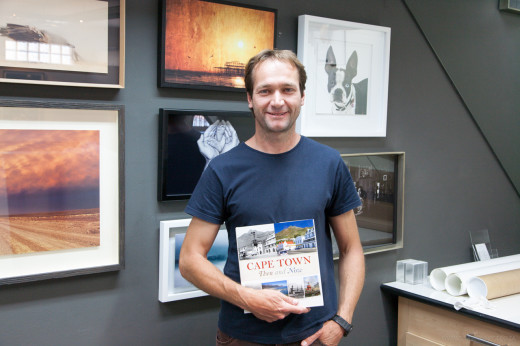 Vincent's book is available for purchase online from Orms Direct: Cape Town Then and Now. It is also available in-store at Orms Cape Town, and most book stores.
Annelien: Do you think talent for photography is something a person is born with or something a person can learn?
Vincent: I think to a certain degree you need talent to become a successful photographer and yes you are born with it. I think one can get far with learning a lot and in our digital age there are many "auto corrections and modes" that make it possible to compete with talent but there is no real substitute. I think it also important to realize that photography is very subjective, and when you look at somebody's work and think "this person has so much talent", somebody else will walk past and not understand or appreciate the work and think "this guy better find something else to do, he has no talent".
Annelien: Please share any tips for newcomers to the world of fine art printing. What should they know before the bring their images in to be printed?
Vincent: Try and learn as much as you can all the time about equipment and printing possibilities. New technology is constantly opening doors and you want to take full advantage of that.
When you bring images to print, if possible, bring them in the widest color space you can, like Prophoto RGB or Adobe RGB (or what they were shot in) and as uncompressed .tiff files. This is not a must, and we can print from anything we can open in Photoshop, but it just gives us the best start and ultimately the best print. If your cell phone Instagram photo is all you have, I promise you we can work with that as well.
Annelien: Vincent in 5 years?
Vincent:
Still at Orms, probably.
Still in a darkroom, hopefully.
Another book, maybe.
Still surfing Muizenberg, definitely.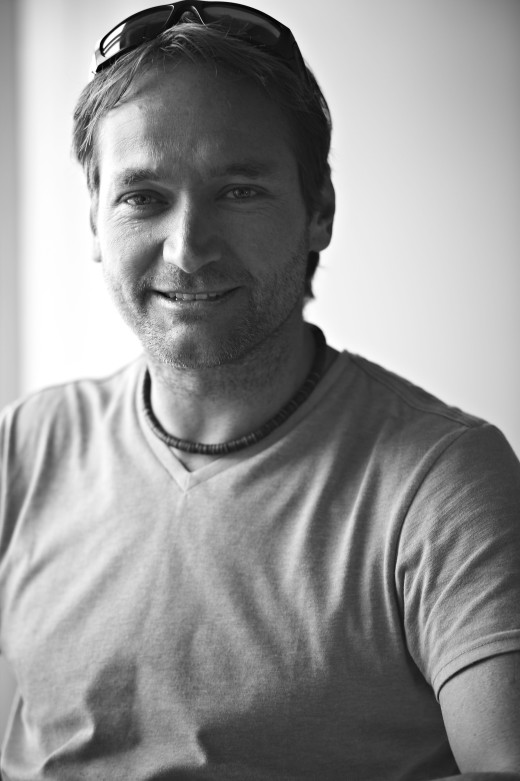 Author photo from Vincent's book, Cape Town Then and Now.