10 top photographers, 10 questions each: Paul Bruins shares his massive interview with SA's best landscape photographers.
Featured image: Paul Bruins.
Here's a great post for fans of landscape photography! Cape Town-based photographer Paul Bruins, who himself specialises in capturing beautiful 'scapes, both locally and abroad, has posted a massive group interview with 10 of South Africa's best landscape photographers.
In order to be impartial when creating a list of SA's top 10 landscape photographers, Paul determined the list by requesting nominations and recommendations from other photographers. His final list includes: Obie Oberholzer, Koos van der Lende, Mark Dumbleton, Carl Smorenberg, Hugh-Daniel Grobler, Liesel Kershoff, Lawrance Brennon, Des Jacobs, Neil Austen, and Dewald Kirsten, whom he then proceeded to ask 10 questions each.
The interview has been published in two parts on CapturEarth:
It's a rare opportunity to learn from some of the most experienced and gifted photographers around, so be sure to give the interview a read! We found the photographer's descriptions of some of their recent favourite photos to be particularly interesting. Here's a few excerpts:
From Dewald Kirsten's interview:
Paul Bruins: Could you provide one of your recent favourite photos and tell us a bit about it, from where it was taken, how you photographed it and then how you processed it?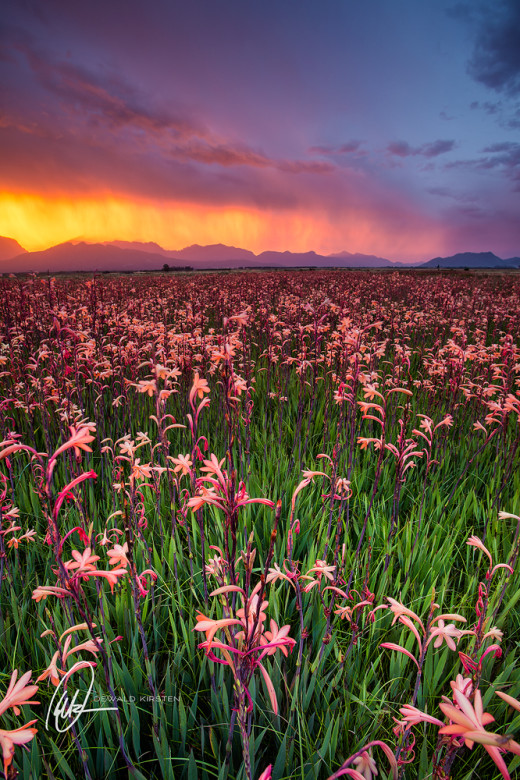 Dewald Kirsten:
"It has to be my "Watsonia Sunset" image. Outside Worcester there are fields of watsonia flowers every year from about September till November. I have photographed them before and always got great results. It was until last year that there was a massive thunderstorm brewing and I knew that tonight was going to be special. I headed out to the patch closest to the road and walked in. I was shooting for a couple of minutes before the storm hit me. I got soaked by the rain and had to cover my camera body with my body to keep the rain of it. At first it looked like the sunset was going to fall flat due to the clouds moving in, but the next moment it started changing and it was set alight by the setting sun. It was one of the most intense sunsets and light I have ever seen.

I shot this with a canon 6D, 17-40 f4 lens at f11 and Lee filters. The light was so bright in the clouds that I had to bracket it and blend later in Photoshop.

The editing was very basic. I enhanced the colour of the flowers and the colour of the leaves with Nik filters and add a bit of structure to the sky and some vibrancy.

As it was pretty damn good out of camera I was happy with it as is. It was just a matter of blending in the 1/3 stop darker sky and do the fine tune and it was done."
From Obie Oberholzer's interview:
Paul Bruins: Could you provide one of your recent favourite photos and tell us a bit about it, from where it was taken, how you photographed it and then how you processed it?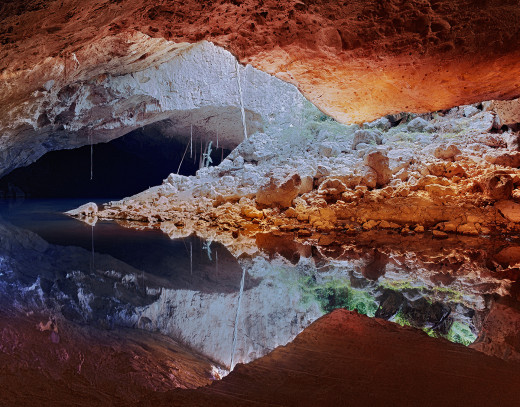 Pigeon Cave – Tunnel Creek National Park – Australia – 2012
Obie Oberholzer:
"He kept leading me; light dabs from his torch ran along the darkened Cave. How well I remember Stanley, the 'Black Fella' man with the harsh brown land scarred on his face. I like the black fella men, they stand in the earth like trees; their arms hold the earth like branches and their leaves whirl all over this ancient land. We are alone in Pigeon cave; drops of water plop down in eerie vibrations, in dark corners Ghost Bats hang heads down, their high squeaks resonating against the humid air. Stanley wants us to sit, so we sit. You travel back a thousand years when you sit with a Bunuba man. The Ghost Bats sonar our presence and some take off in the warm light, whipping past our heads. Stanley tells me that these large mammals are often called 'Vampire Bats', as they are carnivorous and endemic to Australia, with a wingspan of up to 60 centimetres. They fly in, bite their prey to death, and then carry it off to their cave to eat —hanging, upside down. "Nice", I say. Stanley nods, "Nice", he adds, softly. We just sit some more, like we are waiting to capture yesterday's time. Stanley's lips start to move with soft whispers. "Why you whisper?" I whisper. But the black fella seems to be in walk-away, in-between deep pools and the stalactites and mites and plonking drops and hanging bats. "Me whisper, because this special ground for Aboriginal man. This cave, the hide away, the place of 'Pigeon'. This place, the other name we call for Jandamarra. The white man he come to kill him here in cave in 1897. He is the hero for all Bunuba man". Jandamarra – black fella man: Legend, warrior, freedom fighter, and wild spirit that still spreads his leaves all over this harsh brown land.

This image was taken in dim light at about I minute @ f16. During the exposure I moved of camera and lit some of the scene with a powerful hunting torch. The warm light amplified the contrast between the ambient light from the early evening sky and the orange rocks. Normal quality control and sharpening was done with Photoshop CS6."
From Hugh-Daniel Grobler's interview:
Paul Bruins: Could you provide one of your recent favourite photos and tell us a bit about it, from where it was taken, how you photographed it and then how you processed it?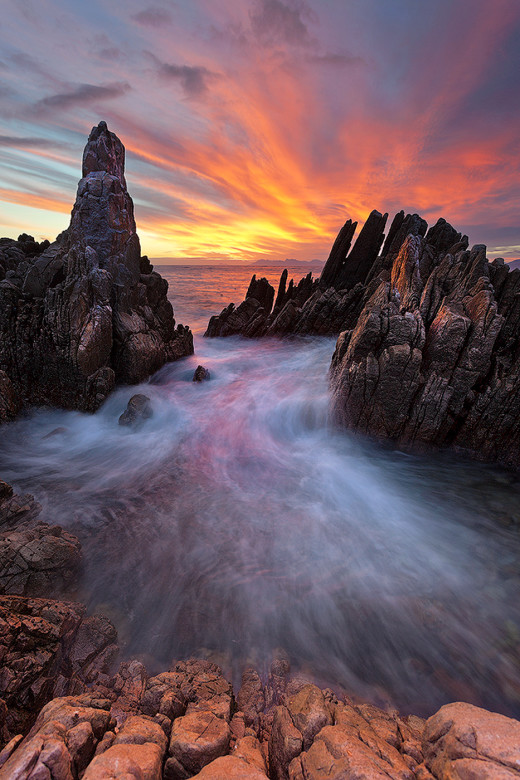 Hugh-Daniel Grobler:
"This has to be my favourite image thus far, everything you hope for as Landscape photographer just all added up that night and combined to give me this special image. A scene you play in the back of your mind for so long that when it happens you are so captivated that you almost lose track of the job at hand.

The shot were taken in De Kelders, situated in Walkerbay in the Overberg district. This gulley is near the De Kelders DripCaves. I did not expect the colours that were about to hit me after the sun had set. On the horizon I saw a slight colour change and that's when I realised…It's on!!

For the final image I used 2 exposures – one exposure for the foreground and one with the highlights still intact. Manually blended, contrast and colour adjustments and finally sharpened for web use."
Read the rest of the interviews and view the photos on CaptureEarth.
All copyrights remain with their respective owners. Excerpts shared with permission.