Everything you need to know about our High Definition Photobooks at Orms Print Room & Framing.
With so many photobook sizes and paper options offered at Orms Print Room & Framing it can be quite overwhelming trying to decide what's best for you (of course it all depends on the purpose of your photobook). The first step is to get the low down on all these options so we thought we'd start with a little break down of all you need to know about our HD photobooks, by far the most impressive of the lot, with the ability to bring your photographs and art work to life using cutting-edge technology and the expertise of our skilled technicians.
Not only are our HD books impressive, they're also pretty exclusive, being printed by the only Canon DreamLabo 5000 digital printing press in Africa, bringing you beauty and quality far superior to that of conventional printing.
Covers:
Personalised (Fully customisable with your own image or design)
Standard

Wibalin (A durable paper based covering material with a linen texture)

Black
Grey
Red
Blueberry
Paris Blue
Kingfisher Blue
Charcoal
Brown
Oatmeal

Linen
Leatherette (Imitation leather)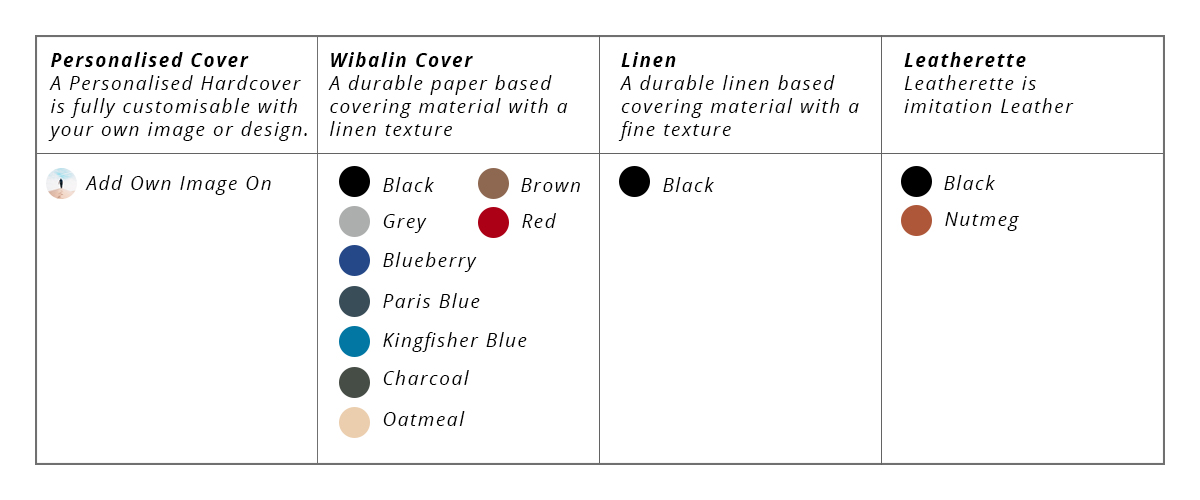 Debossing & Foiling (Debossing is the process of pressing or sinking an image or design into the material. We can deboss text on a Leatherette, Linen or Wibalin Cover. Fonts available are Times New Roman and Granby Medium,
Foiling is the process of pressing metallic foil into the debossing.)
Paper:
Photo Realistic Lustre
Photo Realistic Gloss
End Papers (These are the pages at the back and front of the book that bind the inside of the book to its cover)
Binding:
Flat Spread Binding & Hinged Pages
Sizes:
A4 Portrait & Landscape (28 – 100 pages)
A3 Landscape (28 – 100 pages)
300×300 mm (28 – 100 pages)
200×200 mm (28 – 84 pages)
Our Photobook & Layout Software is entirely free for download, and it works on both Microsoft and Mac computers. Perhaps more importantly, the latest version of our Software makes it easier than ever to create a photo book,  with an easy-to-use interface guiding you through every step of the process. It is also worth noting that making a photobook is not your only option, as our Layout Software can also be used to make note books, postcard books, post cards, folding cards, business cards, calendars, mugs, badges, magnets and more…
If you do not have the time to create your own photobook, or the idea of doing it yourself is a little daunting, why not commission one of our highly creative designers and let them lay it out for you? Simply email design@orms.co.za to get in touch with one of our experts.
Already a Create & Print User?
Remember to update your software regularly to get new features
First Time User?
Download our free software to create your HD photobook.