What do you need from a quality camera strap? Versatility, durability, comfort? We took the Peak Design Slide along on a few shoots to see how it stacks up…
When it comes to camera straps, I'm just not a fan. Somehow I always feel like they are ok, but "ok" is about as far as it goes. My cameras all have straps on them however, it's usually just wrapped around my wrist and the camera lives in my hand. I find nothing more annoying than an uncomfortable strap over my shoulder, digging into me, slipping off, or the camera randomly dangling and banging into things.
So along comes the Peak Design "Slide" and I have to admit, I was a bit reluctant at first. Before putting this review together I wanted to make sure I got a good feel for it, so I used it on several shoots and on just about every camera I own.
In Use
One of the first things that stood out to me was that the guys over at Peak Design came up with an easy way to attach and detach the strap, thankfully. By using the Anchor Links – a little plastic disc that tether to your camera and attach to the strap – it's a matter of simply looping the nylon cords through your camera eyelets and snapping them into the Slide's connectors. The strap comes with four Anchor Links, so I just left a pair on each of my two favourite cameras and that made it easy to switch between them.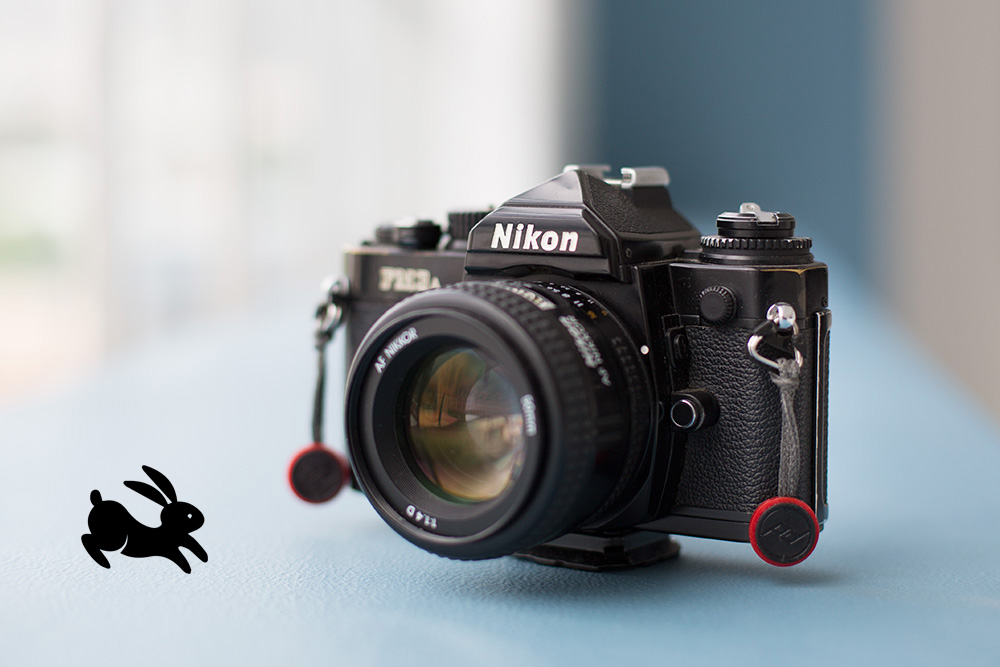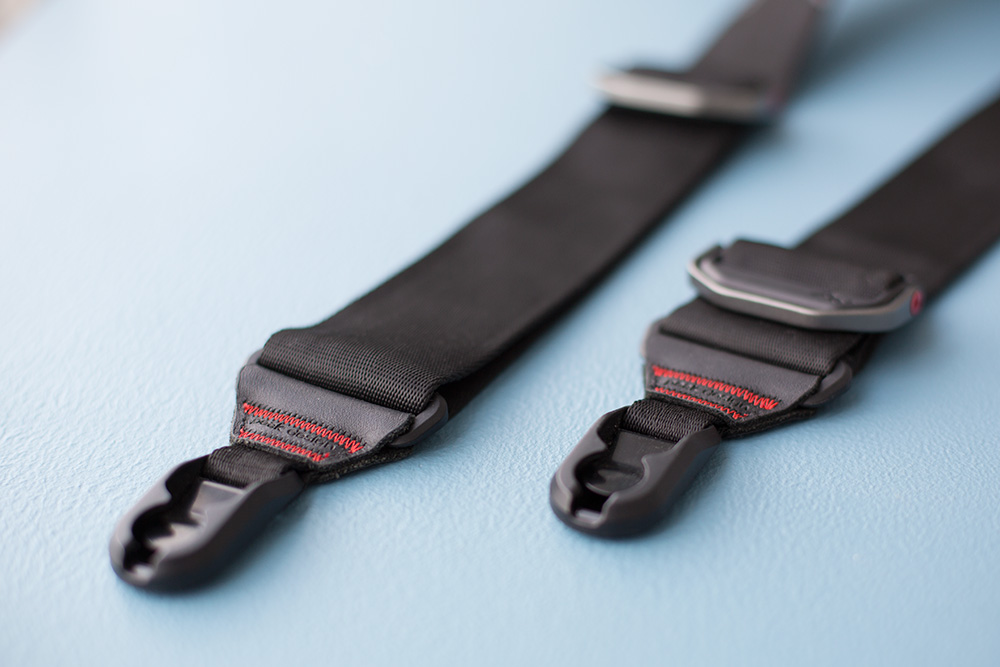 I found the strap itself very comfortable, perhaps because of the wider design. There's also a thin layer of extra padding in the middle of the strap's length, along with rubberised strips that holds the strap in place on your shoulder.
The strap also comes with a small metal plate that you can mount to the bottom of your camera, like a tripod plate would. This is gives you the option to attach the strap with an Anchor Link to the bottom of your camera. So you can either wear the strap the old fashioned way around your neck (when attached to the camera eyelets), or use one eyelet as a connection point and the plate at the bottom as the other. The latter I found was my personal favourite, especially on my bigger professional camera body.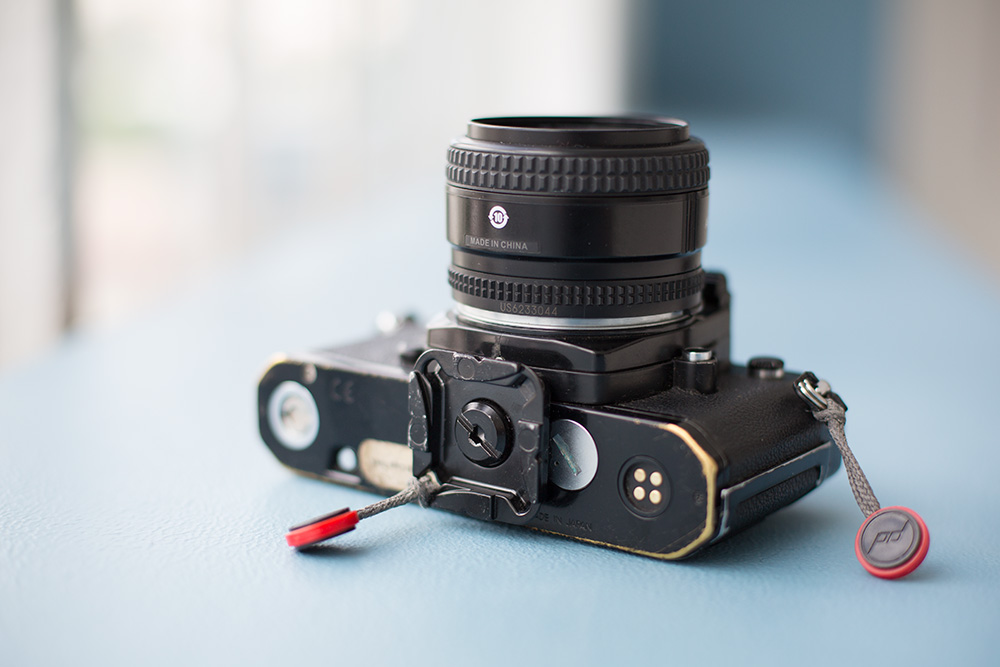 Besides attaching a strap to your camera in the first place, I think the other big frustration when it comes to camera straps is adjusting the length. The Slide comes with a simple solution – two aluminium adjusters on each side. It's a matter of sliding the buckle and locking it in place. I was a bit worried that the camera weight might cause the strap to loosen, but even with the heavier camera body I found the slider stayed firmly in place.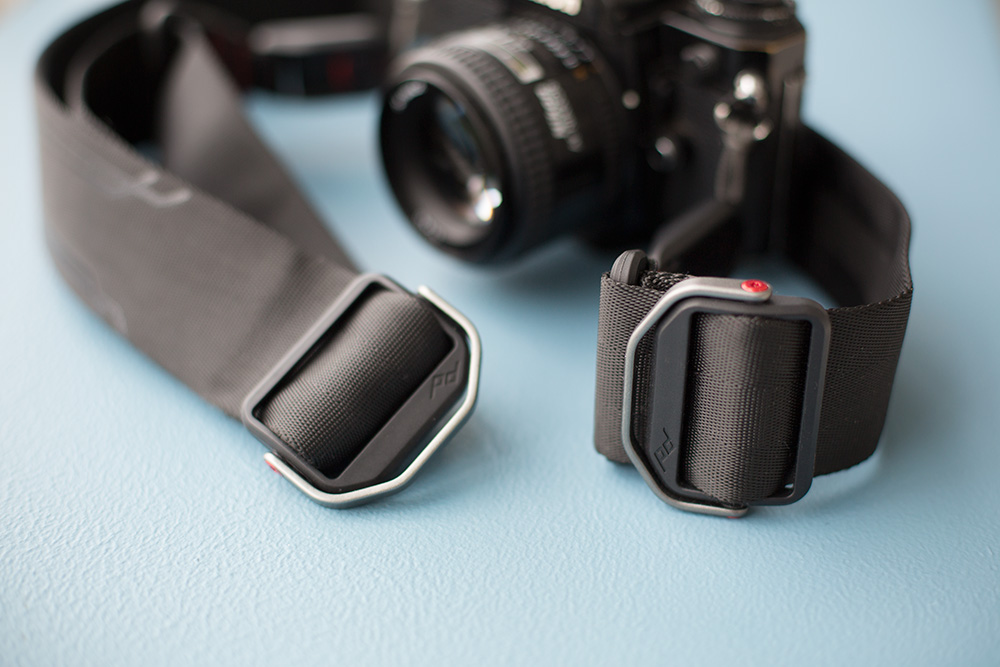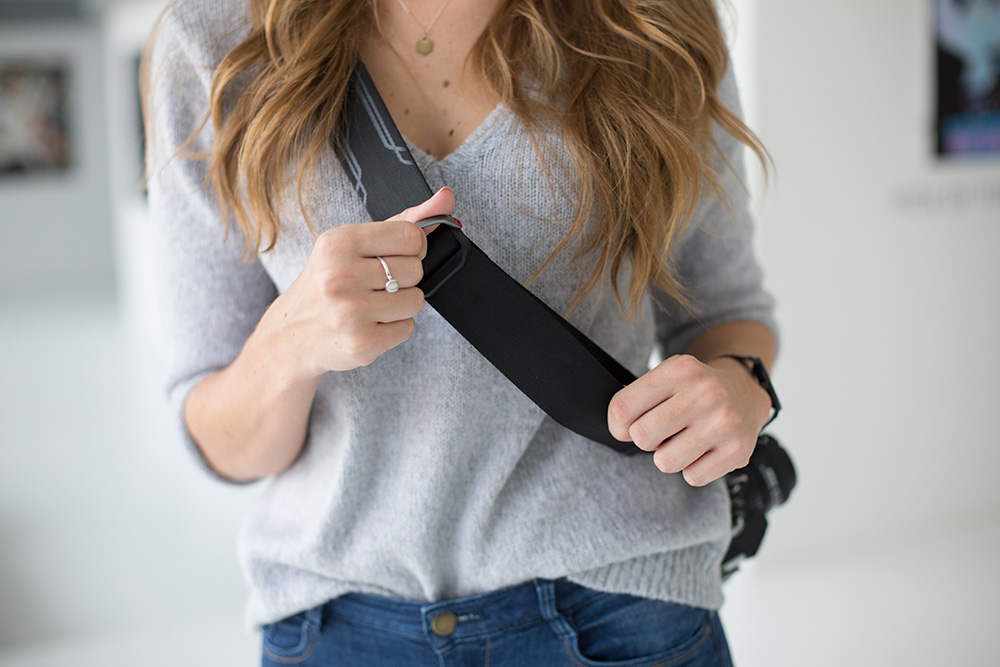 Noteworthy 
Versatile and fully adjustable: Wear it in whatever way works for you.
Quick connecting: Attach and detach the anchor system with one hand.
Smooth seatbelt-style webbing glides over clothing with ease.
Strong enough to hold any camera / lens combination.
Available in standard black, Tallac (navy and tan) and Lassen (red and tan).
Works with any camera strap loops, from point-and-shoots to full-frame DSLR's and more.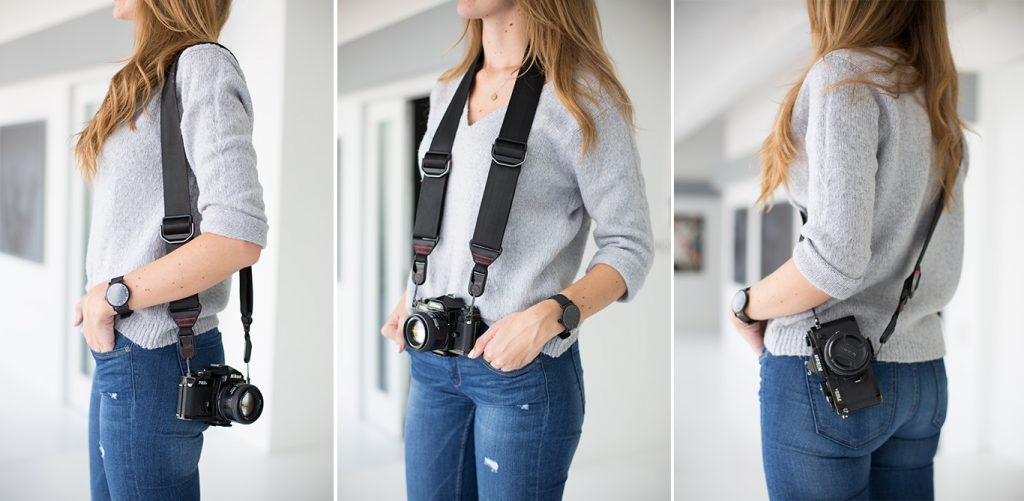 Conclusion
As far as camera straps go, I really like the Peak Design Sling, I find it extremely comfortable and functional, especially on long shoot days where I've got my camera on me for 10 hours plus. I would probably want to get extra Anchor Links, just so I can leave them on my other camera bodies. So overall a thumbs up from me. If you've tried it let us know what you think, or perhaps you've tried one of the other Peak Design products? As always we'd love to hear from you, so drop us a comment below.