You've started a vlog, or are looking to step up your vlogging game and need advice on what camera will help you achieve your goals. We're here to help you along your path to vlogging greatness with our recommendations of the best gear to get you there.
First, you'll need to think about what exactly you'll need from your camera. To make this decision easier for you we've broken down the top five things to look for in your vlogging equipment;
Image and Video Transfer: Look for a camera that has wifi or Bluetooth transfer. It's 2018, no one has time for pesky cables anymore. The convenience and speed of transferring your videos from your camera to any of your devices are paramount in ensuring your vlogs get to your audience quickly.
Image and Video stabilisation: Creating engaging videos means shooting on the go, most of the time this means forgoing your trusted yet bulky tripod in favour of a hand-held experience. This is where image stabilisation becomes most important.
Sound Quality: If your vlog concept involves delivering pieces to the camera, you'll need to seriously consider investing in a camera with mic input options. While we all can agree that the years have been kind to the development of on-body mics, they are not always ideal for crisp audio and can be subject to tinny audio quality and the bane of any vloggers existence; wind noise.
Screen Articulation: Unless your vlog solely focuses on shooting other people or places you're sure to appear on your own vlog at some point. This is where your articulating screen really comes in handy. Simply put you'll be able to rotate your screen so you can see yourself while you're shooting.
Many cameras feature touchscreen functionality which makes certain functions such as focusing and mode selection that much easier.
Battery Life: This is pretty self-explanatory. You don't want to be chained to your charger, so looking for a camera with at least 4 hours battery life is important if you're wanting to be on the go creating engaging content.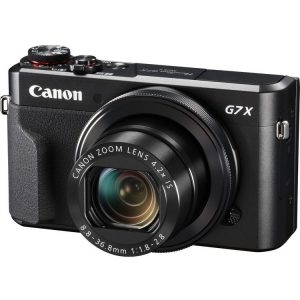 Measuring in at just 105.5 x 60.9 x 42.0 mm, and with a weight of just 319 g (including battery) the Powershot G7X Mark II may be small but don't let its size fool you. This camera is more than capable of fulfilling all of your vlogging needs.
While the 3.0-inch tilt-angle screen with touchscreen capability may not be fully articulating its flip action still allows you to feature yourself in your vlog and with full WiFi connectivity you're able to easily share your freshly created content across all of your social channels. The 5-axis image stabilisation prevents camera shake while shooting which gives you smooth panning. The only downside of the Canon Powershot G7X Mark II is the lack of external mic port, while this is a drawback the audio quality captured by the camera is crisp, clear and great quality.
Key Features
WIFI connectivity
5-Axis Image and Video Stabilisation
No External Mic Input
24–100 mm Effective Range
Average of 256 shots per battery charge
f/1.8 – 2.8 200m lens
1.0-inch sensor
Canon's DIGIC 7 Image Processor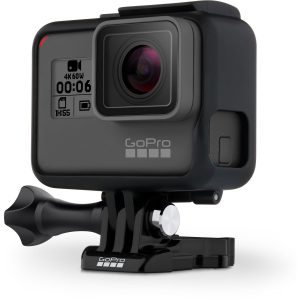 The GoPro Hero 6 is the perfect vlogging camera for the thrill-seeking vlogger who's looking for a machine that can handle jumps from waterfalls and the odd skydiving mission.
At a relatively small 6.5 x 4.5 x 3.5 cm and featuring a viewing angle choice of 14mm, 21mm, and 2mm the Hero 6 features the same shooting capability as that of a full frame camera in a fun-sized package.
While the Hero 6 is waterproof down to 10 m and is able to shoot 4K videos, the onboard mic doesn't have the greatest audio quality and will need an external mic should you be looking to use it for anything other than action and scenery shots.
Now it may seem an obvious feature relative to its size but we thought we'd mention that while the screen on the Hero 6 is touch screen enabled it is rather small and may be more difficult to use while shooting.
Key Features
5GHz band Wi-Fi
In-Camera Stabilisation
External Microphone Input
2.0-inch touchscreen
Battery Life from 70 – 110 minutes
1/2.3″ 12 megapixel CMOS sensor
4K Video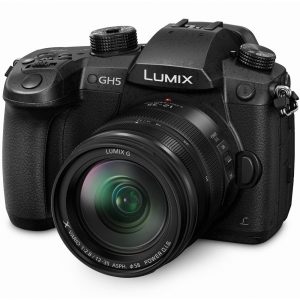 Slightly bigger in size than the Canon Powershot G7X Mark II at 138.5 x 98.1 x 87.4 mm the Panasonic Lumix GH5 can be seen in action in many of YouTube royalty Casey Neistat's vlogs.
And with its 3.2-inch swivel and tilt screen, 5 – axis sensor-shift image stabilizer and the ability to shoot 4 k UHD/DCI video it's not difficult to see why.
The GH5 features a separate mic input should you need, but we doubt you'll need to use this feature as the internal mic has impressive quality and features wind noise cancellation. The GH5 allows for seamless video and image transfer via Wifi and Bluetooth making uploading your files as easy as can be.
Key Features
Bluetooth & WiFi Connectivity
5-axis image stabilisation
External Mic Input Option
3.2-inch Swivel & Tilt Screen
Battery Life 2 – 5 Hours
Records 4K video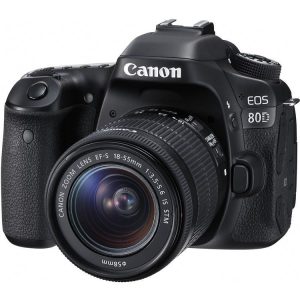 While we'd recommend the 80D to a vlogger who's looking to get more serious about their vlogging, this is definitely a worthwhile investment regardless of your vlogging level. The Canon 80D has it all! Featuring an impressive  24.2 megapixel APS-C CMOS sensor that gives you seamlessly smooth shots, a 3-inch articulating screen with touchscreen capabilities as well as headphone input and mic output. Headphone input will allow you to keep an ear on your sound levels while you're shooting HD video and microphone output which gives you the option to take your sound to a whole new level. The added bonus of WiFi connectivity means you are able to effortlessly share your content across your social platforms.
A drawback that's worth mentioning here is the Canon 80D's lack of internal image stabilisation, while we don't think this is a deal breaker due to the high number of incredible features this camera has it is worth thinking about in terms of shooting capabilities.
Key Features
WiFi Connectivity
No Image Stabilisation
External Mic Input
3-inch Articulating Touch Screen
Canon's DIGIC 6 Image Processor
Why not have a look at our dedicated Vlogging Gear selection on Orms Direct, where you'll find all the cameras mentioned as well as plenty more suggestions. For more advice and recommendations be sure to look out for the next installment in our new vlogging series and learn more about what equipment you'll need to make your vlog dreams come true.