Take a look at the new Sony A3000, an affordable mirrorless E-mount camera with the familiar usability of a DSLR.
Sony revealed the new A3000 mirrorless camera earlier this morning, which offers the best of both DSLRs and mirrorless cameras in a compact, ergonomic and affordable package.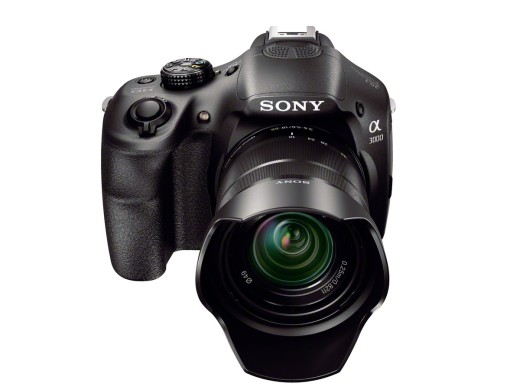 Specifications
The Sony A3000 is a mirrorless interchangeable lens camera featuring an APS-C sized 20.1 megapixel sensor and the Sony E-mount usually found on their NEX cameras. As such, it is compatible with the range of E-mount lenses already available on the market. By dropping the bulky mirror-box assembly of traditional DSLRs, the A3000 is also smaller and more compact, while still retaining a comfortable grip.
Here's the specifications at a glance:
Large APS-C Exmor™ sensor with 20.1 effective megapixels and integrated SteadyShot technology for pro-quality pictures and Full HD AVCHD video.
Frame scenes through the crisp, clear Tru-Finder.
Pick from 18 interchangeable E-mount lenses for limitless creative possibilities.
Easy to hold with comfortable and secure new grip.
Hands-On Video
For more hands-on coverage, head over to DPReview.
Pricing and Availability
We don't have any confirmation on the local pricing or availability yet, but we're expecting the Sony A3000 kit to reach South Africa towards the end of October. However, based on the international pricing, we can say that the camera should be surprisingly affordable.
While you wait for the news on the A3000, take a look at the Sony E-mount lenses and NEX cameras we have available on Orms Direct.
Product Images
Sony NEX-5T and new E-mount lenses
In addition to the A3000, Sony also announced an updated NEX-5T with built in WiFi and NFC, and a selection of new E-mount lenses, including a standard zoom with Zeiss optics. The NEX camera and new lenses should be available around the same time as the Sony A3000 – towards the end of October.