Sports photography is arguably one of the most challenging and powerful forms of the medium. Combining the keen eye of documentary work with the technicalities of action photography, sports photographers are charged with freezing split-second instants in time that will become part of the historical record that future generations look back on when examining the past.
At the opening launch event of our new Orms store in Bellville, we were fortunate enough to witness two sporting legends putting themselves through their paces: world-renowned sports photographer, Roger Sedres, and South African Paralympic Gold Medalist, Anruné Weyers. Roger captured Anruné in action on the track behind Orms Bellville, while the world-famous athlete showed us what she's made of. Following the launch event, we caught up with Roger and Anruné, giving them the opportunity to speak about their journeys, the intimate relationship between photographer and subject, and what the genre of sports photography means to them.
ROGER SEDRES
The remarkable Roger Sedres is an internationally acclaimed photographer, with an illustrious and decorated career that spans more than three decades. During his time as Chief Photographer at Die Burger, he documented former President Nelson Mandela's time in office, as well as a state visit by former American President Bill Clinton. He began exploring the genre of sports photography in the early '90s following the reception of two notable photographic awards and has gone on to document many unforgettable sporting events, including the 2010 FIFA World Cup in South Africa, the 2016 Olympic Games in Rio De Janeiro, and, most recently, the 2020 Paralympic Games in Tokyo.
Find Roger on his Instagram and his website.
What drew you to sports photography, and how did you go about getting into the industry?
Sports photography, in my opinion, is probably the hardest genre to master. It's like an acquired taste and takes years to master. I won my first sport photographic competition back in 1992 when I was rewarded with the Hunters Gold award. This win in many ways kickstarted my sports photography journey. One of my biggest dreams was to set foot on the hallowed Newlands rugby stadium grass. That dream was realised in 1995 when I started working at Die Burger. Athletics has always been my first love. In 2012, I was accredited to cover the IAAF World Indoor Championships in Istanbul, the IAAF World Juniors in Barcelona, and the London 2012 Olympic Games.
You recently captured one of the most notable images of South African Paralympian Anruné Weyers achieving her incredible win at the 2020 Paralympics. Describe this remarkable moment and the image in question.
Covering any major sport event takes lots of planning and concentration. Anruné runs one lap around the track so there is no margin for error. For me, it is critical to check my settings over and over before the race starts. I am always mindful that my one and only job is to capture the iconic moments of the person I am photographing. Photographing Anruné over a few years now, I knew she is always appreciative of her result, no matter the outcome of her race. My images show that no doubt, she was filled with emotion as she crossed the finish line. Even though, as a proudly South African, I shared her joy, I had to focus on capturing these special images that can never be recreated.
What, in your opinion, is the most valuable thing about images such as this one? What is its true significance, and why is it so important?
The Tokyo 2020 Olympic and Paralympic Games were very special. Special in that it took place during a global pandemic with strict Covid-19 protocols in place but most importantly, there were no spectators in the venues. These iconic images showcase the sheer determination, perseverance, and dedication of our athletes after almost 5 years of hard training, and it all culminates in crossing that magical finish line or achieving that elusive distance in the field events.
Lastly, your gear! Tell us about everything you use to capture your images.
My basic gear consists of the following:
3 x Canon 1DX
1 x Canon 16-35 f2.8 Series 2 lens
1 x Canon 24-105 f4 Series 2 lens
1 x Canon 70-200 f2.8 series 2 lens
1 x Canon 400mm f2.8 Series 1 lens
1 x Canon 1.4 x converter
1 x Canon 2 x converter
4 x Pocket Wizard Plus 3
1 x Manfrotto magic arm
1 x Manfrotto monopod
1 x Thinktank Airport International
Sandisk memory cards
Extra batteries
Apple Macbook Pro (2012 series)
Ethernet cables
2 x Traveller plugs
1 x MiFi for internet outside the venues
Do you want to shoot like Roger? Discover a full range of gear that will empower you to capture incredible images on Orms Direct.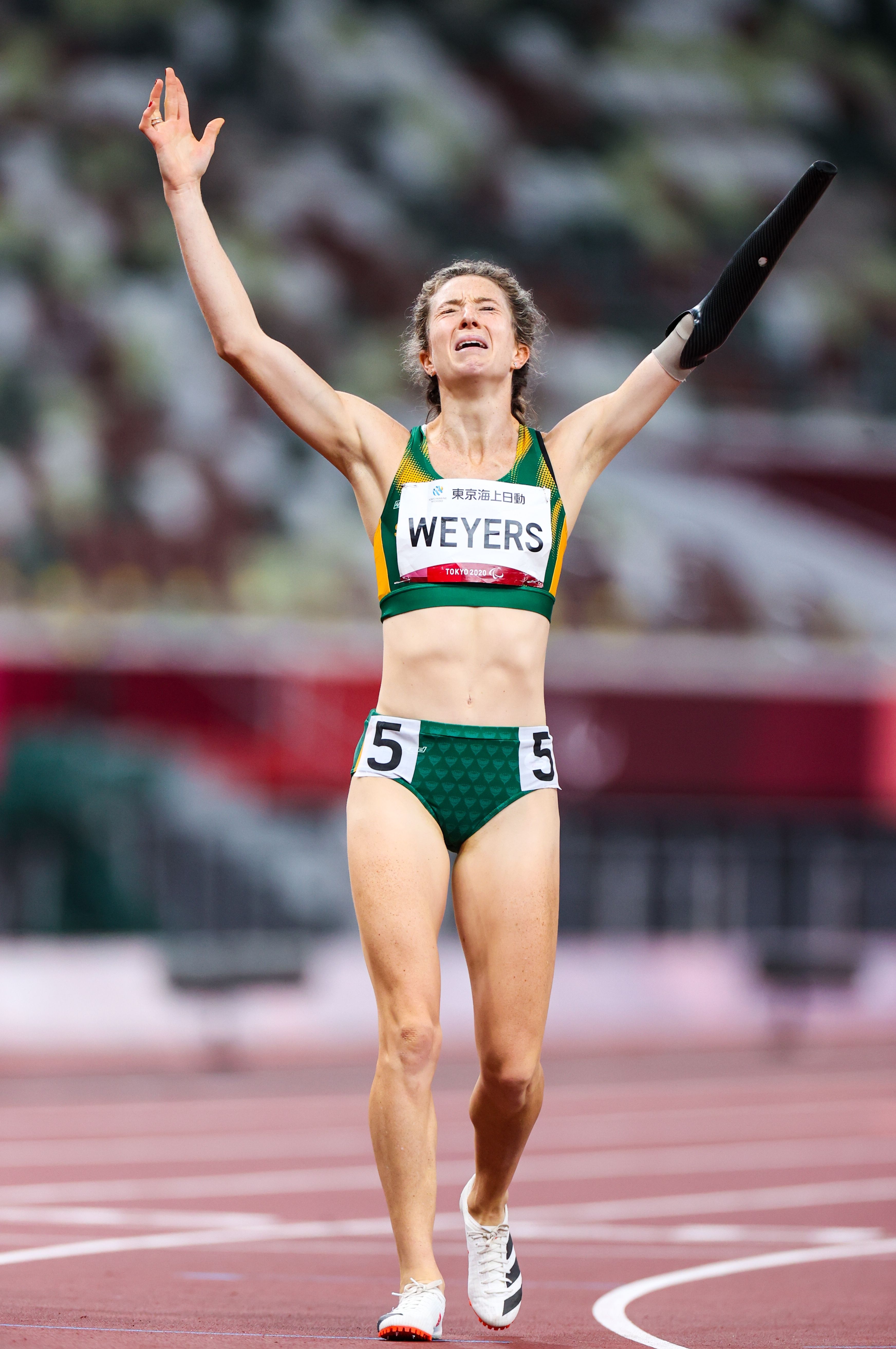 ANRUNÉ WEYERS
South African para-athlete Anruné Weyers took up athletics in 2010. Born with a congenital defect in her left arm, she competes in the T47 disability class, with the 400m and 200m being her domain. While she has a track record including many impressive wins and world records, her most recent notable achievement was her breathtaking victory in the 400m at the 2020 Paralympic Games in Tokyo.
Keep up with Anruné on her Instagram and her website.
What drew you to competitive athletics, and how did you go about growing and pursuing your passion for this field?
I was introduced to running at the age of 11 by a friend. I fell in love with it, my heart warmed up and my body got goosebumps while running. I wasn't good at it from the beginning, but I had passion, ability and started training every holiday, and each opportunity I got to run inspired me to work harder to become a better athlete.
Can you tell us about the lead-up to the Paralympics and some of the challenges you encountered that almost interfered with your ability to compete?
My Tokyo experience and leading up to it was an interesting adventure and journey. The reason why I use adventure is that it was indeed one. I tested positive for Covid-19 on the 13 July just a month before the games and it was terrible as I thought that I wouldn't be able to go to Tokyo. I had three days during Covid which I couldn't breathe, struggled to move around, and had lots of tears and emotions, but God hold me tight in this difficult time and I was healed and started training. My Tokyo desire was to be in the moment and to run with God every step, no matter what the outcome was. I had so much joy in each of my events and Tokyo's slogan "United by Emotions" is definitely what the games were.
Tell us about the race itself. Walk us through your internal thought process and what it was like when you realised you had won.
I prayed for an empty mind and to be in the moment. My favourite song sent by my coach during the time I had Covid-19 is "Keep Me In The Moment" by Jeremy Campbell and this song was something I held on to during the build-up to the games and while there. I had a reminder wall in my room reminding me of the people who support me and my reason to run is to run with God every step. I was overwhelmed with emotion after crossing the finish line because God had healed me and given me this opportunity to run with Him. The gold medal is a platform and reminder of what God did in my life and still is doing in all I do.
Perhaps the most recognisable image of you from the race was shot by the remarkable Roger Sedres. What is the significance of having an image of an incredible moment like this for you?
Roger Sedres is not just an incredible photographer, but an incredible person too. All the images that he has captured at the games speak a thousand words. They are incredible reminders of my moments in every race and the smile on my face says it all. I am grateful for him being there to capture this moment and share my journey with all the images. My favourite if I need to choose it after my 400m when I was on my knees with my hands in the air, crying with gratitude and praying and thanking God for running with me and for always being there for me in the good and bad. These pictures he has taken brought hope to our country and I hope it inspires the next generations of Olympian & Paralympian athletes.