Thinking about getting a macro lens? Jarrod Lyons shares his thoughts on the Tamron SP 90mm f/2.8 Macro 1:1 Di VC USD.
Review and photographs by Jarrod Lyons, a South African photography enthusiast currently teaching English in South Korea. Stay updated with his latest tweets, photos on Instagram and videos on YouTube.
I have been meaning to purchase a macro lens for some time now, but never really went through with it, until recently. I looked around on the internet, comparing different lens options and manufacturers for about a month. I eventually settled on this exquisite piece of glass, the Tamron SP 90mm F/2.8 Di MACRO 1:1 VC USD lens. I have also never used a lens with Vibration Control (VC) before, so this was to be a first. Let me just say from the start, that this lens's VC system is absolutely amazing.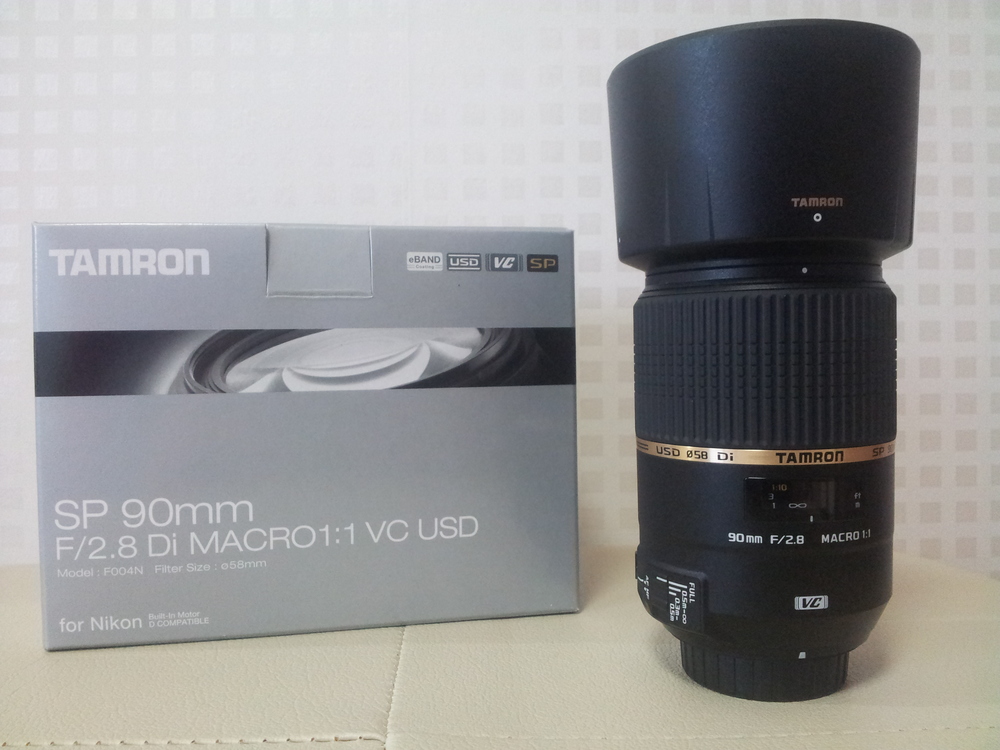 The "rule-of-thumb" when trying to obtain "tack-sharp" images is to never shoot with a slower shutter speed than your lens's focal length (actually, 1 over the focal length). In this case, 1/90th of a second for full frame (35mm) cameras and 1/135th for APS-C sensors. This is because we will always exhibit a little movement when holding a camera "dead" still, rendering our images either slightly soft or just plain terrible.
Now, this is all good and well, but what about when there is very little light in your scene, or you have "stopped down" your aperture to obtain a greater depth-of-field? These are all instances which may require you to reduce the shutter speed, while risking, "soft", "blurry" images caused by the slightest amount of movement. Well, this is where the VC (vibration control) comes into play.
Tamron claims a 3-stop VC potential, which means that I will be able to "keep the frame still enough" right down to 3 stops slower than 1/90th of a second. Because my Nikon cameras don't offer 1/90th of a second shutter speed, the next best thing would be 1/100th of a second. So, we will reduce the shutter from this point. Here are three sample shots taken of the same scene using S (shutter priority) mode and different shutter speeds (all shutter speeds from 1/100s to 1/30s were sharp. So I pushed the lens even more.)
Note how well the lens' VC performs at slow shutter speeds. See the difference? These sample images were shot using my D7100, which means that I should be shooting with at least 1/135s Shutter speed if I wanted to guarantee tac-sharp images. The Tamron's VC is brilliant.
The 90mm focal length paired with a relatively fast aperture of f/2.8, makes this a winner for portraiture too, on both DX and FX bodies (135mm equivalent on DX is long, but not too long, and the 90mm on FX is great too). It allows for a lovely blurry background, isolating the subject quite nicely. The quality of this out-of-focus "stuff", called bokeh, is also, in my opinion, very pleasing to the eye. What makes it pleasing? The colours just melt together and there are no distracting elements in the background to draw your focus away from the subject.
Laverne in her Christmas attire.
As far as the macro capabilities of this lens go, there is not much more one can say, but, WOW!!! The images are SUPER SUPER sharp and the bokeh is great. The VC is a treat when you have to stop down to small apertures in order to get a greater depth of field.
The 6 images above show just how sharp this lens is. It also illustrates the difference between a full frame (D750) and APS-C (D7100) sized sensor at closest focus.
The above images are of frost, taken outside my school where I work. The top image is a 1:1 crop of the image below it. Note just how sharp this Tamron is wide open.
The 90mm focal range is fantastic for portraits, blowing out backgrounds quite nicely. A mother's love.
Macro lenses open up so many more options for composition. Highly detailed close-ups are achievable with the use of macro lenses. The Tamron 90mm is exceptional. Ryan's foot.
Tamron have really impressed lately, so much so, in fact, that I went and purchased their US$400 70-300mm SP VC lens too (Subcribe on the top-right for notification of that review). Their standard of lens production is among the best. They produce some really fantastic glass at affordable prices. I encourage you to not overlook this lens when shopping for a great portrait lens, as having one lens that can do so many things is always a treat and a welcome addition to anyone's kit bag.