The Tamron 17-70mm F/2.8 Di III-A VC RXD Lens for Fujifilm X Mount is a standard 4.1 x zoom lens with a fast aperture and superb optical performance.
Fujifilm photographers will delight in the launch of the Tamron 17-70mm F/2.8 Di III-A VC RXD lens, as it's a highly versatile lens suitable to everyday shooting conditions. The lens is regarded as the world's first fast 17-70mm lens for APS-C mirrorless cameras, with a focal length range of 17-70mm (a full-frame equivalent of 25.5-105mm) 4.1x zoom ratio.
The versatility of this lens means that whether you're shooting a wedding, landscape, or portrait, you'll be perfectly equipped to get that perfect shot with this super fast and incredibly sharp lens.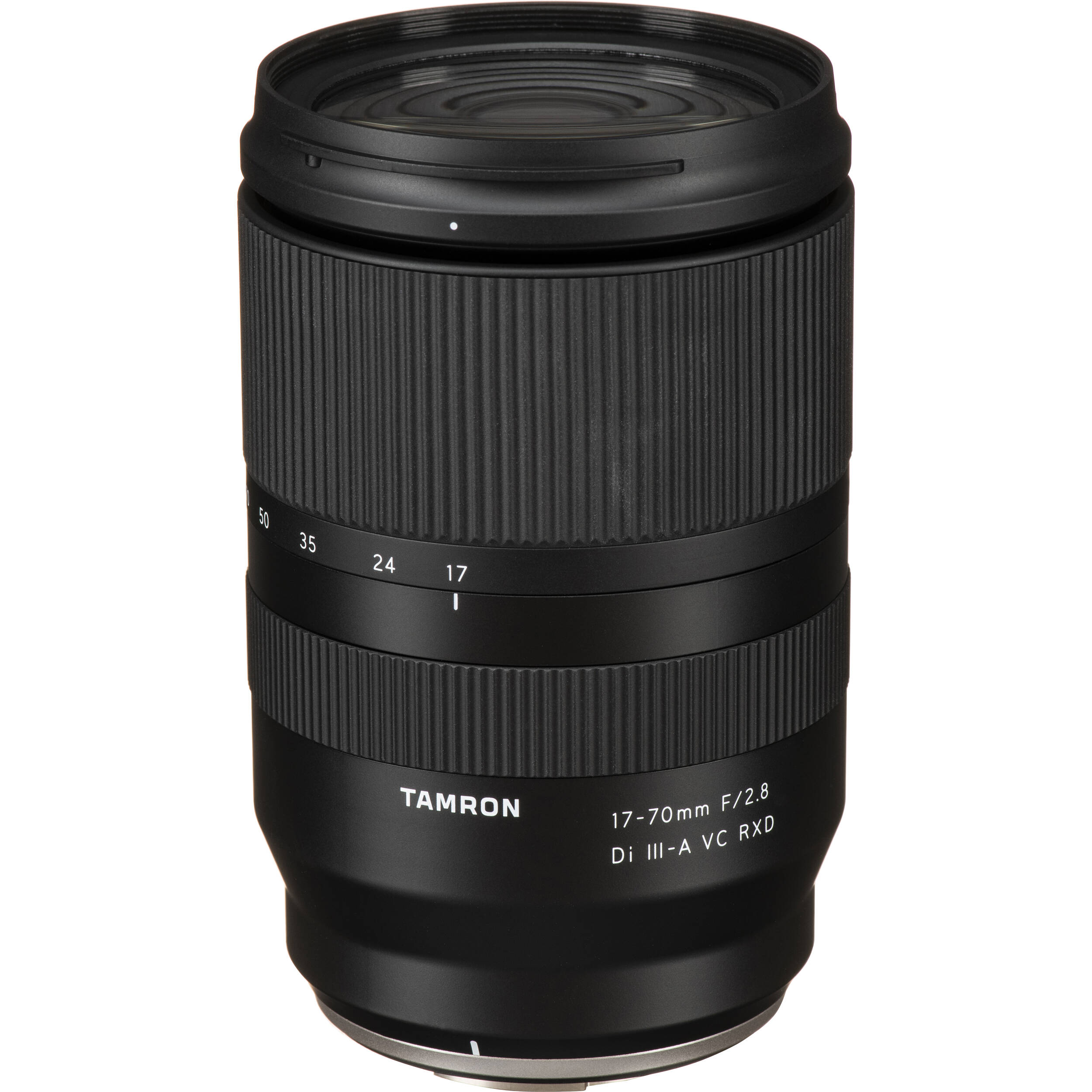 Equipped with Vibration Compensation and the Rapid eXtra-silent stepping Drive AF motor, the Tamron 17-70mm lens delivers extra smooth, super sharp footage, elevating the work of even the most skilled photographers and videographers. The Vibration Compensation of the lens works with sophisticated algorithms and a dedicated Micro Processor Unit to give you shake-free imagery even when shooting handheld. While shooting video, the lens' image stabilisation is automatically performed by AI technology, which effectively compensates for various shooting situations. While most modern cameras have in-body stabilisation, having that extra bit of support from the lens is nice.
The Tamron 17-70mm has a minimum focusing distance of 19cm and a 1:4.8 maximum magnification, making it excellent for photographers interested in exploring the world of macro photography. Photographers will appreciate the fast f/2.8 constant aperture, which ensures consistent brightness throughout the lens' zoom range, which can improve control over the depth of field in photos.
Besides the incredible speed and ultra-smooth shooting experience, the Tamron 17-70mm offers shooters exceptional optical performance. The lens has a series of specialised optics, including aspherical and low-dispersion elements that assist in correcting distortion and reducing colour fringing, chromatic aberrations and spherical aberrations. The lens also features Tamron's BBAR coating, effectively reducing flare and ghosting, enabling higher contrast while shooting in harsh lighting environments.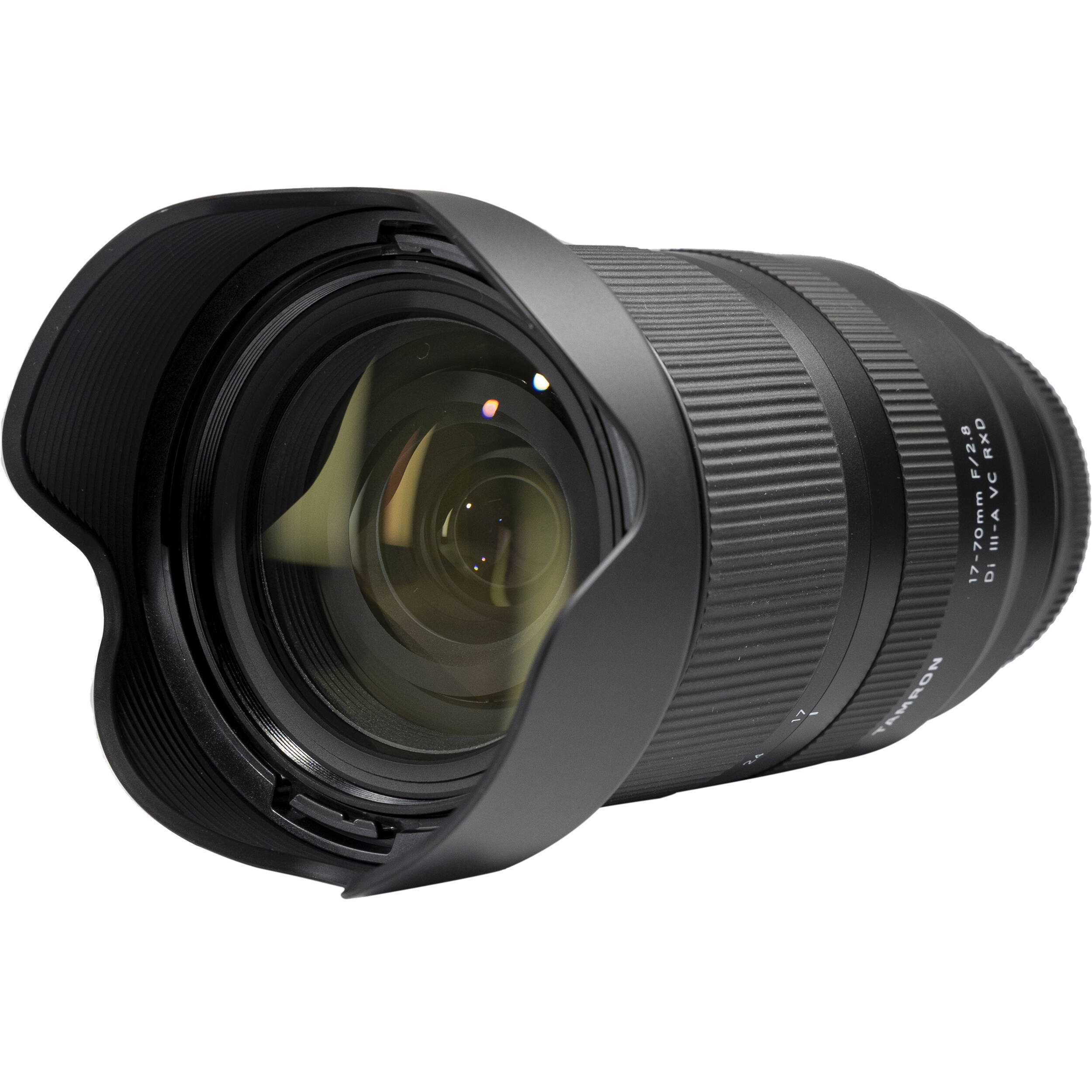 Regarding build and design, Tamron 17-70mm F/2.8 Di III-A VC RXD Lens for Fujifilm X Mount is on par with the Tamron brand style. Same as the Tamron 17-70mm F/2.8 Di III-A VC RXD Lens for Sony E Mount, the lens does not feature an AF/MF switch. The lens has a traditional focal length adjustment ring and a manual focus ring.
The Tamron 17-70 is lightweight, compact and easy to transport. The lens is made from a polycarbonate material and weighs 530g. It has a moisture-resistant construction, fluorine coating, and a rubber seal along the edge of the metal lens mount, meaning it's in your best interest to invest in a lens hood when you're shooting in inclement weather.