Nic Bothma has worked both extensively across Africa and around the globe on international sports assignments, news feature photojournalism and commercial photography.
His works include coverage at several Olympic events as well as highlights such as Wimbledon, the 2008 Euro Championships and the 2010 Soccer World Cup.
Please tell us a little bit about yourself?
I am a photographer. I will be one for life. When I die I aim to have just 10 really good photographs. I think I have 3 so far. I started photography around the fall of apartheid and was studying anthropology at UCT. I got to understand then that photojournalism was a form of anthropology and way more exciting. I loved the adrenaline and danger at the time but also being able to have a way of helping the transition out of the terrible situation of apartheid. The photographs we took helped bring awareness and brought about change. I worked as a freelance photojournalist selling to newspapers at first and eventually got a job with an international news wire, epa (European Pressphoto Agency). I'm a surfer, sailor and martial artist. I am married with 2 children. Before I was married I sailed around the world mostly solo on a 30 foot sailing sloop. I now work in photojournalism and commercial photography.
When and how did you develop your interest in sports photography?
Sports photography is a part of the job as a photojournalist so I started with it at the time of getting into photography. It's a battle, a contest, a race and pushes people to be the best versions of themselves. I was naturally drawn to it. I love how photography freezes moments for us to really appreciate in detail way more than moving images. The still photograph of a high intensity moment is very special as firstly it's difficult to capture and always a challenge and secondly it really helps us appreciate what is going on in these high speed high impact moments in life.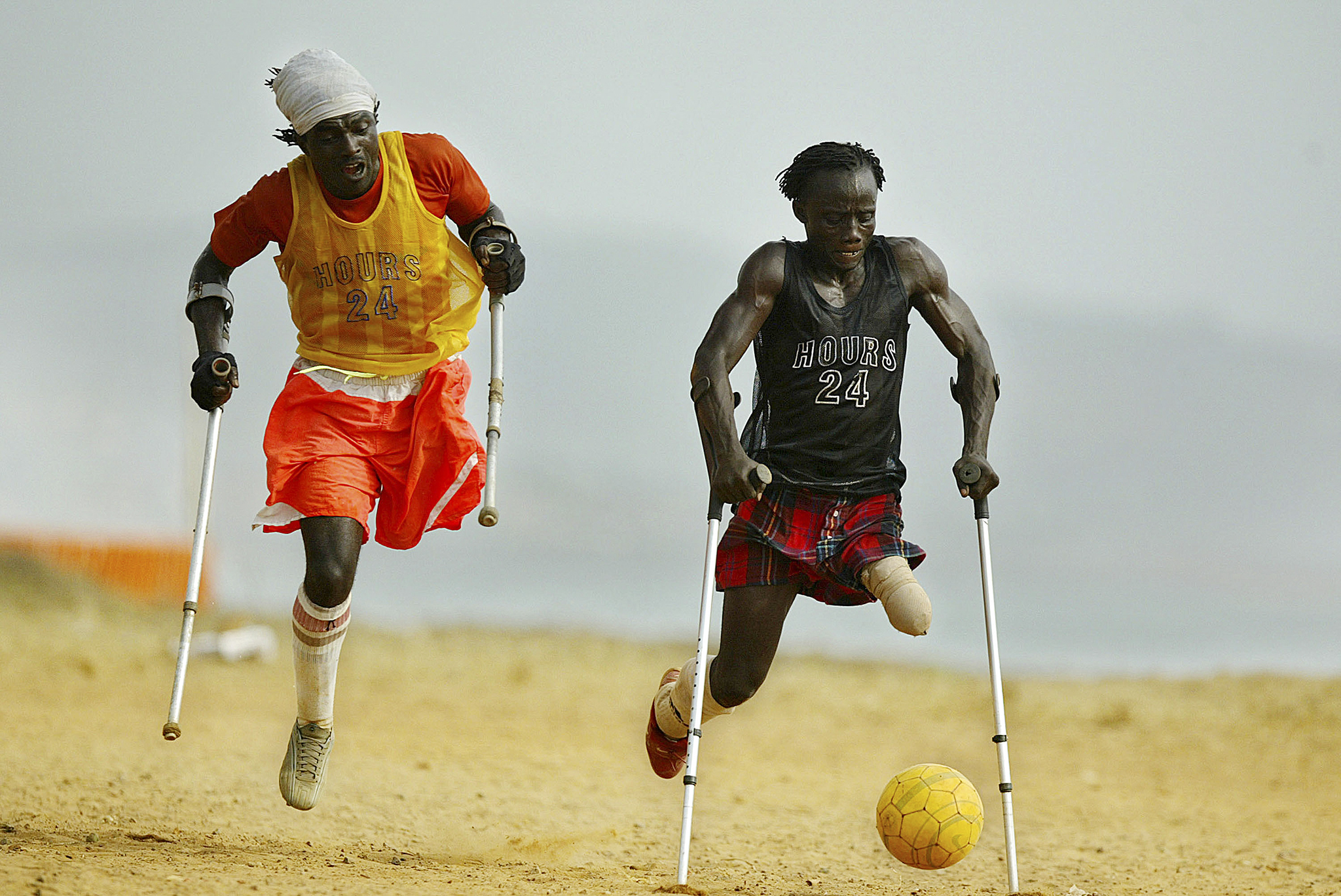 Sport has such a strong ability to tell a story, do you see clear links between your sports and editorial photography?
Yes, very much so. One of my favourite sports images hangs in the entrance to the United Nations headquarters in New York. It is titled ' Invincible Spirit ' and shows two amputees who lost limbs in Sierra Leone's brutal civil war sprinting flat out for the ball as they play football. This tells such a strong story about overcoming adversity and never giving up. It's about pushing yourself to the limits and getting up again after you've been knocked down. That's some of the core principles of being a good sportsperson and a good human. Sport is like an analogy for real life. A metaphor where the best and worst of us get played out.
Can you tell aspiring sport photographers what the journey from starting out to photographing the Olympics is like?
Like everything in life you need to follow your passion. For me sports photography began with surf photography. For several years that's all I did. It was before digital and I took hundreds of rolls of film shooting surfing. There is no substitute for the analogue era. That taught us photographers so much as you had to get it right in camera and could not instantly check to see if you had done so. Now the learning curve is much quicker which also means you need to go further to make your images stand out. So I always loved sport and shot a lot of it working for newspapers and then the wire service.
In 2008 I shot my first Olympics in Beijing. That was a huge step up. Since then I have covered 6 Olympics, 4 summer and 2 winter. Each time it's the most incredible environment as you have the world's best sports people and the world's best photographers meeting. The atmosphere is intense and pushes you to go out of your comfort zone and be the best you can be. Usain Bolt wont run that hundred meters again if you miss the shot ! There is zero room for error. That intense pressure is what I love most. It makes me perform at my best. But it comes back to that first moment you shot a surfer or kid popping an ollie on a skateboard. The challenge is capturing in a beautiful way the moment. Focus on that the arena will change from a street to the Olympics as you get better. Essentially you need to focus on what you are doing and not the distractions around you.
What's the most important lesson you've learnt in photography over your 30+ year career?
That's a difficult question. There have been many. I will give you three answers. Firstly you ask about the lesson. Everytime you go out and take photographs and then return and edit it's a lesson. Always be a student and never stop learning. Study other people's work that you like and be highly critical of your own. I am never satisfied with my work. I always look at it after and say oh i could have done this or that better. Keep teaching yourself and keep learning. Secondly photography is about seeing the future. You need to be clear, observe and live fully in the moment to get a sense of where things are going. Once you have a sense of where things are going you will have a better idea about where you need to be when X happens. Being where and when X happens is a large part of being a good photographer. Thirdly, deconstruct. Less is more. Take away elemenments in your photographs to make them stronger.
There's a great line you wrote "I look to extremes in life as the powerful intersection of intensity and meaning…" can you elaborate on this?
So photography freezes things so we can pause and have a look and study life. When life is slow and mellow its a lot easier to do that. When life is extreme and intense it's more difficult to find that pause and reflect. So photography is a tool to stop time and learn from those moments. Whether it's in the heat of war or a big wave surfer dropping into a 30 foot beast, that moment has multiple lessons for us which we can learn a lot from if we stop time and analyse what's going on. The more intense the moment the more relevant the photograph becomes for me.
Lastly, can you unpack your ideal sport gear bag?
3 x Sony A1 camera bodies with vertical grips
Sony FE 70-200mm f2.8 GM OSS II lens
Canon 15mm f2.8 fish eye with Metabones adaptor for Sony
Pocket wizard set for remote camera
To follow Nic's work make sure to visit his Instagram account.