Have you seen the CamRanger wireless camera controller yet? Yolande Snyders shares her impressions in a hands-on review.
Review and photographs by Yolande Snyders. View the CamRanger Wireless Transmitter for Canon and Nikon DSLR cameras on Orms Direct.
Shooting food has become a new challenge for me as a portrait photographer and I must say I really enjoy it. Food has always been a passion of mine, my curves can account for that, but also because food is such an important part of our lives. Getting the perfect food shot can sometimes take the whole day to achieve. Setting up in available light with the best ingredients, props and atmosphere can sometimes become more like an extravagant production. A ladder, delicately balanced reflectors and an intricate arrangement of cables, all surrounding a plated time bomb of wilting leaves, melting toppings and sauces cooling off.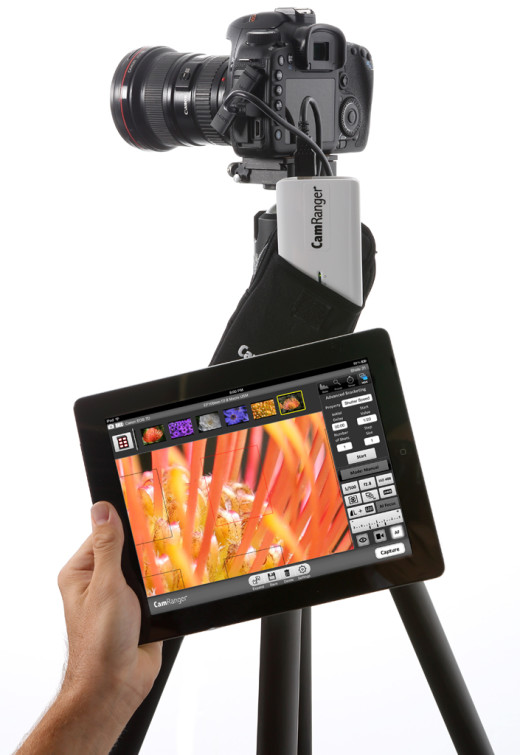 Luckily I was recently introduced to my new "assistant", the CamRanger. I love gadgets and things that make life easier, but something that keeps me from climbing up and down ladders the whole day and lets me focus on my photography is just amazing.
I was a bit nervous to try the CamRanger for the first time at a food shoot without doing research on it first. I usually just take a gadget out of the box and start playing around on it or phone a colleague for advice. The CamRanger pleasantly surprised me with its ease of use.
You need to download the CamRanger App for your Android or iPhone first and then enter the serial number. Activate your camera's live view function in the menu settings and you are ready to shoot from your device. The CamRanger connects to your DSLR with the USB cable and can be hanged comfortably from your tripod in the CamRanger pouch. No cables tugging at your camera or in your way.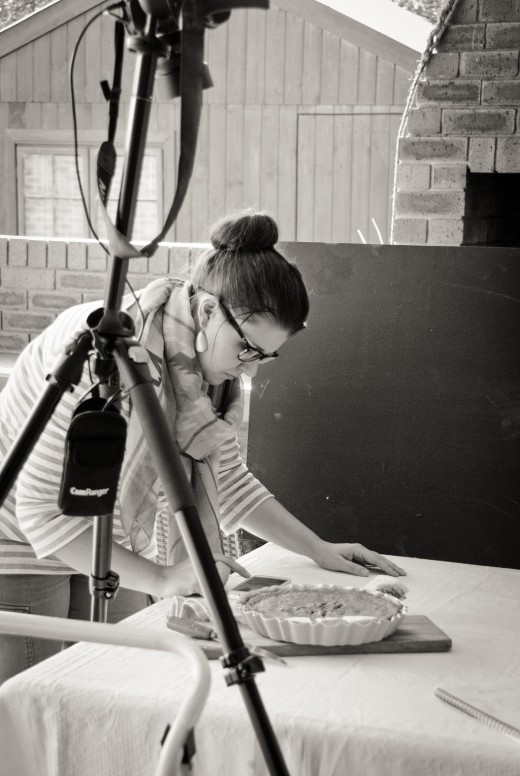 Side note: I shoot with a Nikon D700 and used the CamRanger app on my Samsung Galaxy S4 smartphone.
My Nikon was set up on my tripod at a high angle towards the table where stylist, Simone Kruger, had set up a baked pumpkin pie. While I was standing nervously on the ladder (not a fan of heights) setting up composition and the angle for the shot, Simone used the Samsung Galaxy S4 to see via live view how the shot is going to look. So at a shoot two or more people can benefit from the CamRanger. No unnecessary laptop setups with leads everywhere. Now you can do tethered shooting with a wireless device which can be taken anywhere without the need for power sources or the danger of tripping over cables.
Stylist, Simone Kruger – Yellow Papaya.
For the rest of the shoot I was standing next to the tripod and ladder, changing exposure settings, focusing from my phone and occasionally adjusting the camera's angle or height on the tripod. Some things are still up to the photographer to do. The CamRanger App is really straight-forward. The playback on your device also makes it great to see how your image is looking. Although it would be best to use a bigger screen, like a tablet or computer, my S4's screen was big enough to see details in the shot. The added bonus with the CamRanger is that your RAW images are saved directly to your camera's memory card, not like other tethering software which saves the images to your computer's hard drive. It makes me feel safer to know the complete setup has less cables, devices and the risk of images getting lost.
While standing back and looking at the bigger picture I could not believe that I was controlling my Nikon from a smart phone. A small Wi-Fi device safely stored and attached to my tripod has made it cool to be unplugged.
Tethered shooting was already a revolutionary aspect to photography, but shooting with a CamRanger… Genius!
Photographs shared with permission.