Closet | Brett Charles Seiler | Solo Exhibition at Goodman Gallery Johannesburg Viewing Room
January 25
@
8:00 am
–
February 29
@
5:00 pm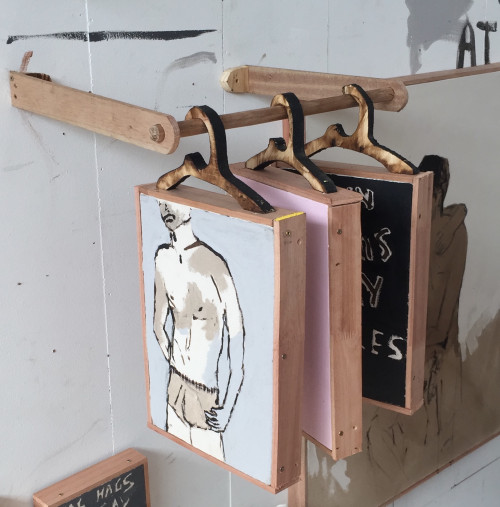 25 January – 29 February 2020
Closet is Brett Charles Seiler's first exhibition with Goodman Gallery. Taking the form of painting and installation, Closet continues Seiler's ongoing interest in themes of longing, distance and nostalgia.
Seiler describes his work as a straight-forward "coming of age narrative" taking place during the gay rights movement. Born in 1994, Seiler did not personally experience this period of history. Instead, the artist accesses it through references to historic gay modes of communication and conduct, incorporating figurative forms as well as text and language to tell these stories through poetic snapshots of a time before gay liberation in society.
Through his use of quick-drying roof paint, Seiler is able to work in a spontaneous manner. For the artist, this is critical to communicating a sense of urgency in his work. This quality extends to Seiler's woodcuts, which often take the form of hands or clothes hangers – forms synonymous with the gesture of giving or holding onto something.
"[My work] is a deep longing for understanding," says Seiler. "It is from the point of view of something that I've missed, something that I cannot go back to. It's a process of research."
By accessing this history Seiler attempts to celebrate and recognise the struggles of the past. But Seiler is an unreliable narrator, so his images appear distorted. The result is an imperfect attempt to address gaps in gay culture while drawing on the tradition of camp to create something that feels both funny and sad.
[Words taken from: http://www.goodman-gallery.com/exhibitions/1121]