Photos from the launch of AWE: African Wildlife Exposed, a book by the 2013 Wildlife Photographer of the Year, Greg du Toit.
Last Saturday, South African wildlife photographer Greg du Toit launched AWE: African Wildlife Exposed at the Radisson in Cape Town. The book launch was presented by ORYX Photography Expeditions and Orms.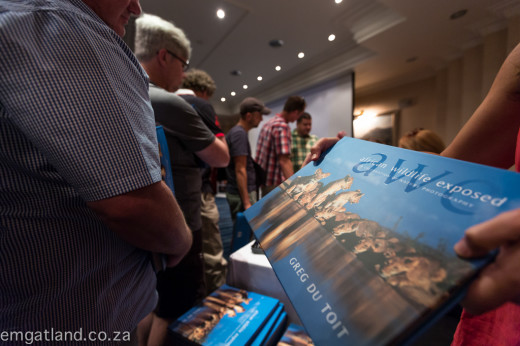 Greg du Toit was recently crowned as the Natural History Museum's 2013 Wildlife Photographer of the Year, and after listening to his tales from the bush, and realising how much dedication and persistence he has put into his photography, we wholeheartedly agree with the prestigious accolade.
One of the stories that stood out to us, was that Greg spent 16 months at a small waterhole in Kenya while waiting for that elusive shot of a free roaming lion coming in for a drink. After sitting in the waterhole itself for three months and using it to mask his scent, Greg finally reached his goal and captured an incredible series of photos of the lions, which can be seen on the cover of his book.
It's a remarkable achievement, and Greg recently returned to the very same waterhole in order to search for the lion cubs in his photograph. Together with Kenyan-born documentary filmmaker, Anna Campbell, Greg documented the journey in a short film, Searching for Namenyak.
Orms is proud to have been involved in the launch of Awe. We like to give back to the community wherever we can, including inspiring photography talks and workshops, but these events are only possible by having such a great community – thanks for the support, and we hope those that attended enjoyed Greg's talk!
For those that missed the book launch and signing on Saturday, the book is available for purchase online on Greg's website. The goodie bags were sponsored by Orms and ORYX.
Here's a few photographs of the launch, with selected photos courtesy of Em Gatland.