Photos from the opening of Mikhael Subotzky's new exhibition "Show 'n Tell", now on show at Goodman Gallery.
Article and photos by Christina Bongartz, a Cape Town-based photography student.
Johannesburg-based photographer and artist Mikhael Subotzky's latest exhibtion Show 'n Tell is now on show at Goodman Gallery in Cape Town.
The exhibition features some recent works but also a work that Subotzky made over ten years ago. The two centre-pieces of the show are Pixel Interface, a large-scale video installation next to Self-Portrait with Wheat Pieta (2002) an installation of two TV screens showing the same self-portrait both facing a carved wooden figurine standing on five books. Alongside these there are several large-scale photographs and other artworks on show.
Selected works were mounted via the Diasec process, exclusive to Orms Print Room & Framing.
The exhibition will be on show until 13 September at Goodman Gallery, 3rd Floor Fairweather House in 176 Sir Lowry Road, Cape Town.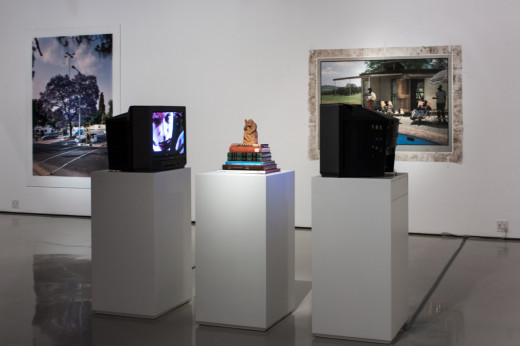 Mikhael Subotzky elaborates on Pixel Interface:
"I built three microscopes to subject the television screens themselves to scrutiny, turning their images into the abstraction of red, green and blue pixels. The first video plinth plays documentation of the famous 1967 Hubel and Wiesel experiment, which detected the firing of an individual neuron in the retina of a cat. It presents the abstract lines and shapes that were shown to the cat in proving that the neuron responds to the orientation of movement, fundamentally changing our understanding of the mechanics of vision. The second video plinth plays an animation that I downloaded from the Internet and adapted by adding censoring white lines, which accumulate as the video plays, covering the various instruments of violence in the video. The third video plinth plays an adapted version of an earlier work titled Don't even think of it (2012). I have also censored this stop-motion video by covering the eyes of every person in it, and letting these white lines accumulate to the point of abstracting the video."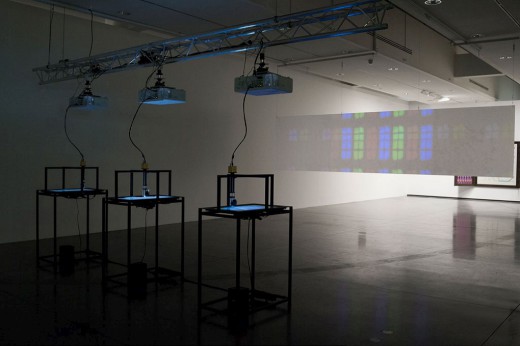 Above: Pixel Interfact by Mikhael Subotzky. Photo taken by Goodman Gallery.
"The microscope on top of each video plinth feeds directly into a digital microscope camera, and in turn into an HD projector. The three projectors throw the three magnified video feeds onto a projection screen. A 33% overlap on each projection allows some of the magnified RGB pixels to mix new colours which constantly change and flicker in real-time as the videos on the plinths play.

"Pixel Interface is in part a tribute and update to Paul Sharits' seminal work Shutter Interface (1975). As Shutter Interface did with the mechanics of film projection, Pixel Interface attempts to represent the base particles and motion of digital video. In so doing, it also seeks to define both a counterpoint and a contradiction between the realms of abstraction and representational violence."