This month we've been so inspired by local graphic designer / illustrator Sian Amber Fletcher's work, that we thought a new Orms T-shirt design might be just the thing…
As you know we've been collaborating with local photographers, designers and creatives to showcase a variety of inspirational projects through the Orms Maker Series. This month we've been so inspired by local graphic designer / illustrator Sian Amber Fletcher's work, that we thought a new Orms T-shirt design might be just the thing. Let's see what Sian used as her inspiration and what she came up with…
Orms gave me this super cool opportunity to design a simple t-shirt for them. Something that incorporated a camera and illustration so naturally, I created a weird eyeball camera combo. The meaning of this illustration could be interpreted in so many different ways. I mainly thought about how fun it is looking through a camera and how the camera becomes your new eye – showing you the way it sees the world. It could also be how beauty is in the eye of the beholder or in this case – the camera. Either way, taking pictures allows you to look at things with a whole new perspective and perhaps even lets you see the beauty in things that you might not have noticed before.
As usual, my creation process started with rough pencil drawings on a sketch pad. From there I went on to using tracing paper, to go over it in black. This I scanned into my laptop and imported into Adobe Illustrator where all the magic happens. I wanted to vectorise, but still keep the free hand illustration "feel" to it, so of the details are redone on the computer and others are straight from the drawings. Illustrator is fantastic for graphics and vectors and is honestly my favourite tool when it comes to graphic design because it allows me to bring my illustrations to life.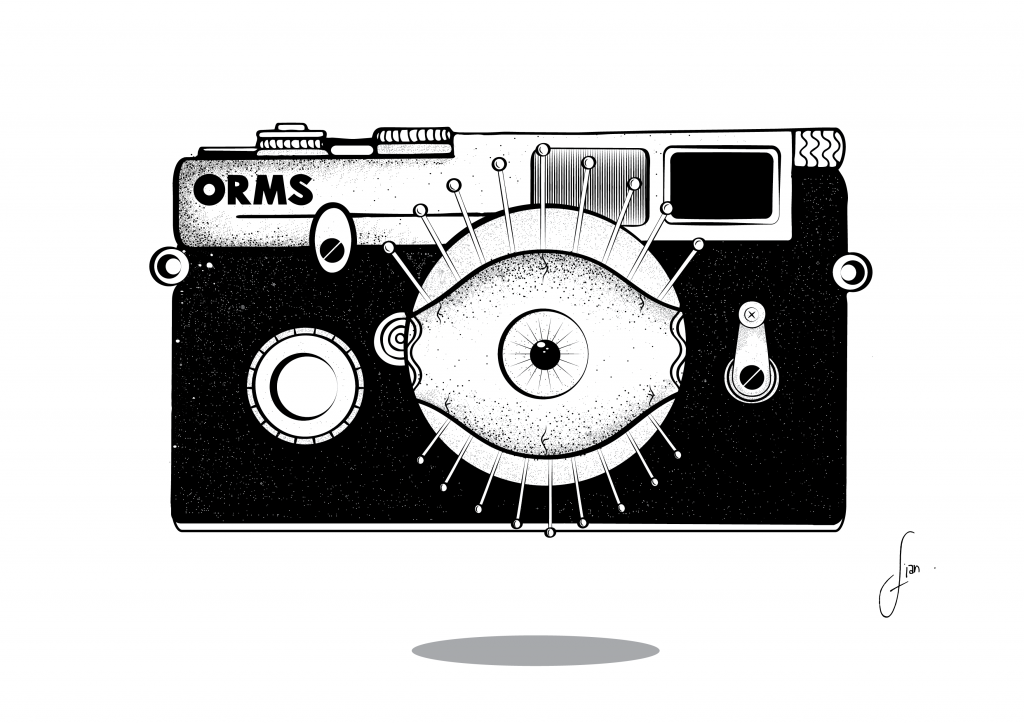 Keep up with more from Sian via her Bahance profile page or Instagram.
If you are not familiar with the Orms Maker Series, our mission is simple – to spread inspiration. No one knows for sure where inspiration comes from. All we can be sure of is that it exists. Some of us chase it; others have enough of it for all of us combined. It's just one of those things. You know it when it hits you, and when it does, you have to act. You have to bake, paint, capture – you have to create.
So our big idea with the Orms Maker Series, to inspire creativity through beautiful photos of the creative process. Over the coming months, we will continue to collaborate with local photographers, designers and creatives to showcase a variety of inspirational projects. Stay tuned, we've got so much more coming your way!